ADOM, also known as Ancient Domains of Mystery, is a bit of a classic among roguelike games and the updated and enhanced version which was funded on Indiegogo is now available on Steam.
The Steam version comes with tile graphics, sound effects, music and exclusive deluxe features like achievements and game customization. Even though the game might look all cute and cheerful in its graphical form, make no mistake: this is a true roguelike and it's absolutely brutal. I got sent a copy before the release and I after 4 hours of repeated attempts I have only managed to complete the first quest before getting absolutely destroyed. Luckily the Steam version also allows you to mess with the difficulty settings, so I might turn off the permadeath at some point to experience more of the story.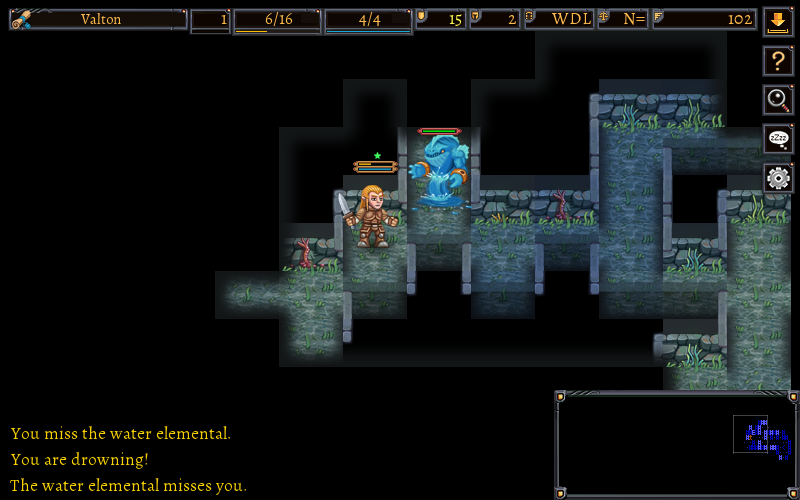 If you are a bit unsure you can also try ADOM for free by downloading one of the public builds from
http://www.adom.de/home/downloads.html
. Those builds naturally lack the deluxe features like achievements and game customization options, but essentially all of the gameplay is there for your to experience. The tile graphics and music are also included in the free classic build.
Oh, and don't worry, the ASCII mode is still available in both the classic version and the Steam build.
About (from Steam store page)
ADOM (Ancient Domains Of Mystery) is one of the most successful roguelike games ever created, boasting a brilliant mix of story, RPG, exploration, and intensely strategic and flexible combat. The Steam version adds various Deluxe features like achievements, difficulty level customization and various play modes (e.g. a story mode allowing to save and restore games, a weekly challenge game, an exploration mode and more). ADOM has been in development since 1994. In 2012 its development was revitalized with an immensely successful crowdfunding campaign on Indiegogo, now allowing us to offer ADOM both with ASCII and graphical modes enabling you to choose freely.
ADOM is primarily known for being the first roguelike to include vibrant towns, NPC dialog, and quests, but it offers more than just a rich story line in a complex fantasy world:
- a huge game world with hundreds of locations such as towns, randomized dungeons, elemental temples, graveyards, ancient ruins, towers and other secrets
- loads of races (dwarves, drakelings, mist elves, hurthlings, orcs, trolls, ratlings and many others) and even more classes (fighters, elementalists, assassins, chaos knights, duelists and much more) allowing for infinite play styles
- hundreds of monsters and items, many with enhanced random features
- a corruption system forcing you to balance lust for power with fear of damnation (corruptions slowly transform you into a vile monster but at the same time grant inhuman benefits - most of the time)
- spells, prayers, mindcraft, alchemy, crafting and more
- dozens of quests and branching story lines
- numerous wildly different endings that might alter reality itself (simply drive Chaos away or slay a god or even become an immortal yourself, and others more)!
- various game modes (story mode to be able to load and save games, challenge mode to face peculiar weekly challenges, exploration mode for a free wand of wishing and more)
- various customization options (turning hunger off, turning corruption off, modifying monster difficulty or treasure rates)
Some you may have missed, popular articles from the last month: