Combining tabletop aesthetics and inspirations, this tactics game pits a small band of warriors against challenging odds. I played a fair amount of Warbands: Bushido [Official Site] and have a few thoughts to share.
Note: Key provided by developer
I've always had a soft spot for board games. Moving around pieces and rolling a die feels satisfying no matter how many times I do it. It's something that I try to do whenever I get the chance to with friends and it's something that I certainly appreciate when video games try to emulate. In that sense, Warbands: Bushido gets quite a lot of it down pat. That, however, proves to be a double-edged sword and I found myself questioning a lot of the design decisions of the game.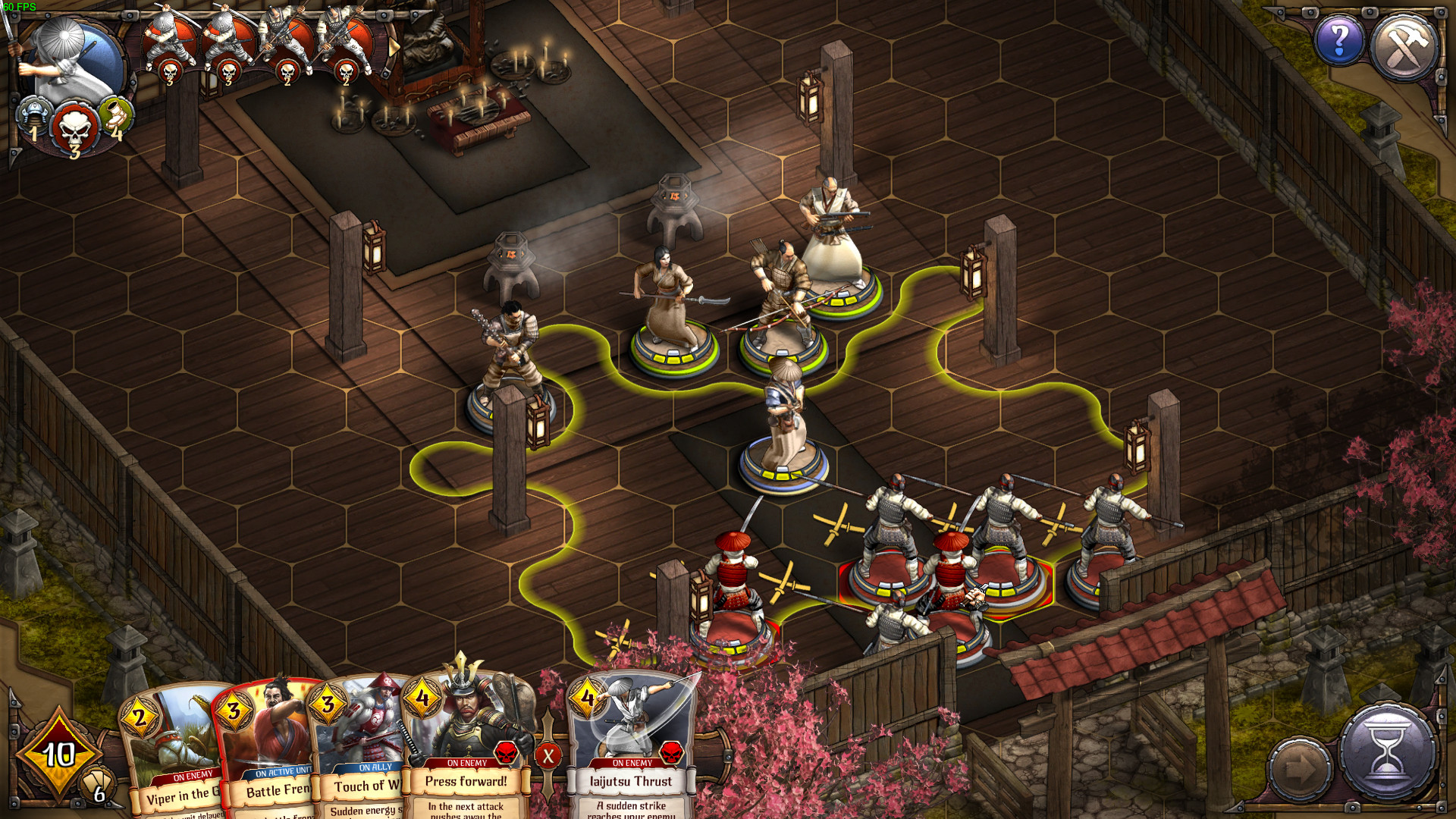 The game is set in medieval Japan and players control a small band of warriors which can be customized and improved. Indeed, that's kind of the central point of the game. As you complete either single player scenarios or play online battles, you'll acquire the occasional special unit but mostly in-game coins which can be traded for booster packs. It's analogous to real-world collectibles but needlessly so. I found that it becomes an unpleasant grind to unlock new things and, even after spending a few hours finishing scenarios and playing a few MP matches, it didn't feel like time well spent.
After thinking about it for a while, I believe that it's a combination of factors that makes this core part of the game feel so unfulfilling. Sure, the randomness of drops is part of that. As are the relatively low rewards for completing scenarios. More fundamentally, I think it's because it's hard to care for the individual pieces that you collect. You're just pitting your selected team against a (usually) superior force with little reason to care about your units. The only inconvenient thing about them dying is that you'll be down a unit for future battles. In short, they don't have any of the personality you might expect from something like XCOM or Skulls of the Shogun. And there's no compelling plot to offset that.
The randomness of battles are also a big concern. To begin with, you don't get to decide the positioning of your units at the start of a battle. This means that your ranged units can get swamped by the end of the first turn because the AI units start within striking distance. It's frustrating to have that lack of control and plan ahead. The battles in the scenarios are a crapshoot as a result, not least because there's very little in the each battlefield that's actually interesting. There's a rudimentary cover system, sure, but it affects only ranged units and is way less important than surrounding enemy units with your own to give them a dice roll malus. Forget thinking about elevation, types of cover or any other similar staple of tactics games.
Units attack each other by rolling a number of dice equal to their health. It's a simple system that's modified by whether or not the unit is surrounded or you've activated one of your command cards. These cards are the only thing that's truly flexible about the system as you have to build a deck that's randomly drawn each turn during the course of a battle. They add extra dice to your attacks, movement range and a few other things that end up making more of a difference than, say, whether the unit has a spear or a club. The fact that these are so important to the outcome of a battle is a shame, since I would have preferred the actual units to have more unique flavor.
Yeah, I'm glossing over the fact that units level up and can unlock abilities. But, honestly, it's such a grind to do so and it still makes less of a difference than having the right card at the right time or outright replacing it with a different unit type. I'm also ignoring the use of items as they are too situational and availability depends on the particular scenario you're playing.
At its best, Warbands: Bushido is a serviceable tactical game. It shines in the PvP battles online where you're similarly matched to your opponent and things like positioning matter a little more. Everything else about it can quickly become frustrating. If you're playing by yourself it's not very fun at all—the superior AI numbers coupled with the randomness of dice make playing through the scenarios an exercise in luck and patience. I don't really have the inclination towards multiplayer, let alone having to then unlock random units and cards by spending coins to build a better team. If you do, then you might find many hours of fun for a cheap price. If not, it's best to avoid this one completely.
You can grab Warbands: Bushido on Steam.
Some you may have missed, popular articles from the last month: