Sci-fi puzzle platformer Transmogrify from Odyssey Entertainment has you turning aliens into useful objects to help solve puzzles.
The idea came as a result of a Ludum Dare 32 game jam, which had a theme of "An Unconventional Weapon". They say that someone messaged them with the idea to make a weapon that doesn't kill, so they ran with the idea.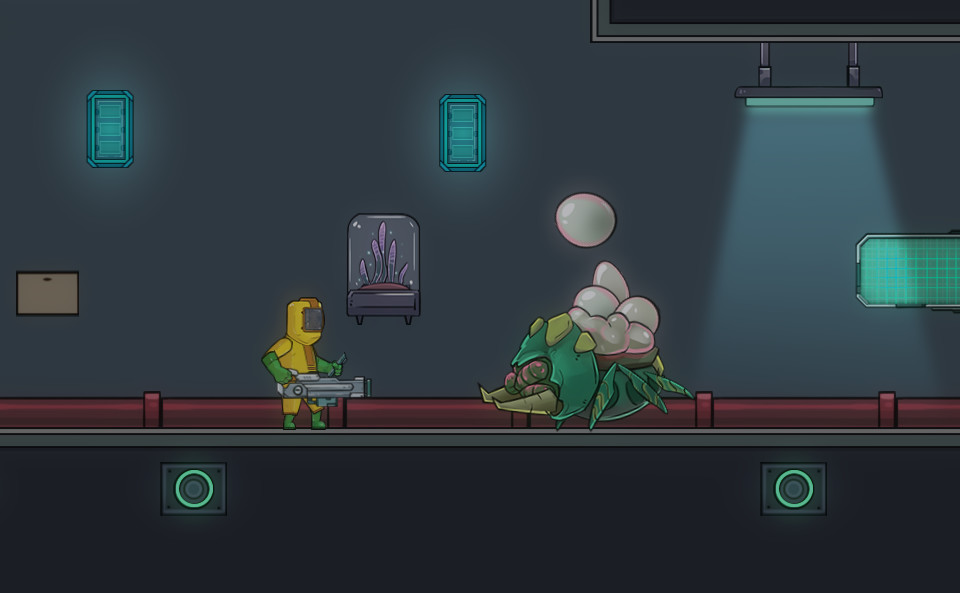 Here's how they're describing the game:
Transmogrify's gameplay is a blend of solving puzzles, platforming action, and exploring an immersive facility. Each enemy turns into a different object with their own purposes. You may need a block to hold down a button to open a door or reach a small ledge. In another case, you might want to find an enemy to turn into a one-way platform to traverse a big horizontal gap. A different puzzle will require you find a spring in order to bounce your way up to a high vertical area.

We also added teleporters, buttons, switches, doors, moving platforms, lasers, jump lifts, and the kitchen sink to the mix. They all interact to create combinations that build on each other which keep the gameplay fresh and complex. We reward creativity and give the player multiple ways to solve puzzles. We also created bite-sized levels and there is a scoreboard at the end with stats to track how you did to create a fun, short, gameplay loop. You can replay the levels you want to beat your high score or explore and collect hidden items.

Transmogrify will appeal to gamers that like platformers, puzzles, some story-telling, and elements of sci-fi and horror.
Originally the team was just made up of programmer Andrew Strauch, but now they're a three-strong team with Nick White joining to work on the audio and Tim Tsang came along to "nuke the programmer-art from orbit".
It sounds interesting and it's crowdfunding on Kickstarter right now. They're looking to get $5K and with nearly $1K already pledged and 29 days left, it should be a goal they can hit quite easily. What's also fun to see, is that it's being built with the open source Godot Engine.
Check it out on Kickstarter. It also has a Steam page you can follow.
Some you may have missed, popular articles from the last month: