https://www.youtube.com/watch?v=zmjZYIndaCA
Serpent in the Staglands is a pretty interesting looking CRPG that has recently released for Linux. It actually looks a bit like the old Baldur's Gate games, but plays out quite differently.
The great thing about it, is that the have a
demo available directly from their website
. I tested it out, and it seems to work perfectly.
Serpent in the Staglands was funded thanks to
Kickstarter
, so it's great to see it have a day-1 Linux release! Many thanks to all the backers who risked their bucks for it. On their FAQ they weren't sure if it would be too easy to do the Linux version, so it's even more pleasing to see it released!
Some thoughts
Performance
: I have yet to come across any bugs, or performance related issues. I imagine this would work on some pretty low end hardware too.
It's very much a figure it out by yourself type of adventure, with very little in the way of hand holding. That's great for serious RPG fans, but not so great for people who don't have time to sink hours upon hours into something constantly. It doesn't seem too confusing though, as the interface for everything is nicely laid out.
It's actually inspired by Baldur's Gate and Darklands, I can see the Baldur's Gate in it, but I have never played Darklands to comment much on it. Looking up shots and videos of Darklands, I can now see the resemblance. Serpent in the Staglands is still very much its own game though.
Random Note: My party punched a barrel open, they all slipped over in oil, and it was hilarious. This makes me like the game, and want to see what other random things I can do in it.
One thing I would really love to see is zooming options. The only zoom currently available is the map view when pressing M, but all this does is zoom you out a little bit, and honestly, I would like to play the game a little more zoomed out. It just feels better seeing more of the map, the game is much too close for me to be comfortable with it.
Random Note #2: I spoke to chicken, it was beautiful, see this shot: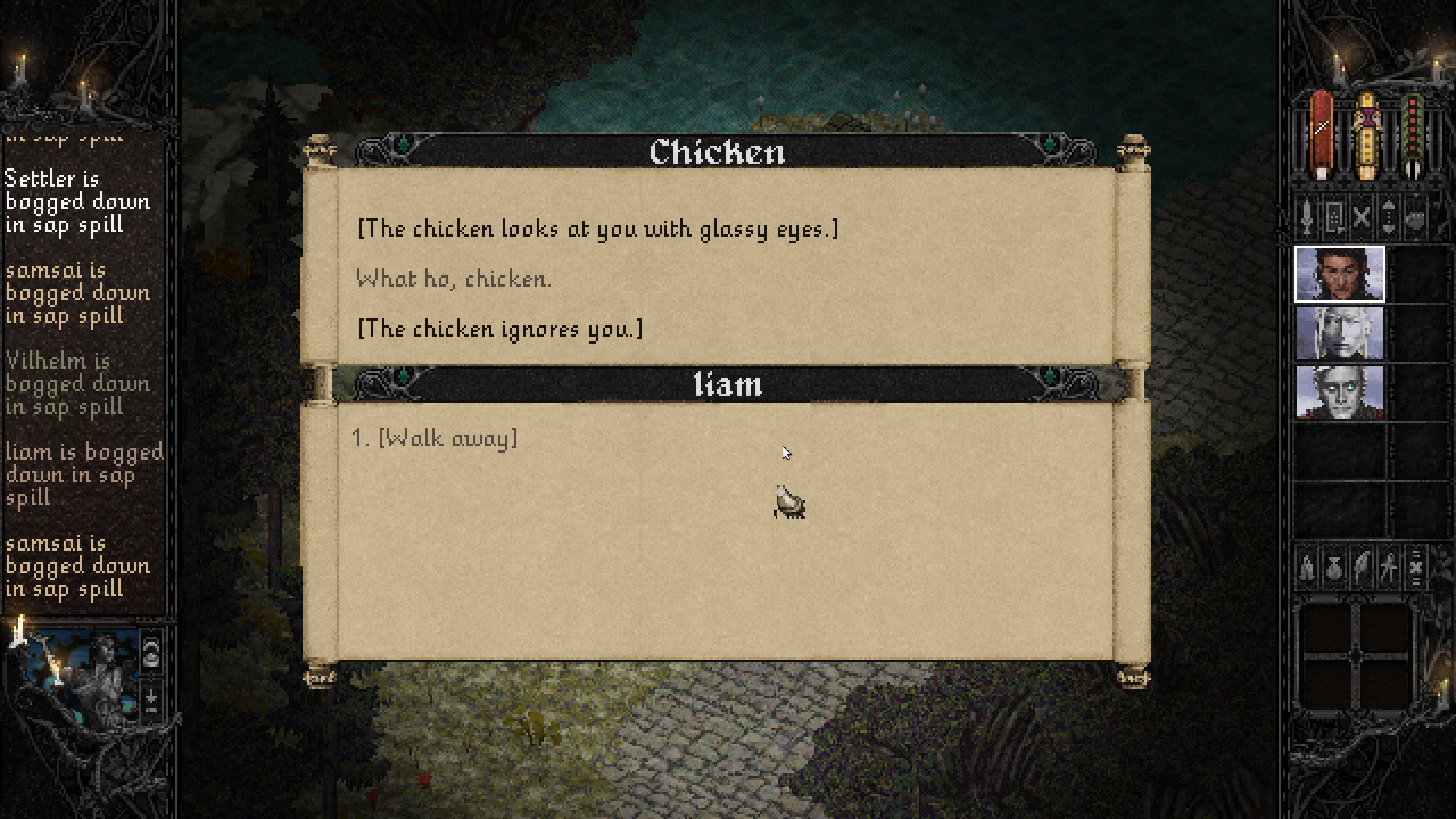 Not long after speaking to the chicken, I had my inventory open to bring up a map I was given earlier. I didn't even realise a wolf was attacking me until I saw the left panel being spammed with "x hit x for x", and I quickly died. It would be much nicer to actually have some sort of sound effects for, you know, dying and all.
The combat seems simple enough, and the addition of a Party AI option to have them auto-attack is very useful. I dislike RPG games that only have the option of manually setting each character to attack, or attack by themselves as a default as they could die easily. So having the option to be passive or aggressive by choice in different situations makes me happy.
Random Note #3: Goblins sound exactly like seals, it's hilarious, and odd at the same time. Makes me chuckle each time I run into a Goblin.
I haven't figured out where the shop is that I am sure was mentioned at the start to get some more gear, as without anything your character dies too quickly and it's game over rather fast.
The is very much a game that
requires you read the manual linked here
, and it will save some headaches. There is no tutorial, and no hints in the game at all.
Initial Verdict:
If you like in depth RPG games with retro visuals, lots of reading and figuring things about by yourself, then you will probably love this. I'm actually hovering over the buy button at the moment, even though I'm not usually a fan of trying to figure things out for myself, so it must be good right?
About the game
(Official)
A campaign within the world of Vol, a fully realized setting inspired by the late bronze age in a Transylvanian landscape, with unique politics, races and gods steeped in history. Featuring a chosen party of five, you role-play Necholai, a minor god of a celestial body who descends to the Staglands for a moonlit festival only to find the way home blocked and immortality slipping away. Seeking answers and aid, you take on a mortal body and the guise of a traveling Spicer. This isn't a story of good and evil, saving the world or being a hero, it's about intrigue and your adventure of survival in a harsh land.
While the game rolls the dice for you, you'll traverse the Staglands on a path narrated by your own wits and choices. A tabletop inspired experience with adventure-game like navigation, Serpent in the Staglands offers no auto-populating map markers, checklist quest grinding and rigid story exposition.
Examine hand-drawn maps in your inventory for secret locations, diagrams of foreign languages, note encounters of interest in your in-game journal and figure out on your own how best to smuggle Spices. Roleplay, investigate, and pray to the RNG god when combat begins.
Check out Serpent in the Staglands on
Steam
and
GOG
.
Some you may have missed, popular articles from the last month: