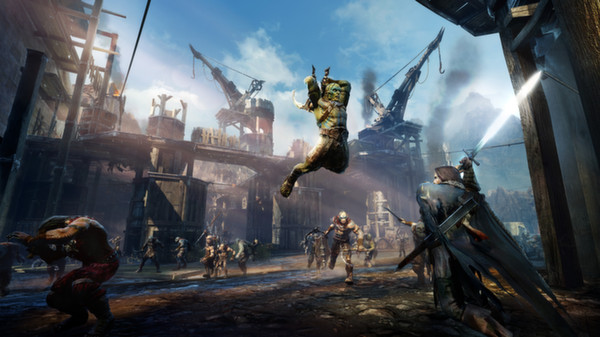 We decided it was time to plug Shadow of Mordor again, only this time myself and Samsai have conducted some benchmarks across four different Nvidia GPU's.
We do all this simply because we love what we do, and thanks to the support from our fans. No need to tip us.
One thing I discovered recently, is that a driver update forced "Sync to VBlank" on in the Nvidia control panel. I suggest you take a look as well, as others I have spoken to also had their setting turned on.
This is easily the most graphically heavy game that Linux has right now, and not because of optimizations being needed, but the graphical options are plentiful and it looks gorgeous. Well, as gorgeous as Mordor looks anyway for a rather bleak setting full of Uruk.
We both have low and higher end cards, with myself having a higher end CPU and Samsai having a lower end CPU, so these benchmarks should give a good indicator at the performance you can currently expect on Linux.
These tests are using the presets as they are, so we haven't tweaked any other settings. All tests are run at 1920x1080 resolution.
It's worth noting that for Ultra, you really need around 6GB or more VRAM, as it uses a lot. Luckily, the benchmarks don't use up too much, so three of our cards were able to go through the benchmark on Ultra, but it killed my 560 Ti. Note that the HD Content texture pack was not used for these benchmarks.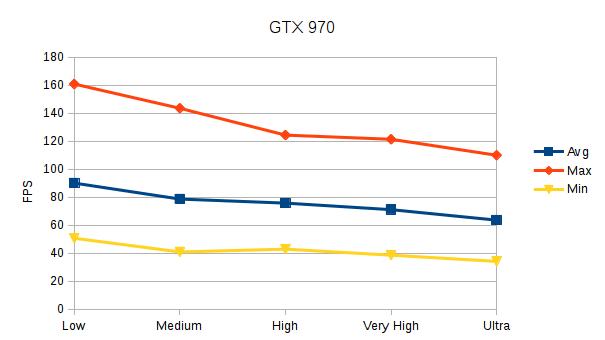 As you can see, a GTX 970 can run the game at a quite consistent framerate with the averages always above the 60 FPS line. The 3.5GB (4GB technically, but the last 500MB is slow) of VRAM is a quite reasonable amount for this benchmark and the performance drop-off is actually fairly small.
Note: This shows my 970 performing better than the 980 Ti and Titan X tested over at Phoronix, so his benchmark is very odd.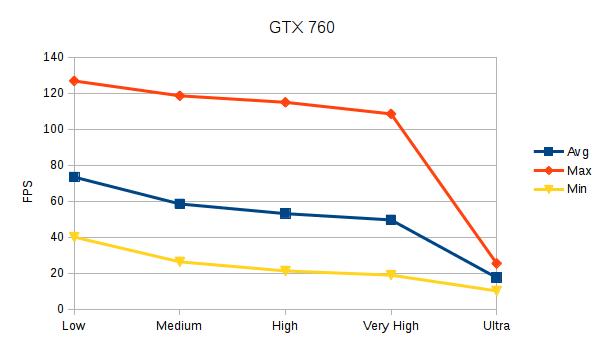 GTX 760 can also handle the game reasonably well up until Very High. The average framerates are a little bit shy from 60 FPS but they stay in the 50-60 FPS range in Medium to Very High. For the game in question this is very much an acceptable framerate. On Ultra the performance drops rapidly and this is most likely due to the VRAM. The 760 comes with 2GB of VRAM which is a lot lower than the game recommends.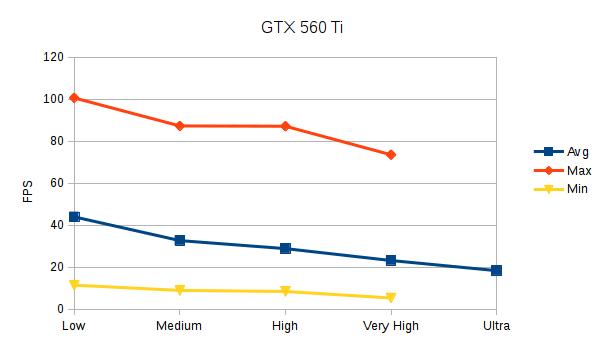 The 560 Ti is technically faster than the 640 mentioned in the system requirements for this game but it's starting to be outdated at this point. From Low to High the game runs from a little over 40 to little less than 30 FPS. 30 FPS is usually considered the lowest acceptable framerate, though nothing to cheer about. Note that the game crashed on Ultra and the numbers were a little bit twisted there. It's definitely too much for this card and its 1GB of VRAM.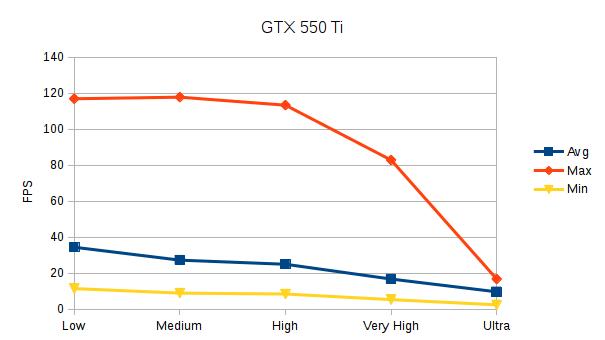 The GTX 550 Ti is very close to the 640 in terms of performance and is definitely starting to be in the absolute minimum territory. It can only reach 30 FPS at Low and even at Medium the card is starting to perform poorly. After High this poor old card is not able to maintain a framerate that anyone could consider playable. This doesn't come as too big of a surprise because the card only has 1GB of VRAM which pretty much seals the fate of this card on anything higher than Medium.
The raw data can be found on the next page if you want to see it in pure numerical form.
We hoped you like these tests, and hopefully we can do more as and when more cards become available to us, and when more games support benchmarking modes.
Samsai has ordered an AMD R7 370 4GB, and I will also be looking to get one soon. That way we can cover more ground for you, and our benchmarks will be more interesting.
Some you may have missed, popular articles from the last month: