Today should be a good day for you nostalgia lovers, because Shovel Knight has been released for Linux! Shovel Knight is a charming NES-Inspired platformer that was funded on
Kickstarter
and release for Windows back in June. The game has received a lot of
critical praise
; being described as a love letter to old school platformers. To celebrate I've bought a humble key (Includes DRM-Free and Steam key) to give one of our readers. If you want a shot read the instructions at the bottom of the article.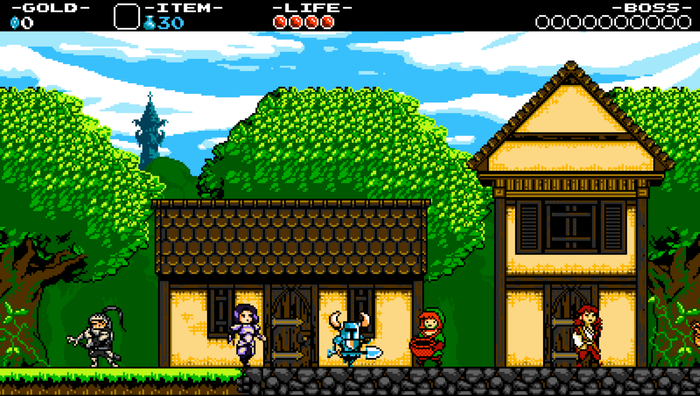 The plot is a retro tale of rescuing a damsel, beating the bad guy (or girl in this case), and becoming a hero. And like a lot of love-letter games, expect to see a lot of enemies, weapons, and mechanics that seem familiar. At first glance the game takes a lot of inspiration from games such as Super Mario 3, Castlevania, and the Mega Man series. A lot of the graphical fidelity, effects, and level of detail looks more toward the SNES spectrum of visuals than NES, but I think it was a good decision since it's more pleasant to look at. However, the color pallet and design stay pretty true to the concept; lots of great contrasting colors and hidden secrets. The boss fights especially reminded me of the hours I put into the boss fights in the Megaman games. Speaking of which, this is also supposedly either very challenging or a bit too easy; there doesn't appear to be a consensus. Still, even if you blaze through the game, there appears to be a lot of
upcoming free content updates
including a challenge mode, new playable knights, gender swap, and a battle mode
If you're looking for an unbiased view, I'm probably not the person you want a review from. Everything about Shovel Knight fits to my taste: Beautiful pixel art, chiptune soundtrack, tight platforming, and charming characters. I've been beyond excited for the last 3 months, and I doubt that's going to ease up over the next day or so. However, while I'm as sold as possible, you can generally find praise of Shovel Knight on pretty much every big gaming news outlet, so as far as I'm concerned it's a pretty safe purchase. But you're probably more interested in that free key, right? We're almost there.
About
(via Steam)
Shovel Knight is a sweeping classic action adventure game with awesome gameplay, memorable characters, and an 8-bit retro aesthetic. It's a hot mashup of new and old! You play as the eponymous Shovel Knight, a small knight with a huge quest. Shovel Knight has come to this land with two goals: to defeat the evil Enchantress and quest for his lost beloved. He wields a Shovel Blade: a multipurpose weapon whose techniques have now been lost to the ages. Always honest and helpful, Shovel Knight is a shining example of the code of Shovelry: Slash Mercilessly and Dig Tirelessly!

But, between Shovel Knight and his beloved stands a cadre of villainous knights. These terrible foes, known as The Order of No Quarter, have been dispatched to prevent Shovel Knight from reaching the Enchantress, and will pursue their mission at any cost. If you love games with perfect platforming, beautiful art, infectious music, crazy bosses, humor and levity, and real heart… Shovel Knight is for you!
You can pick up Shovel Knight on both
Steam
and
Humble
(DRM-Free build available!) Edit: Also, you can pick up the soundtrack at
Bandcamp
(Thanks, McCoy!)
Now about that free key!
In the comments, I want to know why you think the developer and funders thought this era of gaming was worth revisiting. I want you to give one unique quality of NES/SNES games that made them so special, along with a game that you feel exemplifies it. I'll pick my favorite by tomorrow and send the winner a Shovel Knight Humble/Steam key.
Update: It's over! We got a lot of interesting answers, but I've gotta give it to Dibz; thanks to everyone for participating!
Some you may have missed, popular articles from the last month: