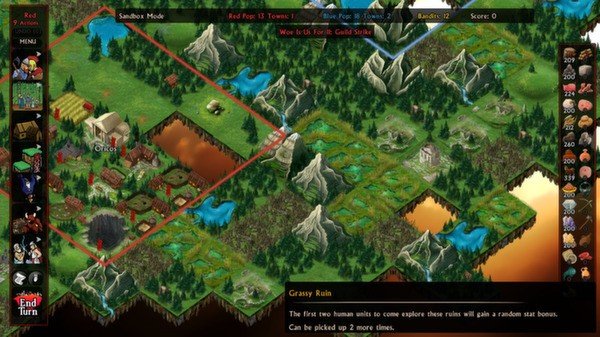 Skyward Collapse is a different take on the god game genre that mixes in some strategy and base building elements to make one weird mix. This is part of Arcen Game's bigger push into Linux, and there is more from them out recently, and more on the way again for us Linux gamers!
Rather than simply helping one civilization survive you are tasked with making sure two of them don't wipe each other out and while it does make it interesting this won't be to everyone's taste. I've seen people in reviews say that it feels like playing a 2 player game on your own, and after playing a bit of it I can see why people say this, but it doesn't stop the game from being interesting to play.
Each side has different strengths and weaknesses, and it's your job to make sure you watch every battle, so that one side doesn't get the upper-hand and risk losing too much of one city.
There are a couple bugs as well, so the port is by no means flawless. I placed down a second Rock Quarry during the tutorial and a popup came up about a missing file, so that didn't really help things. Placing down a Ranch also gave me a missing file popup, so I don't know if I'm missing important information or not.
Apart from those minor setbacks the port itself seems pretty good, and the game flowed well, it's just not my cup of tea balancing two sides against each other. The whole time I wanted one side to wipe the other out, and not protect them both while building them both up to constantly fight each other, so it just feels odd.
Check it out on
Steam
, as it's sale for dirt cheap too, and you it may be the type of god game you always wanted.
About
How do you balance -- and indeed encourage -- a war between factions without letting either side obliterate the other? How do you rule over gods, creatures, and men who refuse to obey you? How do you build a landscape of villages when bandits and mythology are conspiring to tear it down? Skyward Collapse places you into the role of The Creator, and frees you to tackle these problems your own way. Brought to you by the developer of the modern strategy classic AI War: Fleet Command, Arcen's second full strategy title is equally unique (but far easier to learn): a turn-based 4x strategic god-game.
Your task is to build and populate the floating continent of Luminith. You create -- but cannot control -- gods, creatures, and artifacts from both Greek and Norse mythology. The power you wield with these is immense: Heimdall's horn causes everyone outdoors to drop dead, for crying out loud. Your task is to keep both factions alive and fighting until The Master calls you home -- but this is harder than it sounds. Bandit Keeps pop up periodically, as do Woes such as floods, serial killers, guild strikes, and vegetarian uprisings. Every game plays out differently, and you'll need even the craziest of your powers in order to survive what lies in store for you.
Some you may have missed, popular articles from the last month: