Combining elements from many different genres, Dungeons 3 [Steam, GOG] has arrived for you to spread evil across the world. Dungeons 3 was a same-day release for Linux, but how does it feel to to be bad?
Disclosure: Key provided by Kalypso Media.
It seems they have continued to improve the game with each new version. The first wasn't overly well received, while the second was seen as a big improvement and this third iteration might be the best yet.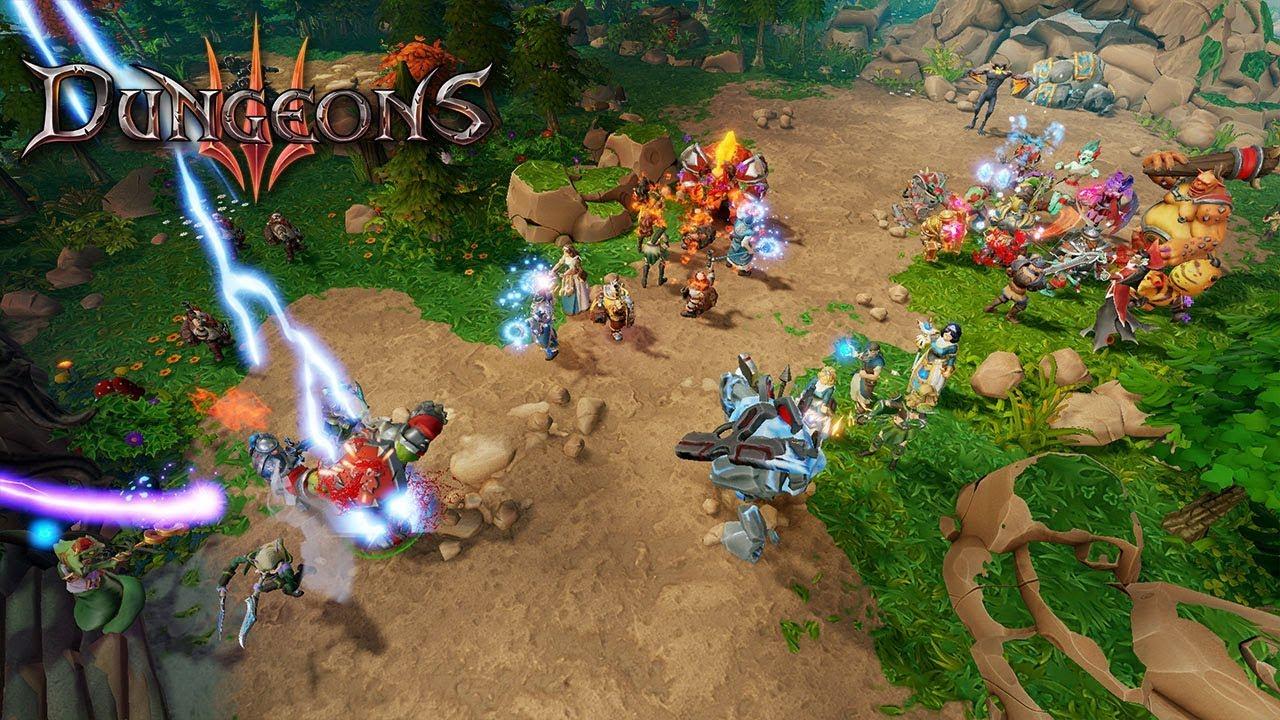 If you're not familiar with the Dungeons series, it's inspired by games like Dungeon Keeper that see you build up a dungeon full of orcs, succubi, zombies and plenty more you can research. Not only that, but it also combines elements from games like Warcraft (the RTS, not the MMO) when you send them up to the surface to fight. There's also elements of Tower Defense thrown in, too, with you setting up various traps against enemy waves.
The comedy
It's pretty hard on the comedy side of things, with it playfully using names and phrases from other works. There's jokes aimed at Dragonball Z, Fallout, Game of Thrones, Lord of the Rings and plenty more. Sadly though, it's often over-used. Especially when they joke about lawsuits and how they don't want another, then do another joke about a lawsuit and then another. The constant jokes aimed at other works becomes a bit tiring, I do wish it carved a bit more of its own personality at the start.
The narrator during the tutorials was actually hilarious, especially because they poke fun at their own building methods, joking about "video game logic". The last tutorial in particular really made me laugh! They did a really great job there at hooking me in, but sadly that didn't translate well into the campaign.
For two reasons, the overuse of poking fun at other works and the voice actor for Thayla was extremely irritating. They sounded like they were heavily over-acting to the point of becoming annoying. I appreciate a good "over 9000" Dragonball Z joke, but in Dungeons 3 it was so terribly done it annoyed me. It's not all bad, but there's some glaringly bad bits in their comedy attempts. Not the "so bad it's good" kind either, some of it was just terrible writing.
Thankfully, it seems they ease up a bit as you get further through it and it does end up carving out its own funny personality. I especially appreciated the usual narrator telling Thayla to shut up, that almost made her annoyances worth it.
The Gameplay
The actual gameplay isn't complicated, in fact I would say it's actually still quite simple in terms of game mechanics.
The campaign missions are actually split into two parts, as you have the dungeon building element, but then you also have the overworld happening at the same time. Enemies can invade at any time, but you can also send out an army whenever you want. Switching between the two maps is completely seamless and you also have the dual minimap system to keep an eye on each as well. Even with all that going on, it still remains quite simple. It's not overly simple, more on the side of keeping it fun without being frustrating.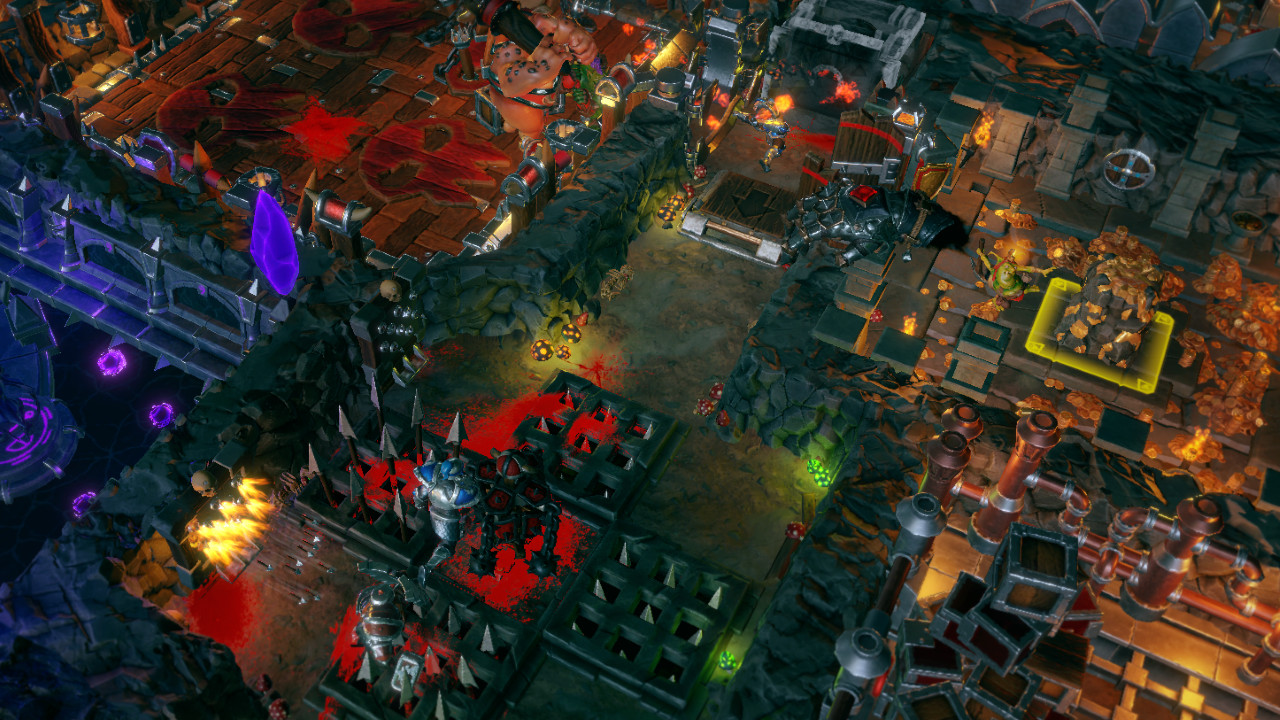 For the dungeon building side of it, this will be instantly familiar to anyone who has played the previous games or any other simulation game. You drag out lines for minions to dig, choose from various buildings to place down, some of which to directly benefit your army, while some help you advance in the mission. Some elements aren't well explained, like the room effeciency system. Rooms need different sizes to work well, plus efficiency is driven down if they're too open-plan. Filling space with doors and dirt should bring the efficiency back up.
What I did like is how you sometimes find random rooms, or extra resources by digging around. Just watch out for the damn spiders and their nests.
The overworld side of the game is more like an RTS, although a fairly basic one. You select your units and send them off to attack while keeping an eye on their health. You usually have specific objectives here, like taking out groups of people or specific buildings. It even has proper numbered grouping support, so you can split your troops up a bit. Still fairly basic, but it feels good enough.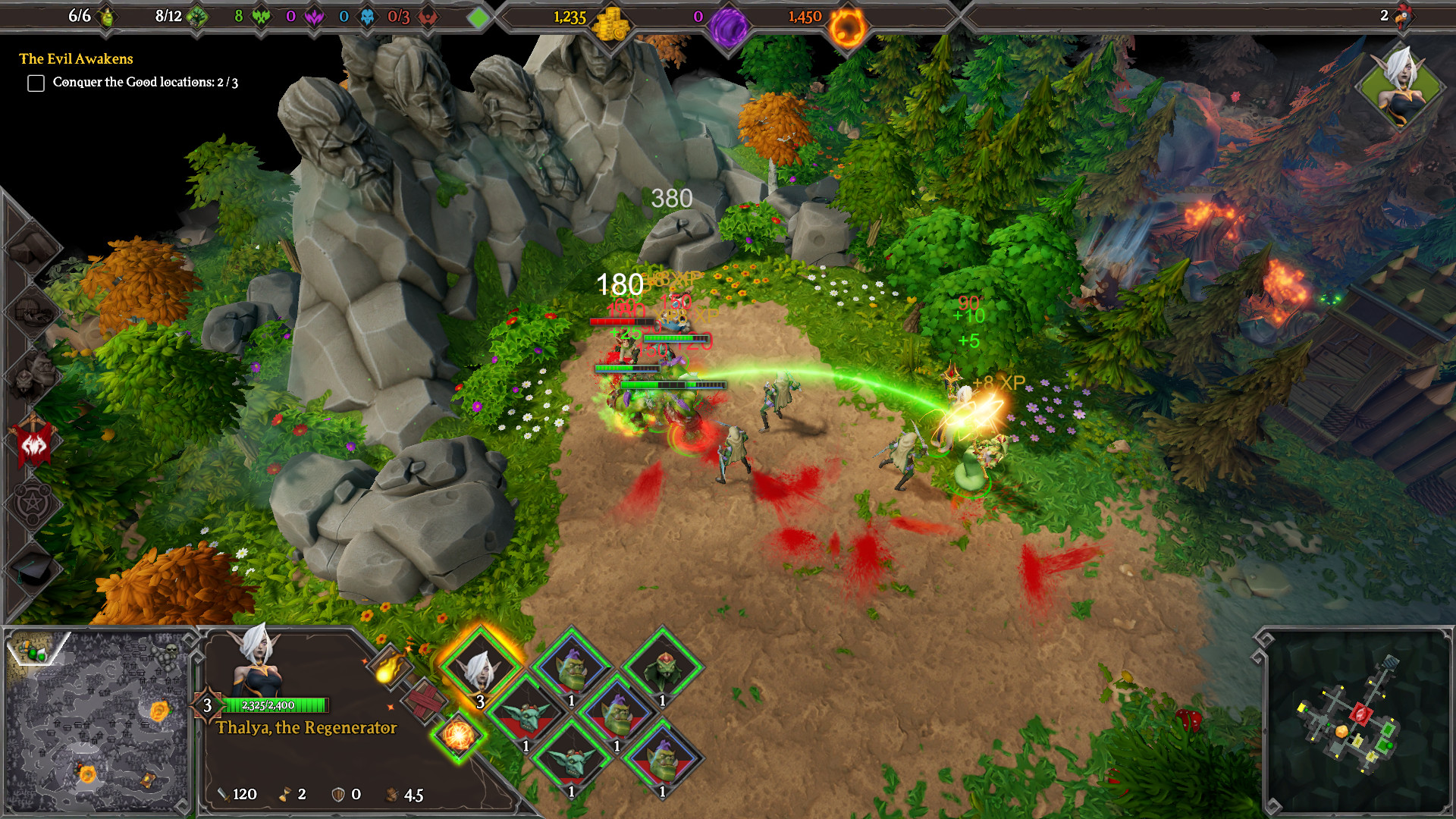 Even though both parts to the game are quite simple, they blend together rather nicely to make some great gameplay. It can get a bit frantic too, if you're engaging in battle with your main forces on the overworld and your dungeon gets invaded. It's awesome though, because of just how great it feels to switch between the two maps. There's lots to appreciate, with varied missions and plenty of content to keep you going for hours.
The animations are simply beautiful, seeing my little workers scurry about the place while they do my bidding, seeing rocks crumble away as they dig another room, everything just looks fantastic over all. There's such a real attention to detail, that's made me really enjoy just watching it and giving my workers a slap now and then. It's also the simple things, like building a big object on top of barrels, so your little minions run in and roll them out of the way, or your gobblers hatching out of eggs. So many little things going on, so much to watch and it's really quite engrossing.
An interesting addition for the third game, is the co-op mode. Allowing you to team up with a partner as equally evil as yourself—double the trouble. Getting a friend in a game is simple, on each mission you can choose to do it in singleplayer or co-op by inviting them through Steam, or by giving them the ID of a game. This does mean you need someone you know, you can't just search for a game, which is a shame.
The normal online modes do allow you to search for a game, or set up a game that's public to allow others to join.
The Issues
The game does suffer from a few unfortunate issues. First up, at the start of the campaign people are chatting away, but none of their character models actually appear. It was a little odd, but the scene thankfully doesn't last long.
Also, if you're on more than one screen like me, the mouse isn't locked to the game, so it will run off onto your other monitors. Thankfully, it does offer WASD to scroll around, so it's not a major problem. Slightly annoying if you do move the mouse around to scroll, as it will either go off the screen, or not scroll at all in the case of pushing the mouse to the top of the screen.
A more general game issue is the extremely limited graphical options. You can adjust the screen resolution, fullscreen/windowed and that's it.
Overall
It's really great to see Kalypso Media continue to publish some great Linux games. Realmforge Studios also deserve a cookie for getting the gameplay so well-tuned now. Overall, it's actually pretty good. The mix of styles the game blends together makes it truly interesting.
There was an issue with it constantly crashing, but they seem to have solved that with the latest patch.
I've been enjoying it and for the overall gameplay I can happily recommend it. You can find Dungeons 3 Steam and GOG.
Some you may have missed, popular articles from the last month: