What do you get when you throw cards at a roguelike? Slay the Spire [Steam, Official Site] answers that question and then some! Do note, that it's currently in Early Access so it's still getting new content updates and bug fixes. Here's some initial thoughts after spending some time with it.
Disclosure: Key provided to us through our Steam Curator.
A lot of deck-building card games are online, free to play and end up costing you extra money somehow. Not only that, but you need to actually find one on Linux that has a decent player-base. I'm not saying they're all bad, Faeria is quite good, but like a lot you do need to grind or pay. I think this part of why I love Slay the Spire, as it's pay once, single-player goodness with procedurally generated levels to keep you coming back for more.
The battle system is fun, with lots of different positive and negative effects that can be played from different cards. The art style for the various creatures is fantastic and it is a challenging game. The creatures all act slightly differently too, some of them have quite surprising abilities that keep you on your toes. Like the Slime that split into two, or The Guardian that turns into a spikey ball that hurts you when you attack it. However, it's everything on top of the battle system that makes Slay the Spire so damn good. From slightly amusing random events with wiggly text, to a completely unexpected start on one run where I was greeted by quite polite Whale-like freak of nature:
Outside of the battle system, you pick the path you wish to take. Something I have to remind myself not to keep calling an "FTL-style" system like everyone (including me) seems to do now, because games used this before FTL, but they kinda made it cool again and I'm sure since then many more games use it.

Pretty standard stuff now, you pick a path and deal with anything that comes up. You will come across random discoveries and events, like this one. Yes—it was a trap, with a large boulder now heading my way of course.

However, here's why I like it even more as it gave me multiple options on how I wished to deal with the trap. Each obviously resulted in some kind of nuisance, but what nuisance was I willing or able to put up with?
It's not all random events and battling, as you will also get a chance to pick a campfire if the RNG is being kind. This will give you two choices, to either heal your character or upgrade a card. Often a difficult choice, but it's all these interesting choices that make it such a worthy game to play.
Some of the random events also make me laugh quite a lot. This mischevious looking snake-like thing gave me a rather tempting offer, I wasn't short on Gold, but even so, 175 Gold for the price of one curse card? Sssssure—why not, what could happen?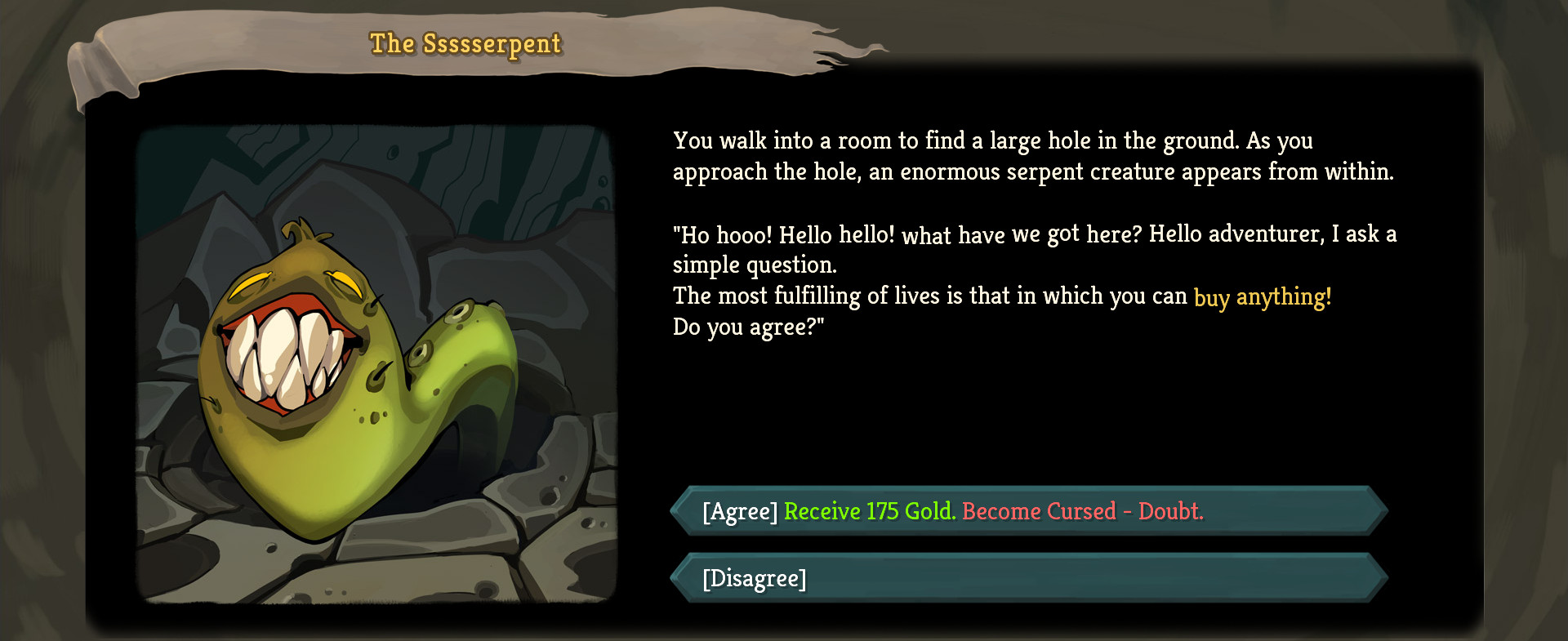 Once accepted, the screen was literally raining down Gold and I was happy. So I thanked the weird Snake and continued my quest.
Remember how I thought I could handle the curse card? Well, turns out they're quite a nuisance when you're down quite a bit on your health, the enemy is big and freakishly strong and then this bloody card turns up: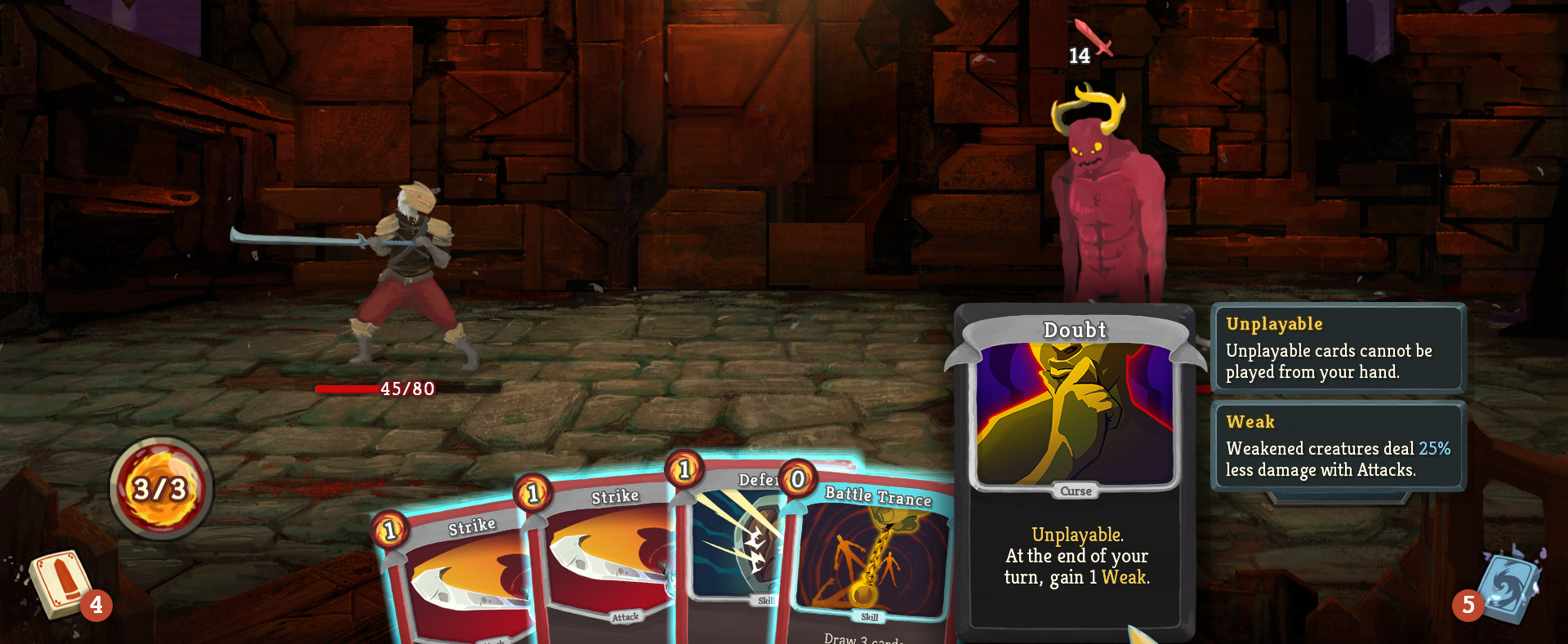 Dealing less damage when a bigger enemy turns up is exactly what I don't need. You can bet that's where my first journey stopped.
There's so much to talk about with this game and why I enjoy it so much, that it's quite hard not to review the entire thing, but that wouldn't be entirely fair since it's not finished. Right now it has over 200 cards to grab, over 50 unique combat encounters, over 100 items to find and loads of other things thrown in for good measure. It's certainly not short on content and it's only going to get more over time.
Note: If you have more than one monitor, do not use the borderless fullscreen mode. It will stretch it across your screens and completely cut off a bunch of it. If you do manage to mess it up, find the "info.displayconfig" file in the installed directory and remove it to reset it back to windowed mode. The normal fullscreen mode seems to work fine, apart from it grabbing the mouse on alt+tab, but you can simply bring up the Steam Overlay to get around that. That's not a Linux-only issue, I've seen Windows gamers also report it.
You can find Slay the Spire on Steam, even though it's not finished I think it's fantastic and I think you will like it too. It's often funny, it takes you by surprise and the art is fantastic.
Some you may have missed, popular articles from the last month: