Valve continue upgrading the experience for the new Steam Library with another Beta update available now.
I know plenty of people missed Small Mode, well the good news is that it has returned! If you go to View -> Small Mode in the top menu it will now correctly switch to it. It has been updated too, so you can view your Collections in it too. Don't know what Small Mode is? It makes your Steam client look like this: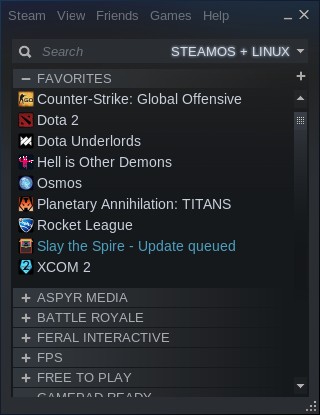 Additionally, they added a setting to turn icons off in the left column game list/Small Mode. There's a few styling tweaks for content not fitting when Steam is in a smaller window, a few crashes were solved when uninstalling games and a few more crashes were fixed.
For the Linux client, Valve updated vaapi decoding to libva2 compatibility, they applied some fixes to free disk space checking due to issues with some NFS mounts and Steam Input's F12 binding was fixed as well. See the full changelog here.
Curiously, Steam Broadcasting settings now actually show up in the Linux client. Before this Beta update, the Broadcast settings page always said "Steam Broadcasting is not currently supported on this operating system" but that message is gone and replaced with the ability to turn it on. Not that it works, testing this morning didn't allow people to watch me or me to watch them. Will be interesting to see if they are working on getting it supported or if it the settings were enabled in the Linux client by mistake.
As for Steam Cloud Gaming (do read that if you missed it!), we're seeing a few more leaks now. SteamDB put out another Twitter post to mention the latest Beta added more references to it including support for multiple cloud providers on top of Valve. One of the third parties mentioned is NVIDIA's GeForce Now.
It's going to be incredibly interesting to see exactly how Valve will be handling this, especially if they will allow other services to integrate directly with it. That could be a pretty big selling point compared to the likes of Stadia.
Some you may have missed, popular articles from the last month: