Do you like high-speed racing games, how about hovercrafts? SmuggleCraft [Steam, Official Site] combines them and turns you into a smuggler.
It seems they had a few issues with the Linux version initially not working, so I held off on covering it at release, but they did make good on it and sorted it out. I requested a key since I was very much intrigued be the idea of the game after seeing it fixed, so here are my thoughts.
Firstly, check out the trailer so you get an idea of what the game entails: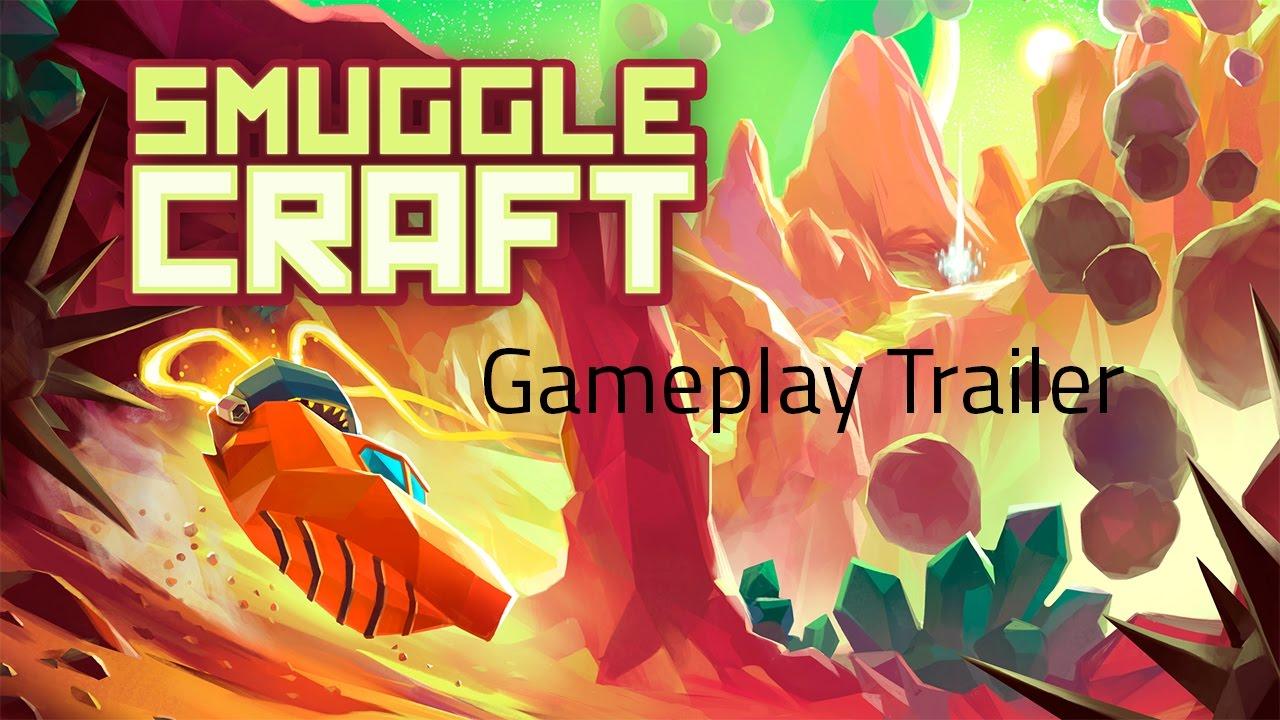 SmuggleCraft is a story-based racer with randomly generated tracks, upgradable hovercraft, quest-based missions and more. There's three modes of single-player: The campaign can be played in a mode with permanent death or the easy mode where you just get sent back to the quest list when you fail. There's also the quick race option, where you can just dive in with some customized options if you just want a quick race. On top of that, it also features online racing (not that anyone does) and local multiplayer racing.
As for the campaign—there is a reason you're doing all this smuggling and sometimes legal delivery jobs, as you need to pay someone back a rather large sum of money for helping you out with a vehicle initially. With them requiring payments constantly, you need to make sure you have enough credits each time. You can keep refusing to pay them back, but the amount they request keeps going up and they send bounty hunters after you. Some jobs don't give many credits and upgrades for your hovercraft require credits on top of components, so it's a constant toss-up on saving and spending.
I do love how open the quest system is, with you being given a choice of multiple quests to pick from at a time:
Naturally I failed the "Death Trap" difficulty quest.
The actual driving experience is at first quite exciting! You're avoiding obstacles, bombs are sometimes dropped on your head and you might need some quick maneuvering to avoid being rammed. It gives off a feeling of what I can only imagine it's like to be in pod racing from Star Wars.
However, once you've really put some time into it, the excitement just evaporates. The amount of variation in what you do is quite poor in all honesty. Drive from A to B, maybe do a circle trip to pick something up and…repeat. It wouldn't be so much of a problem if the levels had a lot more content to keep your attention, but they just don't.
Their claim of randomly generated tracks isn't quite right either, since I've seen the same entire sections, multiple times, with different colours. A little random perhaps, but nothing like what I expected from random generation. You can also quite easily just drive completely out of the track, with no way back in. It's really annoying too, since you're going so fast and you can literally ride up and out of the map. The one time I managed to cling to safety on a ledge outside of a map, showed me clearly there's no way back in (something I've seen others complain about too).
The game does have a few bugs, like the UI for the upgrades section being a nuisance to work with. During the upgrades tutorial some overlays were blank, and clicking the mouse on buttons actually removes the button selection, so it's a little annoying. They should either disable mouse clicks, or actually allow you to click on buttons with the mouse. On top of that, you can actually partially break the UI like so: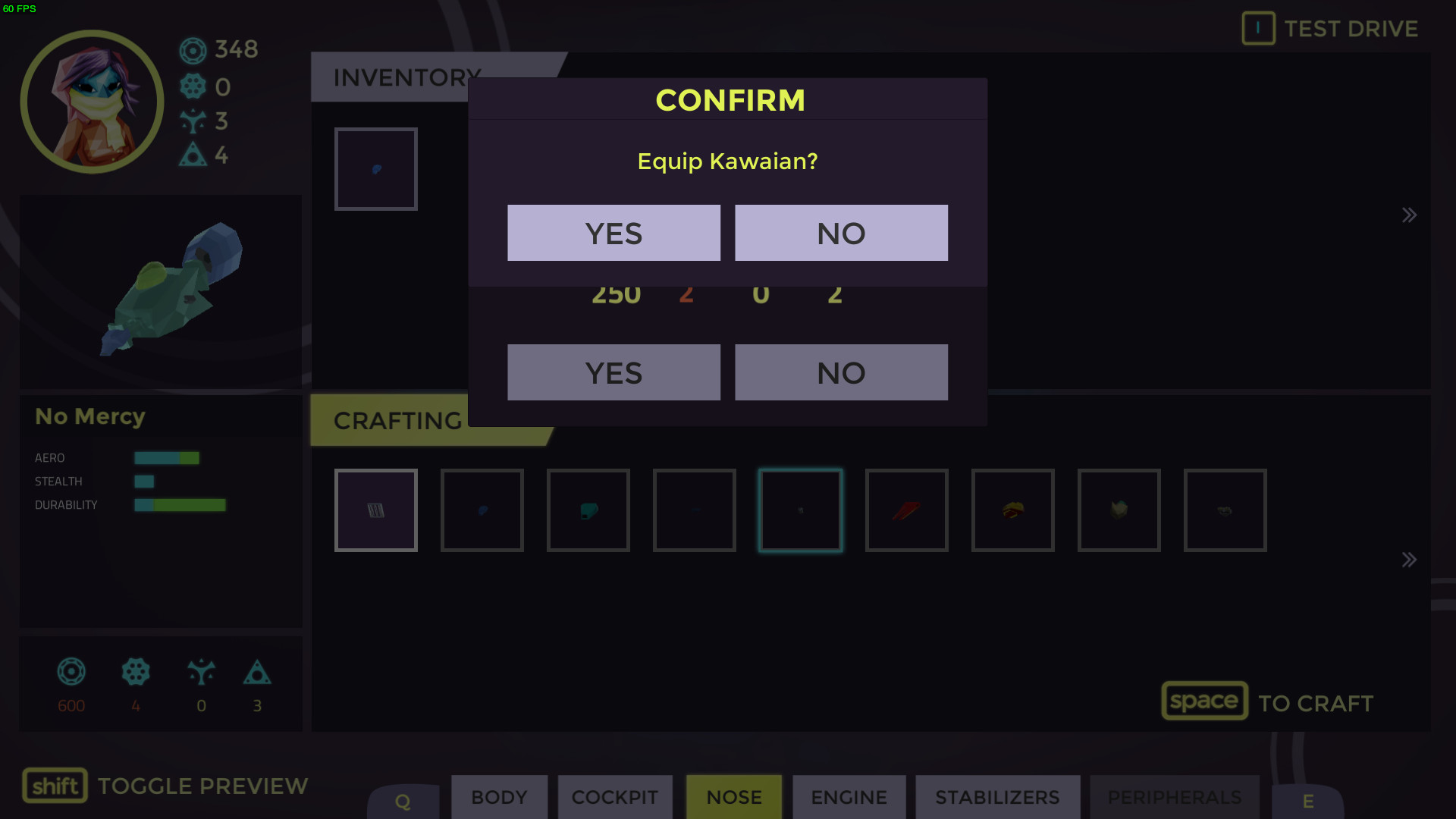 That's a pop-up, on top of another pop-up and neither of them can be selected. The problem is you cannot move the input onto them using the keyboard or gamepad, as it only moves your selection around the background UI elements. You can get rid of them, by re-selecting them in the crafting UI to then get focus on that pop-up again, but holy hell that's a flipping nuisance.
The other annoying thing is that it only has basic controller support. Using the Steam Controller only gave me keyboard prompts, which obviously isn't great. I really hope they improve that in future, as it was quite a let-down. It can also be impossible to select things at times with a gamepad, making the experience there just poor.
It's very different, but ultimately the actual races end up feeling quite boring past the first hour. The majority of your time is spent simply holding down to accelerate and dodging a few things and the fact that you can just drive out of the tracks really annoys me. They could have done so much more with it, which is such a shame.
Some you may have missed, popular articles from the last month: