Some weeks back a game by the name of Automata Empire was recommended to me and I happened to find it on a Friday before the weekly stream. So, here are my thoughts on the game.
Automata Empire is a real-time strategy game by Nonadecimal Creative which draws inspiration from Conway's Game of Life. You command and empire of mindless automata, which simply wonder around almost aimlessly. With this army you must defeat the Monstrous Monarchs that oppose your rightful dominance over the realm. However, getting the army to do your bidding is quite the task…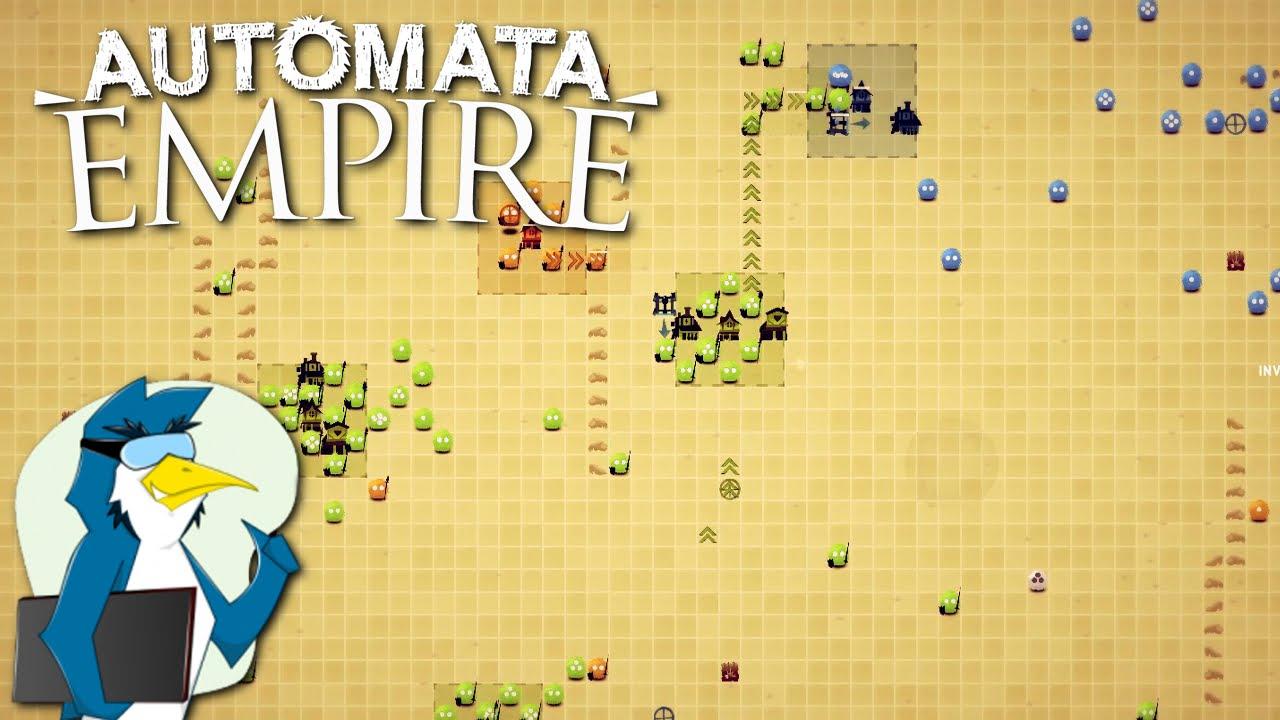 Automata Empire is built around the concept of indirect control. You cannot simply left-click on a unit and right-click somewhere to make it move where you want. The automata will simply pick directions somewhat randomly and move around without any goals or targets. Because of this you must construct various buildings that will guide your army at least in the general direction of the enemy. To do this you have a couple of buildings: taverns, roads and catapults. If an automaton arrives at a tavern it will simply hang around and move around the tavern. This allows you to create staging grounds and defensive lines with your mindless minions. Taverns also tend to cause friendly automata to collide which will create more powerful automata and produce more automata. Taverns can also be equipped with armouries and arsenals which will equip your automata with weapons and armour to better combat your opponents.
Roads and catapults are your main method of transporting automata across the battlefield. Catapults will simply send automata flying a certain distance and in a certain direction, which can be an effective way to take out an unsuspecting enemy tavern. It's also a very quick method of transportation, making it useful in scary defensive situations and quick stabs against the enemy. Roads on the other hand are rather slow and expensive to construct but will force the automata to move precisely the route you want. It's also the best way to transport a huge amount of troops, as the automata sometimes fail to move onto the catapult to be sent into battle. You can also construct walls to block automata from moving into certain areas which can be useful if your minions have a tendency to walk into a pit or defensively to stop enemies from entering into your taverns.
The game also lacks resource collection that is present in most other RTS games. Instead, your automata are your resource and they will be consumed each time you build something. The necessary automata also need to be in the area around the building you are constructing, so moving your armies around also serves a purpose of supplying the frontlines with enough resources for expansion in addition to just attacking your opponent. You also need to be wary of commiting too many automata to the fight, as it will directly affect the amount of automata you are producing. If your taverns don't have enough automata to produce more, you will end up unable to mass a large enough army and your expansion efforts will come to a standstill. You need to find a balance to keep your enemy busy dealing with you forces while also creating more automata to keep expanding your road network and taverns.
The combat and game modes aren't particularly complicated. The game has five game modes which are Siegecraft, Migration, Capture the Banner, King of the Plateau and WAAAAAR!! (it's typed that way). In Siegecraft you attempt to destroy your opponents' strongholds while defending your own, Capture the Banner is capture the flag, King of the Plateau is king of the hill and WAAAAAR!! is just deathmatch. Migrations is conceptually one of the more interesting game modes, in it you must migrate away from a massive horde of undead automata as fast as possible, slowing down the undead as much as possible, and the last army alive is the winner. The game modes aren't anything too special, though I haven't seen CTF in a strategy game before. The combat consists of just automata moving on top of each other and the weaker one will be destroyed while the stronger one will take some damage and keep on moving mindlessly.
Despite the fact that the combat is quite simplistic and there is essentially no unit variety, the game does require some strategy and quick thinking. While at first the game might seem very simple, and it mechanically is, things will quite quickly get out of hand as the armies on all sides get bigger and scarier. The randomness of the automata will create a very hectic and chaotic situation and the one that can manage the chaos best will end up winning. There is surprisingly little luck involved and just sending your army in the general direction of the opponent and hoping for the best doesn't really cut it. You need to be constantly monitoring the automata and their movement, matching the enemy's offensives with quick defensive deployments of your own and then strike back ruthlessly when you detect a weakness in the enemy's defence.
The environment you are fighting in also has some effect on the way the games will play out. The map is littered with mountains and pits which will force you to create routes either over them with catapults or around them with roads. There is also an optional danger in the form of zombies, which act very similarly to your automata but they will not construct buildings but which can multiply at a surprising rate. Sometimes my games have ended with the zombies taking over almost all of the map simply because I didn't pay enough attention to them when I had the ability to force them back.
I do find the gameplay mechanics at play here to be quite awesome and refreshing. Automata Empire is an RTS like no other and the unique and fun gameplay has certainly intrigued me quite a bit. However, there is a feature that is (for now) lacking which is multiplayer. The AI is fairly competitive at the game and I don't dare to challenge the highest difficulty AI yet (if ever) but I can see multiplayer being something someone buying this game would really want. However, it simply isn't there, though it's on the todo list for the developer so it will likely make its way into the game eventually. I myself am not too concerned about the lack of multiplayer because I rarely if ever touch it, but for some it might be a deal-breaker.
Graphically Automata Empire is fairly spartan. All of the sprites and backgrounds are fairly simple but considering how big the armies get over time it's easy to understand why. The simple aesthetic makes it very easy to see what is happening. The Armoury and Arsenal are a bit difficult to distinguish from one another but rest of the sprites and icons are clear and easy to understand. And even though the game is simple it doesn't mean it's ugly and the game is in my opinion quite pleasing to look at. The simple graphics also mean lowered system requirements and basically all modern systems from laptops to high-end desktops should be able to run the game fine. At least until the automata armies start filling up the screen entirely which does start to lag the game a little though it remained playable in my testing. Usually that only happens when the game is about to end anyway, so I wouldn't be too worried about the performance.
I have quite enjoyed Automata Empire. It's an exotic departure from the normal RTS formula and requires you to think slightly differently from your typical strategy game. It's chaotic in a good way and offers quite a few game modes that should provide plenty of entertainment. Combine that with low system requirements and you have a quite neat little game. Its most obvious flaw is the current lack of multiplayer but apart from that its design is very unique and works quite nicely. It's not necessarily something that will appeal to everyone but gamers wanting a strategy game not quite like the ones out there might be interested.
Check the game on itch.io: https://nonadecimal.itch.io/automata-empire