Oh boy, this review has been in the works for ages now but I decided that it's better late than never and I've finally compiled my thoughts on Black Mesa, the fan remake of Half-Life. So, let's check it out!
Black Mesa is a commercial fan remake of Half-Life and is developed by Crowbar Collective, a company that was formed around the Black Mesa project. Black Mesa follows the very same events as Half-Life and puts you in the role of Gordon Freeman during a catastrophe caused by a science experiment gone wrong. The Black Mesa research facility is being overrun by inter-dimensional aliens and the US military is about to "correct" the situation. You, naturally, are caught in the crossfire.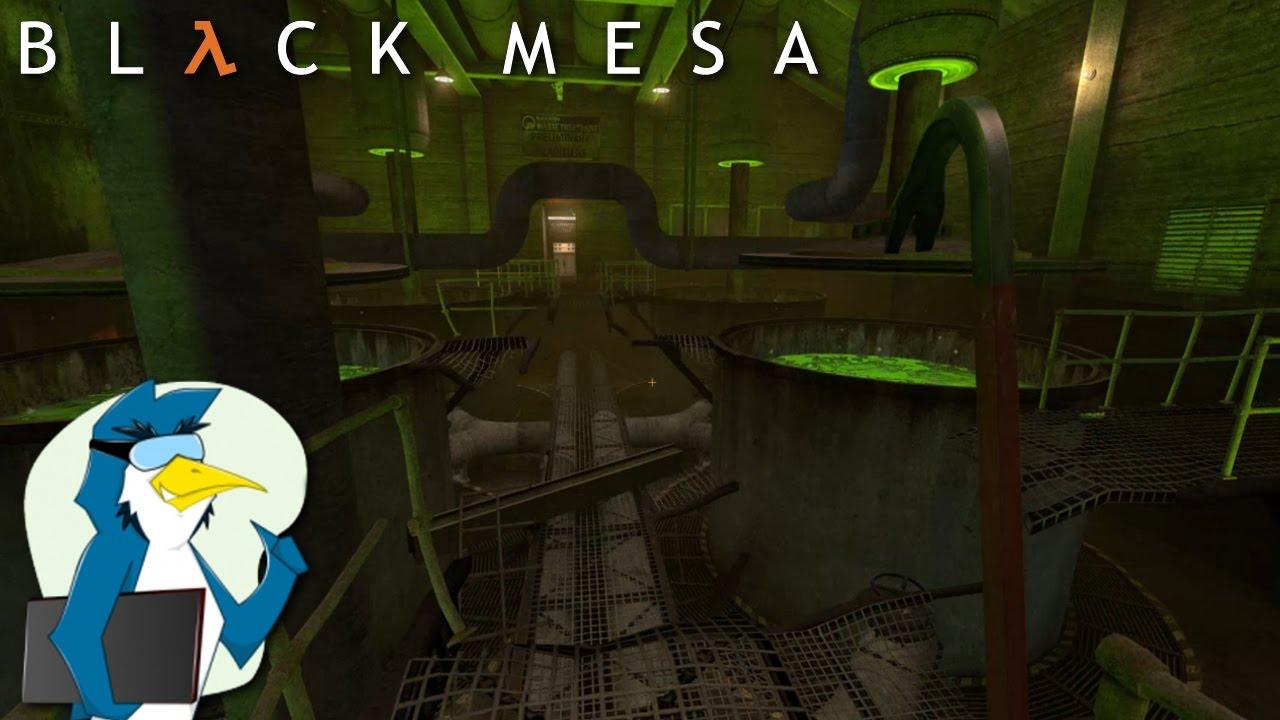 As you might expect, the main focus of Black Mesa is to bring the Half-Life story to the modern age with numerous graphical improvements. The texture work, models and audio have all been improved upon greatly and the game uses a newer version of the Source engine along with its lighting capabilities, giving the game a modern look. I would say Black Mesa's graphical side is the best fan work I've seen thus far and definitely gives the research facility and its surrounding areas a lot more life.
But don't think for a second that Black Mesa is just some high-detail texture pack on top of Half-Life. While the story of Half-Life is quite carefully replicated by Black Mesa, some aspects have been changed quite a bit from the original. The levels have been redone with a lot more detail and sometimes have been adjusted in subtle ways that make the environments look and work better than the fairly empty hallways and corridors of the original while still staying fairly recognizable to those who have played the original. If you played Half-Life you can quite easily find your way but sometimes you might notice the paths aren't exactly the same as in the original. And despite some changes to the layout of the levels, as far as I know, nothing has been left out. Even the fairly annoying first-person platforming parts are still in the game. Luckily the crouch-jump has been faded out.
Some new environmental puzzles were also added to the game. Since Black Mesa uses the Source engine, the developers also have the physics system at their disposal and they seem to have taken advantage of it for some of their puzzles, which are Half-Life 2 style in nature but aren't nearly as excessive as with Half-Life 2. In my opinion, a simple physics puzzle here and there only balances the various gunfights and they are never too difficult as to stop you from making progress.
In terms of combat, Black Mesa is pretty close to the original. While the guns sound and look more awesome than in the original, the damage they do seems to be have remained more or less same. This means that sometimes enemies feel a bit spongy and often take half a magazine to kill with an assault rifle. I personally would have appreciated enemies that deal high damage but also die fairly easily but the combat was still enjoyable. The enemies have also gotten some updates, particularly the more alien creatures. In the original the alien creatures were fairly weak, as they were used in the early parts of the game. In Black Mesa they have been buffed and pose a bigger threat than before or at least more of an annoyance than before. The human enemies haven't been changed that much but they seem maybe a little bit more tactical than before. But overall the soldiers you end up fighting behave fairly similarly to those of the original game: they take cover behind objects, try to flush you out with grenades and run at you with shotguns and assault rifles if given the opportunity.
While the gameplay and graphical side of the game are quite awesome, some technical aspects weigh the overall experience down a bit. Considering the graphical improvements, it's no surprise that the hardware requirements have risen quite a bit. If you have a fairly modern discrete GPU you should be fine but on integrated graphics you might need to turn down the settings to medium-low to get a playable experience. I tried the game on my A10-9600p APU and the game worked but was a bit too much to be run at 1080p High settings. So I opted for a 900p experience at medium which seemed to be enough to keep the framerates within the range of playability. However, the framerate of Black Mesa is pretty inconsistent and even my desktop which is rocking an R7 370 and a Ryzen 7 1700 (earlier i5-2500k) does not keep the framerate above 60 all of the time. While the game might run well over 100 FPS most of the time, some areas will cause the game to drop down to 30-40 FPS. I'm fairly sure I'm running into some kind of a CPU bottleneck in those certain areas since upgrading to the Ryzen seems to have improved those areas a little bit but it's still fairly unclear to me why those areas cause my computer to struggle. Typically there wasn't anything obviously intensive happening that could cause the framerate to plummet like that. In addition to this, there are some graphical glitches that range from minor to annoying. Sometimes the shadows look broken and at high shadow detail the helmets the human soldiers wear will change colours in strange ways.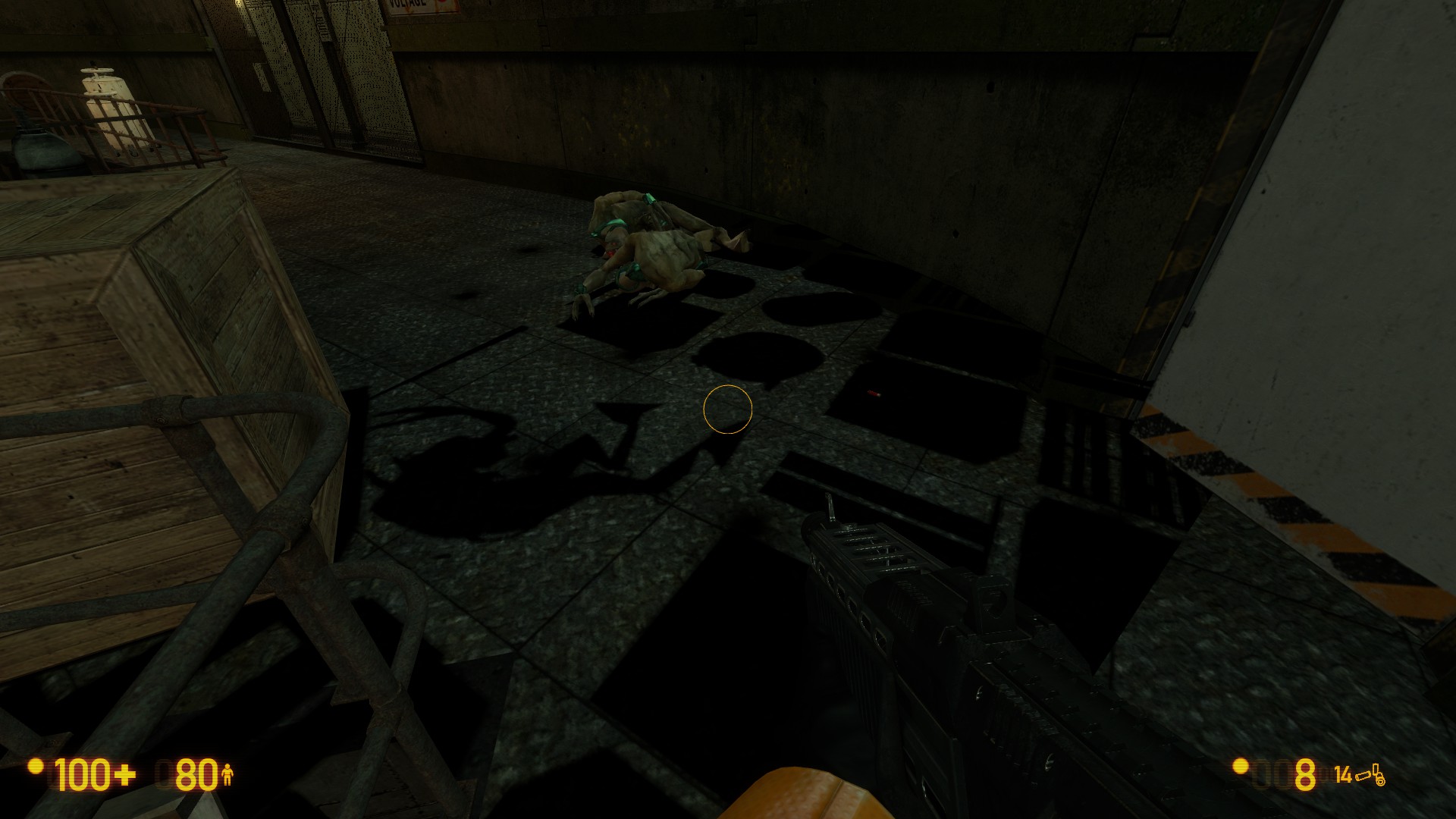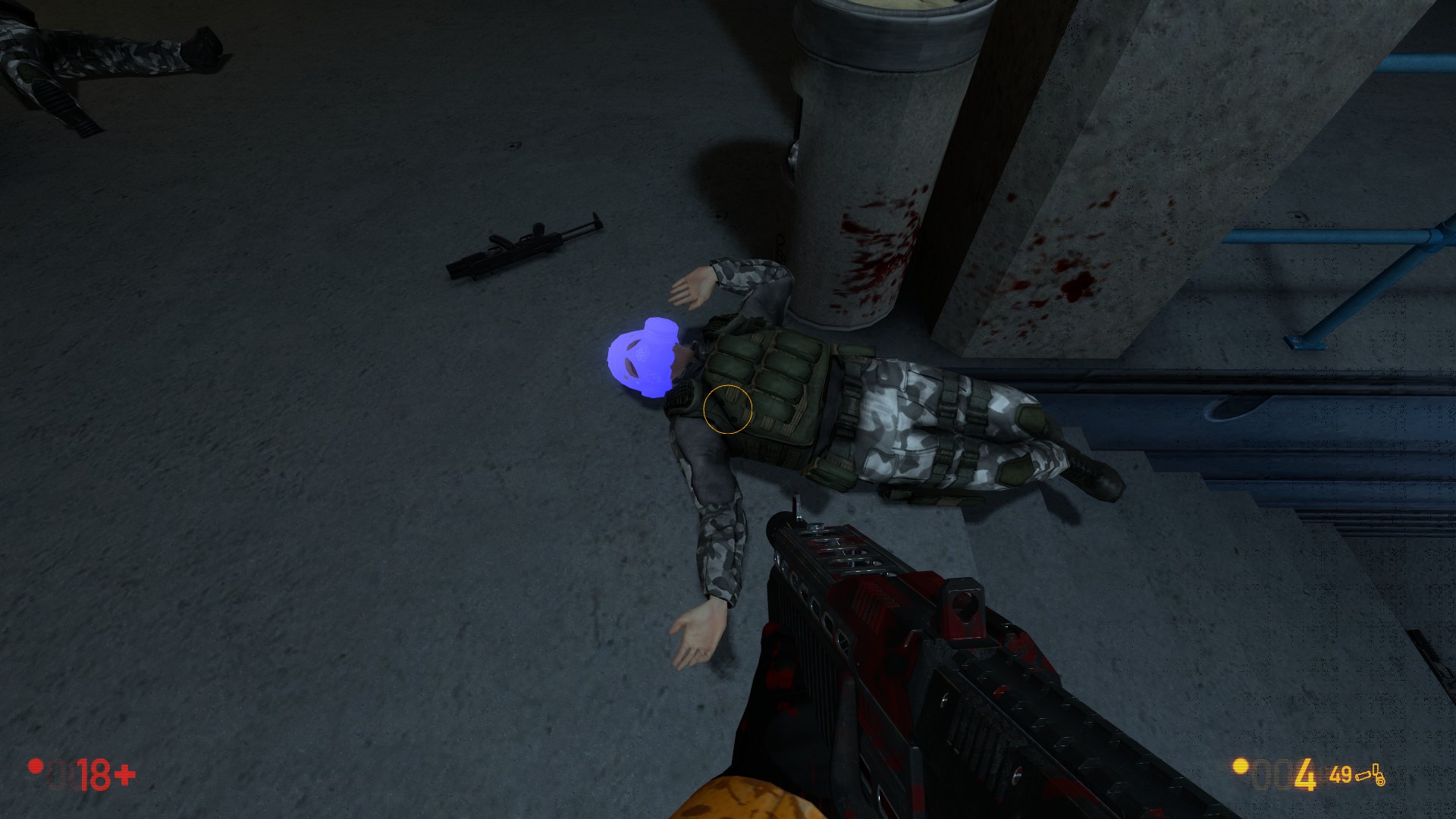 Of course some or all of these problems could be tied to the open source drivers I'm using but since no other Source game seems to have these kinds of issues, my guess is that some shaders used in the game are a bit wonky. Luckily the helmet bug can be avoided by turning shadow detail to medium.
The game also seems to suffer from some instability issues. During my playthrough I encountered one area with a reproducible, game breaking crash that simply stopped me from continuing. Luckily there was a fix for this published as a beta which allowed me to get through the rest of the game. Other people on the Steam forums seem to have been running into way more crashes than I have, however, so it's possible that I was lucky during my playthrough.
Another thing worth noting is that running the game from a slow hard drive can be a little bit annoying. The levels contain quite a few assets and the levels are sometimes quite big which definitely require longer load times than, say, the original game. I decided, in my unlimited wisdom, to install the game on an old Samsung 5400 RPM hard drive and got to suffer from numerous annoyingly long loading screens. Of course this is partially a fault of my hardware decisions but it's still worth keeping in mind if you are still rocking a slow HDD.
Overall I'm quite impressed by Black Mesa. It does exactly what a remake is supposed to: improve upon the aspects that haven't aged well without compromising on the aspects that gave the original game its personality. If you ask me, Black Mesa is a better product than Half-Life which is exactly how it should be. However, Black Mesa still has some things it needs to improve upon. The final part of the game, Xen, hasn't been implemented yet and there are some technical issues that hurt the overall experience. But despite these shortcomings, Black Mesa offers a decent gaming experience that lasts around 10-12 hours and considering how much fun I had with it, I'd say it's worth the asking price of 20€.
Steam: http://store.steampowered.com/app/362890/
Some you may have missed, popular articles from the last month: