Planet Explorers [
Steam
,
Official Site
], the open world sandbox adventure RPG has finally left Early Access. The developer accepted my request for a key so I could take a look.
Sorry for the lateness on this one, but the developers took a while to send over a key and you need to put real time into it to get a feel for it.
I'm a massive RPG fan, so I was pretty excited to give Planet Explorers a proper go. I tried it a long time ago when they had a demo available and it was promising. Sadly the end result feels rushed and low quality overall. There are a couple bits I liked, but overall it didn't fit together.
The character creator is quite nice, as you're able to customize many aspects of your appearance. Your face, eyebrows, nose etc, really gives me a good first impression of the actual game itself. It's one thing to play a game with a set character, but I absolutely love tinkering with my appearance.
I checked out the Story mode first of all, which was instantly buggy. During the tutorial a text prompt came up with a brief introduction, but the audio for it started at the end. I was only given part of the last sentence. The rest of the audio seemed to work fine.
I love the fact that there's three different camera styles to choose from. You have two different top-down views which handle the mouse differently, or first-person. The game certainly has a few customization options to play it how you want it.
The tutorial does at least do a reasonable job of teaching you the basics, but it is all pretty straightforward.
I wasn't a fan of the intro video when you finish the tutorial at all. The captains voice wasn't synced properly with his mouth and it was quite low quality overall and the picture was rather blurry. Considering how short it was, it felt really rushed.
You crash land and come across a lady sat on the floor, which is where your first questing begins! Sadly, the voice over for her was rather robotic, and you could really tell where they've cut the audio of the conversation and stuck each bit on. They over-pronounced each single word at times too, it was quite irritating for the ears.

While the game certainly looks nice, the single-player campaign starts off in such a mundane way with you going from A to B and doing small boring tasks. They have a really cool sandbox-style building RPG and they have you cutting down a tree and fetching water, they could have thought of something a little more interesting to get you going. Right after that you go and fetch a medic, who needs you to run all the way back to the crash with him. Once he's there, you then again have to run all the way back to the little camp with them both. It's a lot of boring back and forth.
They created this really quite beautiful looking world and they have you simply going from A to B doing fetch-quests, which sadly did not give me the best impression of it once I got going.
General issues
On a multi-screen setup the game displays on the wrong monitor, with half of it cut off which really wasn't great. It seems to pick the width of both of my monitors and try to display it in the middle. Its a problem with a fair few Unity games and it happens quite often, but usually there are ways around it like editing a config file. It's due to their custom-launcher, which isn't a usual launcher. Their launcher is essentially another Unity game, so it overrides any settings you change.
If I turn my other monitor off it works, but if I launch it again with it turned on I get the same issue. Luckily, my
script to fix screentearing
(this works for a few games that do it, very handy!) can be run once the game is launched to turn on my other monitor again and everything is dandy.
I emailed them about it and the only response I got was "try windowed mode".
During one quest early on, I was sent to find a guy named "Chen". When I got close to him some random loud obnoxious music started playing and I honestly thought it was a pop-up advert from running Chrome in the background. I alt+tabbed to look and when I came back to the game it just stopped. I had a chat with this fellow and he offered to give me a new script to create a better pickaxe, but before he finished talking the loud obnoxious music came back and stopped his voice over. This is with music volume down to nearly zero. I captured a video to show the issue as it was so bad: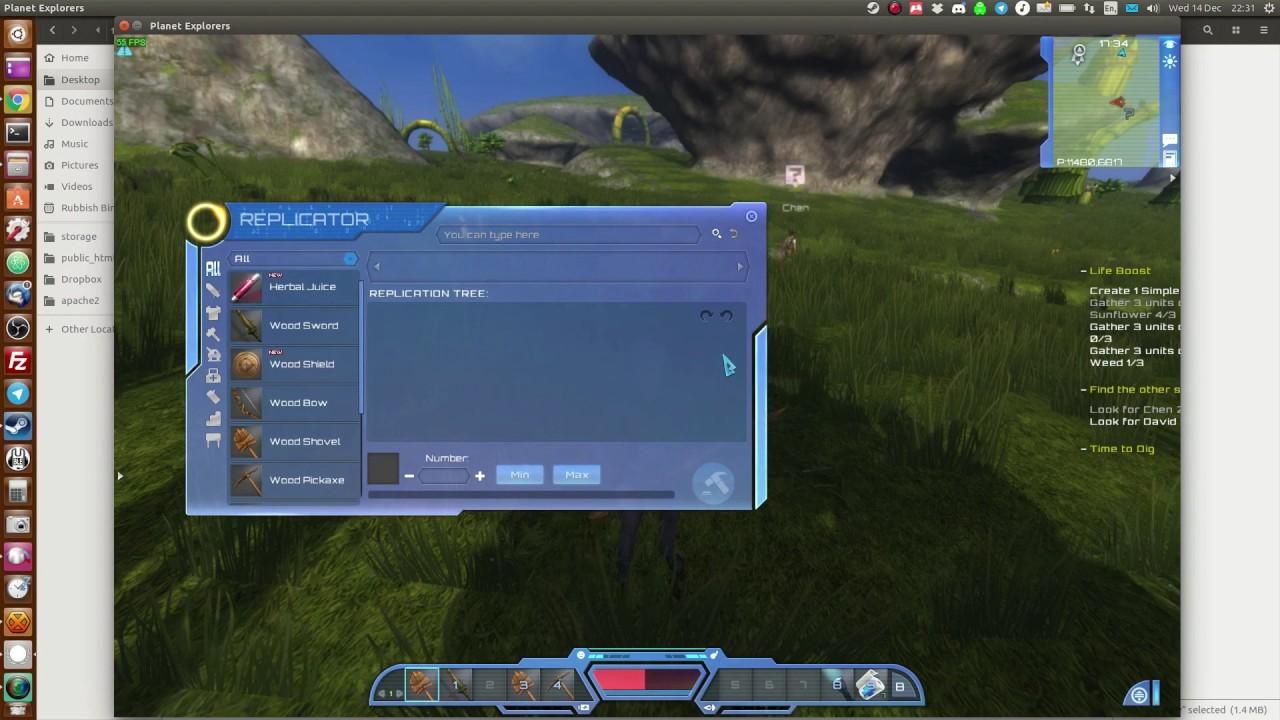 The hitboxes on rocks, planets and so on are too big too. I've repeatedly got vehicles stuck on invisible walls requiring a lot of patience to get unstuck from. There's also this that tends to happen: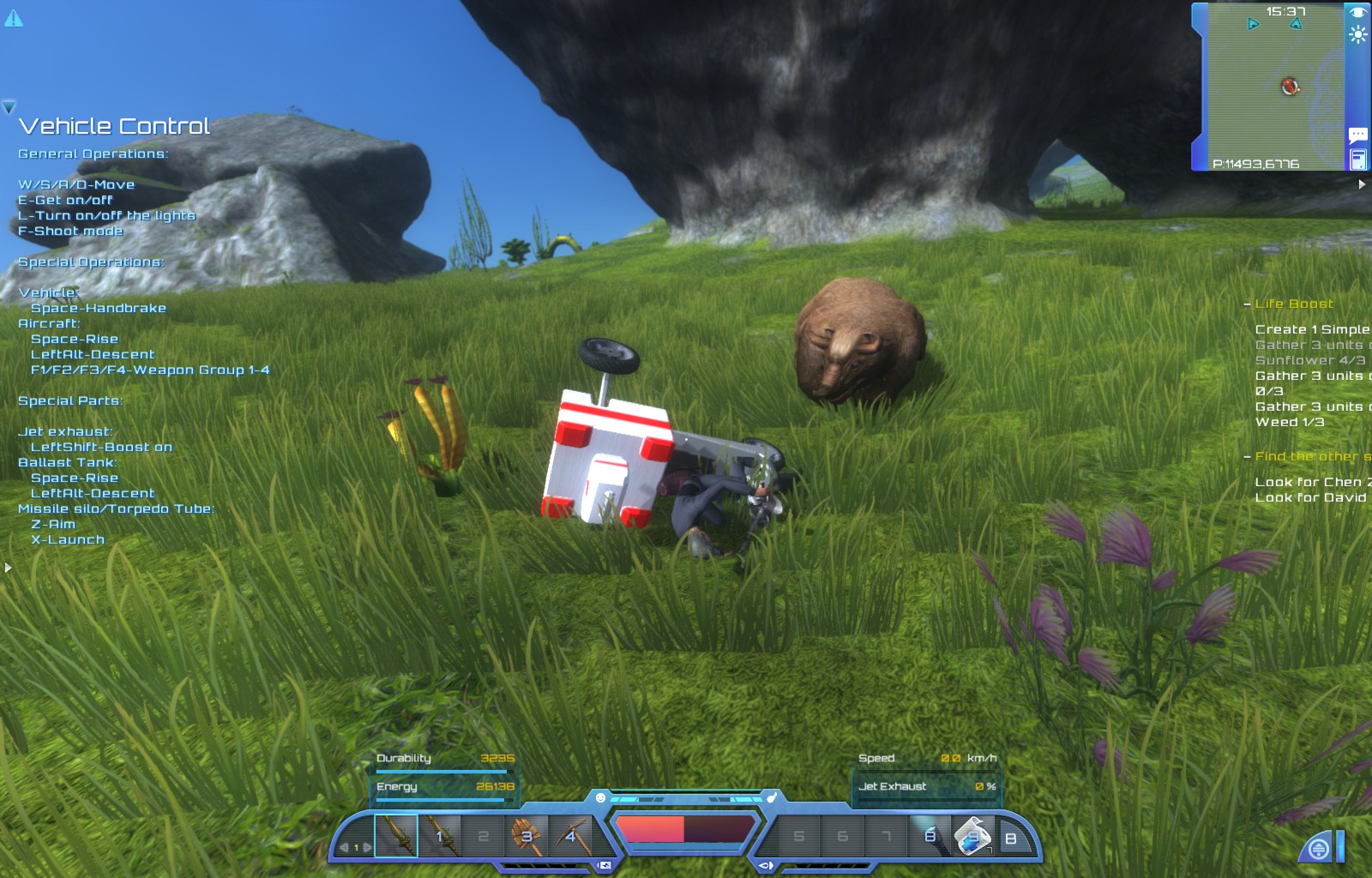 You can also see that the interface is cut off on the right.
The audio for voice overs is really
crap
, the quality of the voice recording sounds like it was done in a really small room and you can often hear the background noise.
Overall it's really not great and I was expecting a lot better of it. They have this beautiful world full of wonders where they get you to do simple mundane tasks with a lot of back and forth between the same places. Then there's all the annoying bugs too.
I wanted to try more, but I couldn't stomach it, it's far too buggy right now and the general gameplay does not make me feel like I want more. I want to give it another chance, so I will likely play again in a few months when it gets some more patches, but it's not good right now.
Some you may have missed, popular articles from the last month: