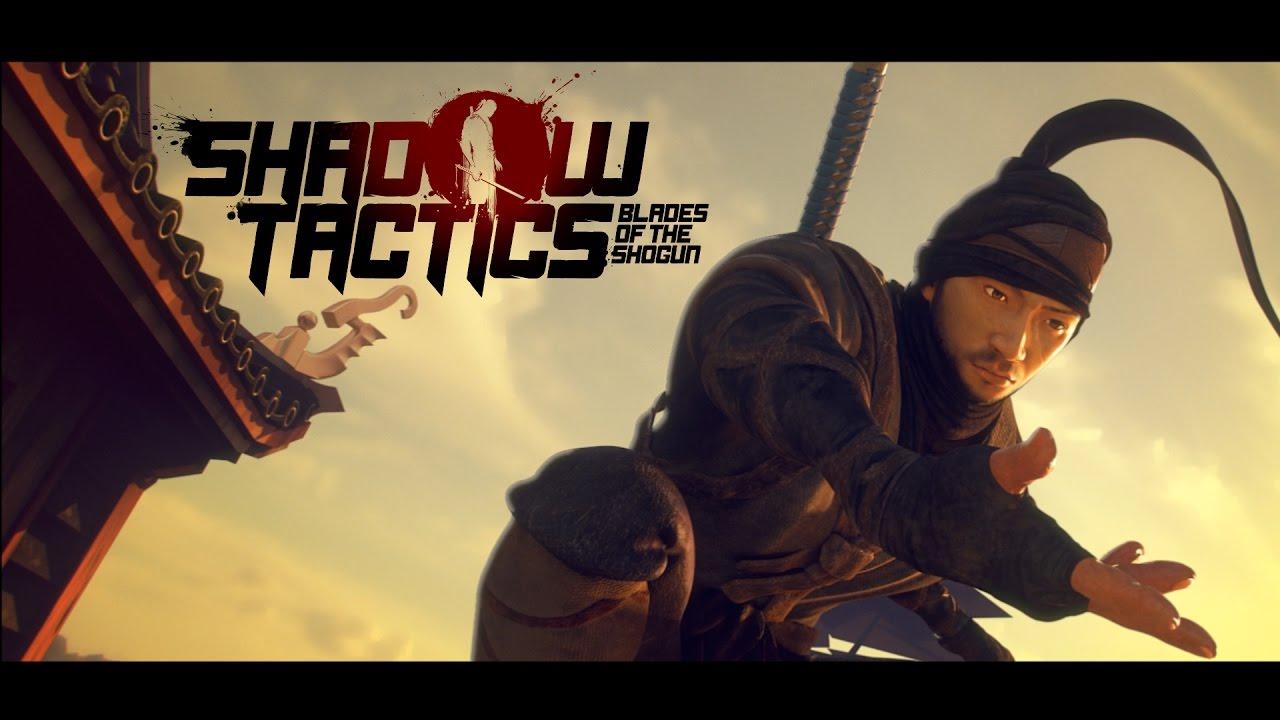 Shadow Tactics: Blades of the Shogun [
Steam
,
Humble Store
,
GOG
], a top-down stealth game from Mimimi Productions released with day-1 Linux support. I have fond memories of games like Commandos, so is it any good?
Disclosure
: Key provided by the publisher, Daedalic Entertainment GmbH.
Shadow Tactics is a real-time tactics game, where you control a group of deadly assassins. It's a genre I haven't seen much for years, so it's quite amazing to see it make such a comeback — and what a comeback it is! The game currently has an "Overwhelmingly Positive" overall review score on Steam, and it's pretty easy to see why.
First of all, just to note that I had no issues getting the game to work correctly! It picks up with two-monitor setup correctly, so it displays in the correct monitor with the right resolution. It may be a minor point, but some games still utterly fail at this.
I mentioned Commandos previously as the gameplay is rather similar and I put a vast amount of hours into that when I was younger, but obviously the games have vastly different settings. Shadow Tactics is set in a rather beautifully created historical Japanese setting and they nailed the aesthetics.
Graphically, the game really is quite amazing. The first mission is especially nice when you're climbing around rocks and they fall into the ocean. It's the little touches like that, which made it a truly worthwhile experience. The different locations you explore as you progress through each level are very detailed and it constantly surprised me.
What I adore about it, is that while the missions have a linear outcome, the way you play it can be different every time due to the way it's designed. Thanks to this, the ability to replay it and enjoy it is amplified. You have multiple paths you could go through, with multiple ways of taking out enemies. This comes with a whole host of unique situations, so you can be a little creative. I've spotted a few fun ways of taking out enemies when re-loading due to being discovered.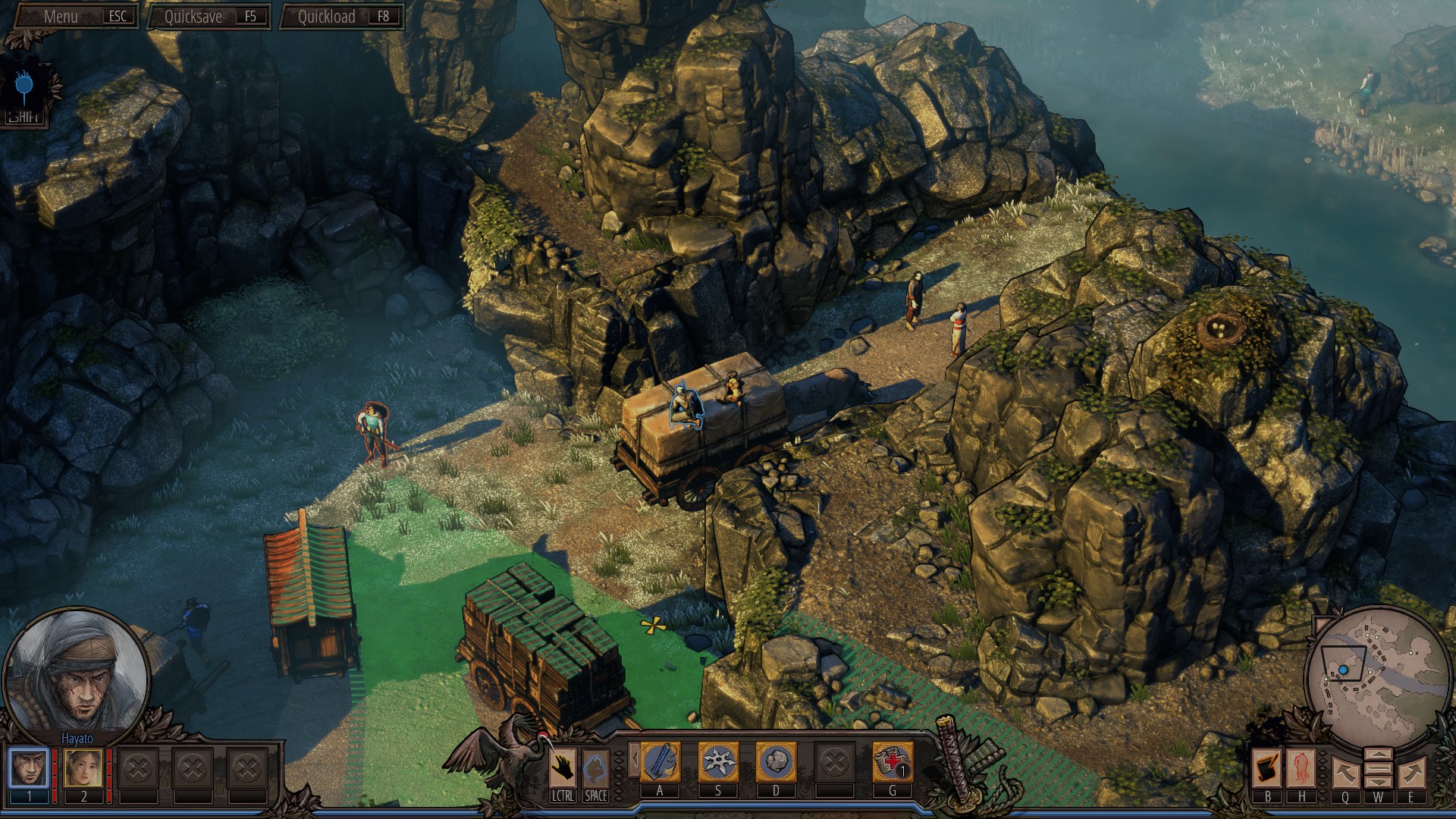 Luckily, you have plenty of tools at your disposal to take care of the pesky guards. Leaving a body laying around may cause an alarm with more guards coming out, but it may move others out of your way. You could set a trap and get a guards attention to trick them into walking into it and so on.
There's been more times than I can count that I've left a dead body laying around that caused an issue. One time I knocked a civilian out and dumped them into a bush, but I forgot that I also dumped a dead body in that very same bush. You can imagine the issue it caused when they woke up next to that — woops!
It's not a game for quick decision making, so carefully take in your surroundings to help you make the best decisions. Some enemies, like these below cannot be distracted for more than a second or two (and they don't usually leave their post), leaving you to come up with an inventive solution for taking them down: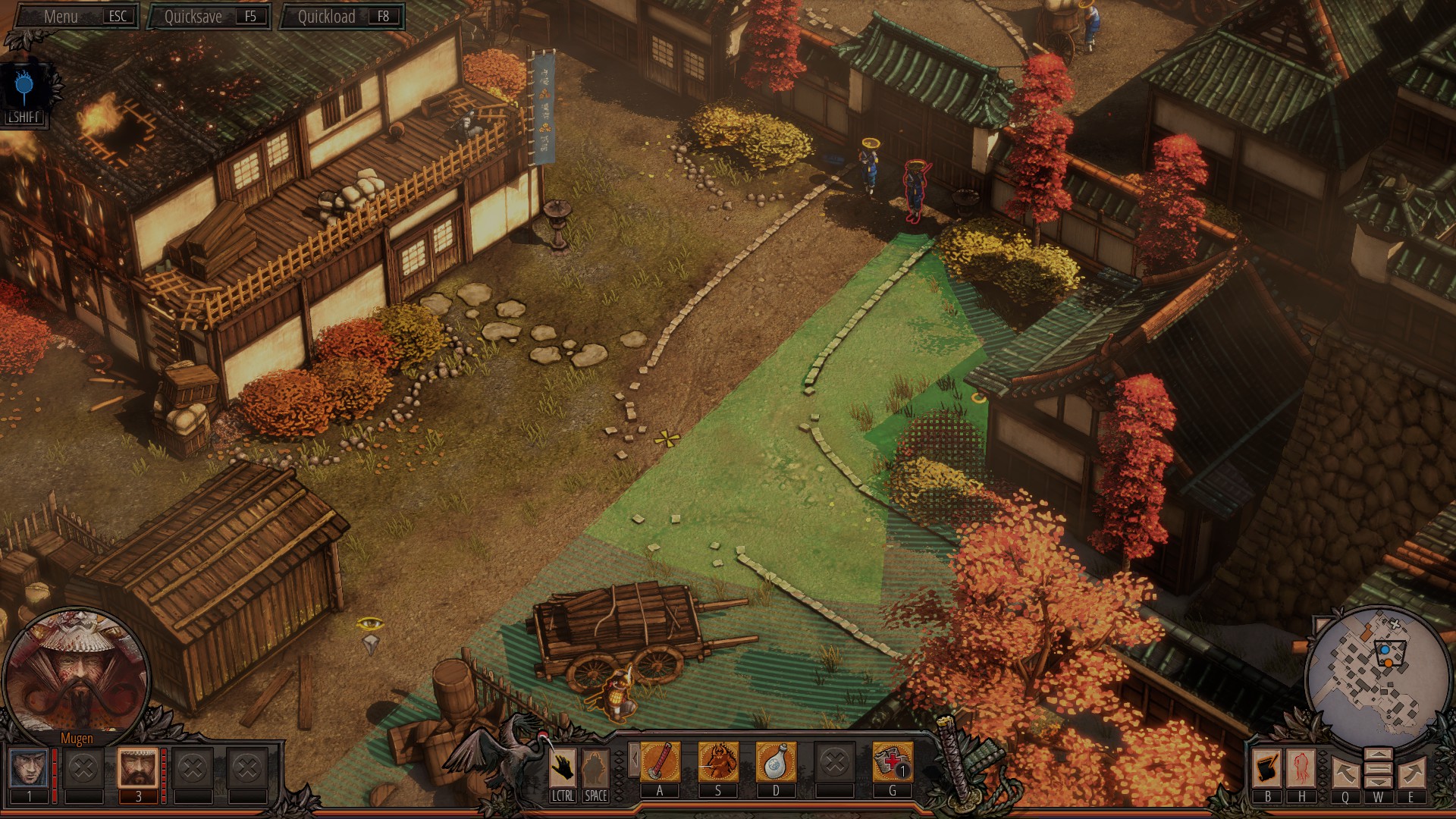 One interesting feature the game has to help with sticky situations is the ability to queue up single commands for each member of your squad, so you can execute them when you need to. So you could have commands queued up for one character, while you directly control another to give them that extra second they need to get close. It can make for some really great combination attack strategies. You could trick them into grabbing some sake (a Japanese alcoholic drink) you left laying around, while you sneak up behind them to ram your sword into them — or take them out peacefully, it's your call.
Tactical games like this can often feel a bit like a puzzle too, since you might fail a particular part multiple times until you come up with a solution. I love this, as it's a blending of genres without you really realizing until you stop think about it.
The voice-over is perfect! It's really easy to make characters unlikable through cheesy dialogue or poorly-done voice-over, but Shadow Tactics employs some good voice actors that not only sound believable, but likeable too.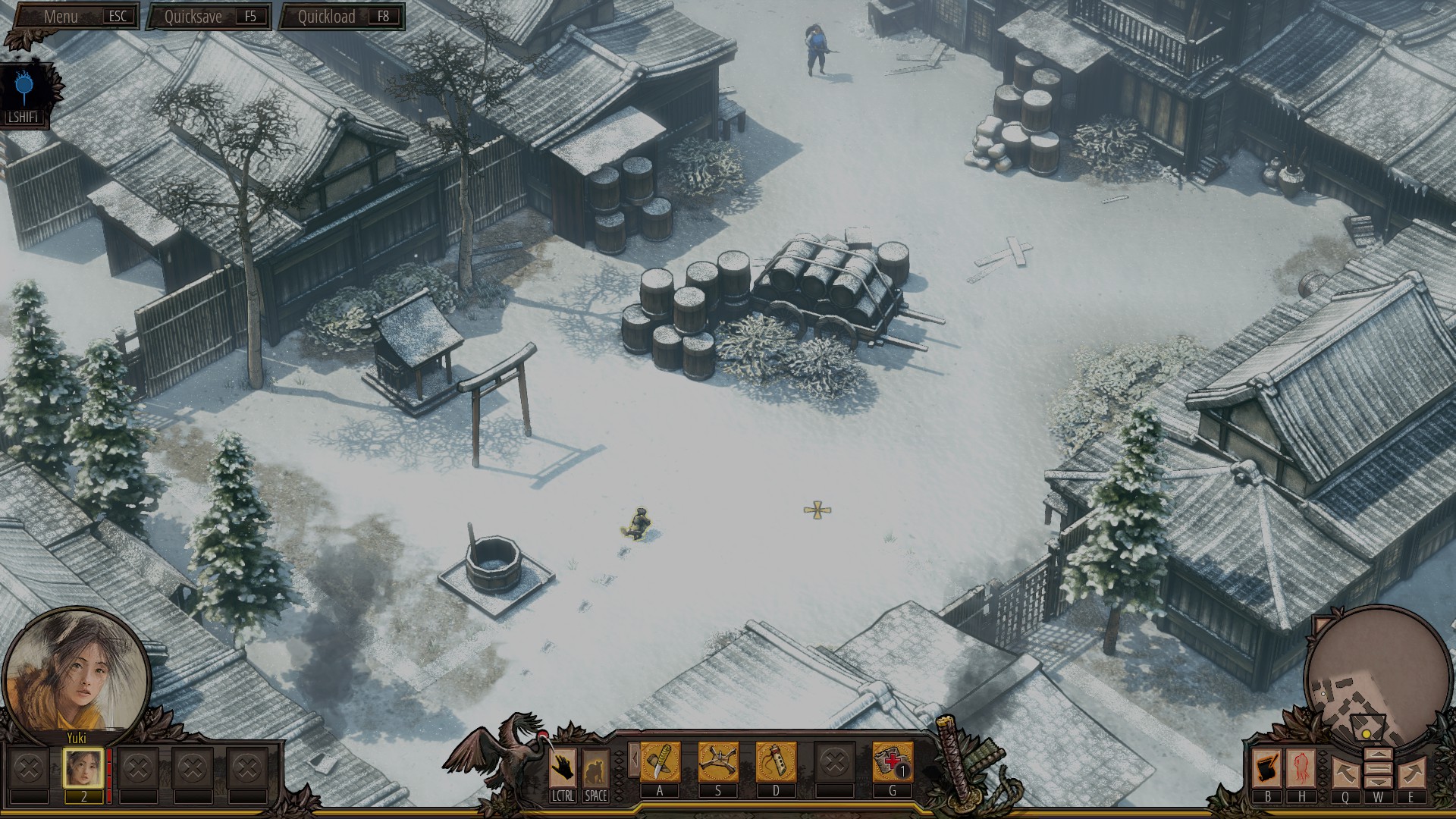 The game features a quick save system, and is rather in your face about it. It will warn you when you haven't saved for a while with a timer. It's done quite well so you know it's there, but it's not too distracting. Rather a lot of games in recent times that I've tested only do checkpoint or per-level saves, so this was very welcome. This allows you some fun experimenting too! I've spent likely a good half an hour at times just doing random things to see how guards will react to it. You can turn off the reminders too, if you want a completely distraction-free play-through.
The game certainly isn't easy, so it will keep you going for quite a number of hours. I've gotten stuck in certain parts repeatedly. Nothing is impossible of course, it just requires some careful planning. The first mission by itself took me a good 45 minutes to complete (the second nearly an hour and so on), but this will vary based on how many times your strategy fails, which is rather a lot for me.
The performance is mostly okay, but it will get reduced when you zoom out. There's plenty of options available to tweak to get the best performance you can. It locked up on me for a brief moment once, but recovered so I haven't actually had a single crash.
I have yet to properly finish it, but I can see no reason not to recommend this one. It's a genre I had almost forgotten about, but I love all over again. It's well balanced, it has wonderful art, spot-on audio and has been an all-around exciting game to play.
It also has a demo, so you've got nothing to lose by giving it a try.
Some you may have missed, popular articles from the last month: