I wasn't expecting the next big thing from 'Sky Break' [
Steam
], but from the trailer I did expect a competent open-world sci-fi game. What I found was a shallow husk of a game, and not the polished fun experience I was hoping for.
Disclosure
: Key provided by the developer.
It's another open-world adventure game, but it's not a sandbox experience as you do have a storyline to follow. I love the setting and the style of the game, but the actual gameplay and UI needed a fair bit more polishing.
I also debate the use of the term 'open-world' the developer claims it is. There's nothing all that open about it, as you're basically forced down a linear path since there's nothing else to really do. Big areas to run around in sure, but nothing to do in them.
The combat introduction was extremely disappointing, as the first enemy I encountered got stuck: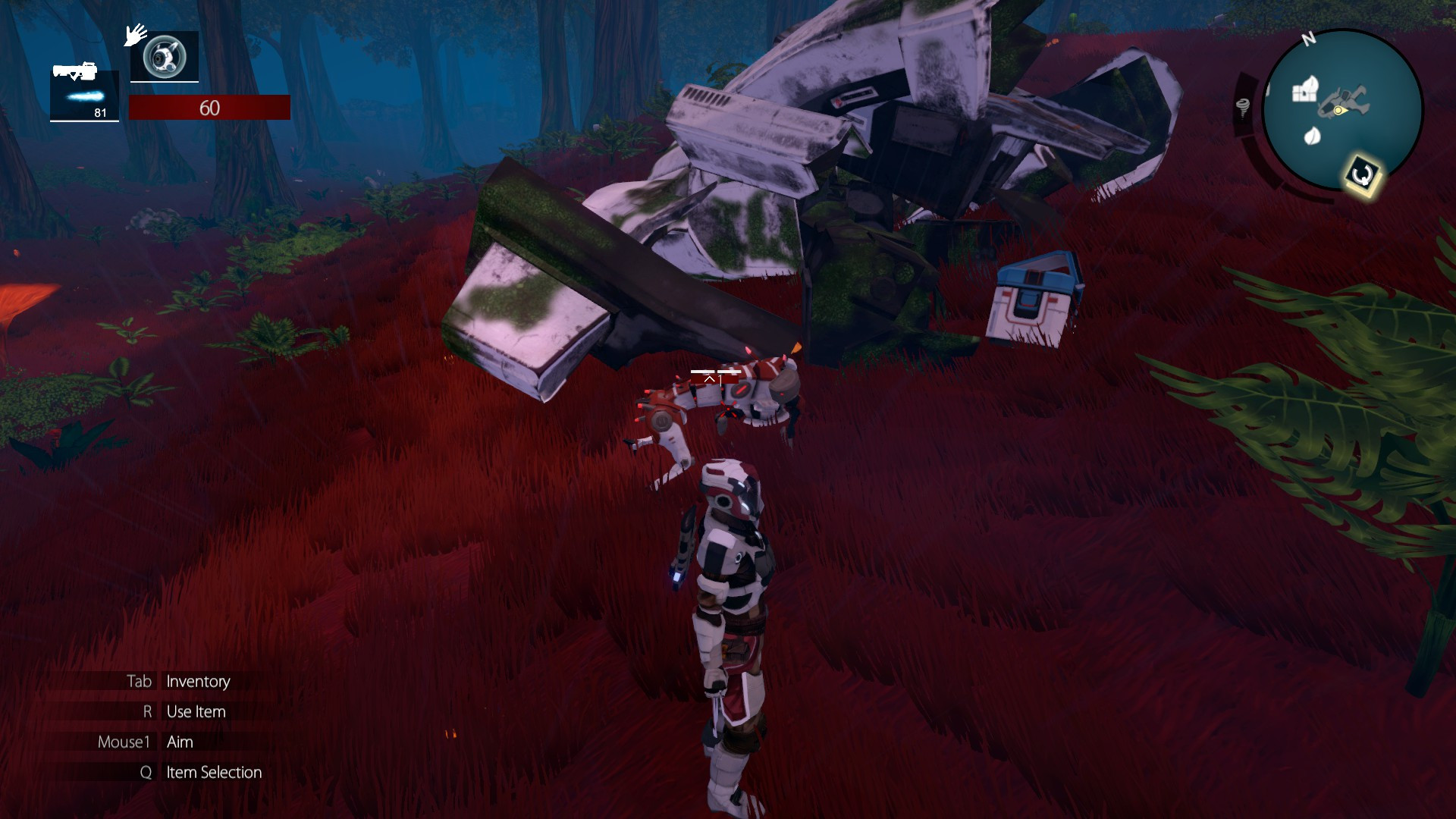 This put an instant downer on the experience, as this was my first chance to hack a mecha animal too. I had to save the game and re-load it for my new friend to become unstuck.
The AI is terrible too, instead of being my ally, my hacked companion decide it would just run at me and constantly headbut me and confuse me thinking it was an enemy when we found another mecha animal moments later.
The amount of times my companions just got completely stuck was ridiculous, I ended up just leaving them behind because I got bored of trying to fix their pathfinding issues with taking easier routes. The AI is just—crap.
There is a small amount of craftables, like more ammo, but even the crafting system is annoying. If you try to craft more ammo, but your inventory is full, it will just waste the resources instead of not letting you do it.
I feel like sandbox games should always let you save whenever you want, but Sky Break, for whatever reason forces you to go to a Station Dock, or an ionizer to bring up a menu to save the game. I'm sure there was a development reason behind it, but I found it a damn nuisance every time I wanted to stop playing.
You essentially go around fighting mechanic "mecha" animals, hacking them once you defeat them to become allies and hop from island to island.
The hacking mechanic is so insanely simple, I wonder what the point of it is. You rotate lines in circles to match up to a static line on the outer edge. There's no challenge in it and it's not fun to do. If it had some sort of timer, or just
something
to it, it might have been cool. The idea of hacking them to become your ally is nice though.
I really, really wanted to like the game, but it's so full of annoyances it feels like an Early Access game, not a finished product.
Bringing up some of the menus will end up leaving the system mouse cursor in the middle of the screen, which is annoying. You can solve it by bringing up a menu again, but it's a real nuisance.
It's quite obviously inspired by No Man's Sky, both in graphical style and how the game feels. The big two-legged mecha unit looks like it was almost taken out of No Man's Sky directly. Some of the other props also look like they are heavily inspired by No Man's Sky, like the "ionizer" tower which allows you to save with loot boxes around it, which is exactly the same as No Man's Sky.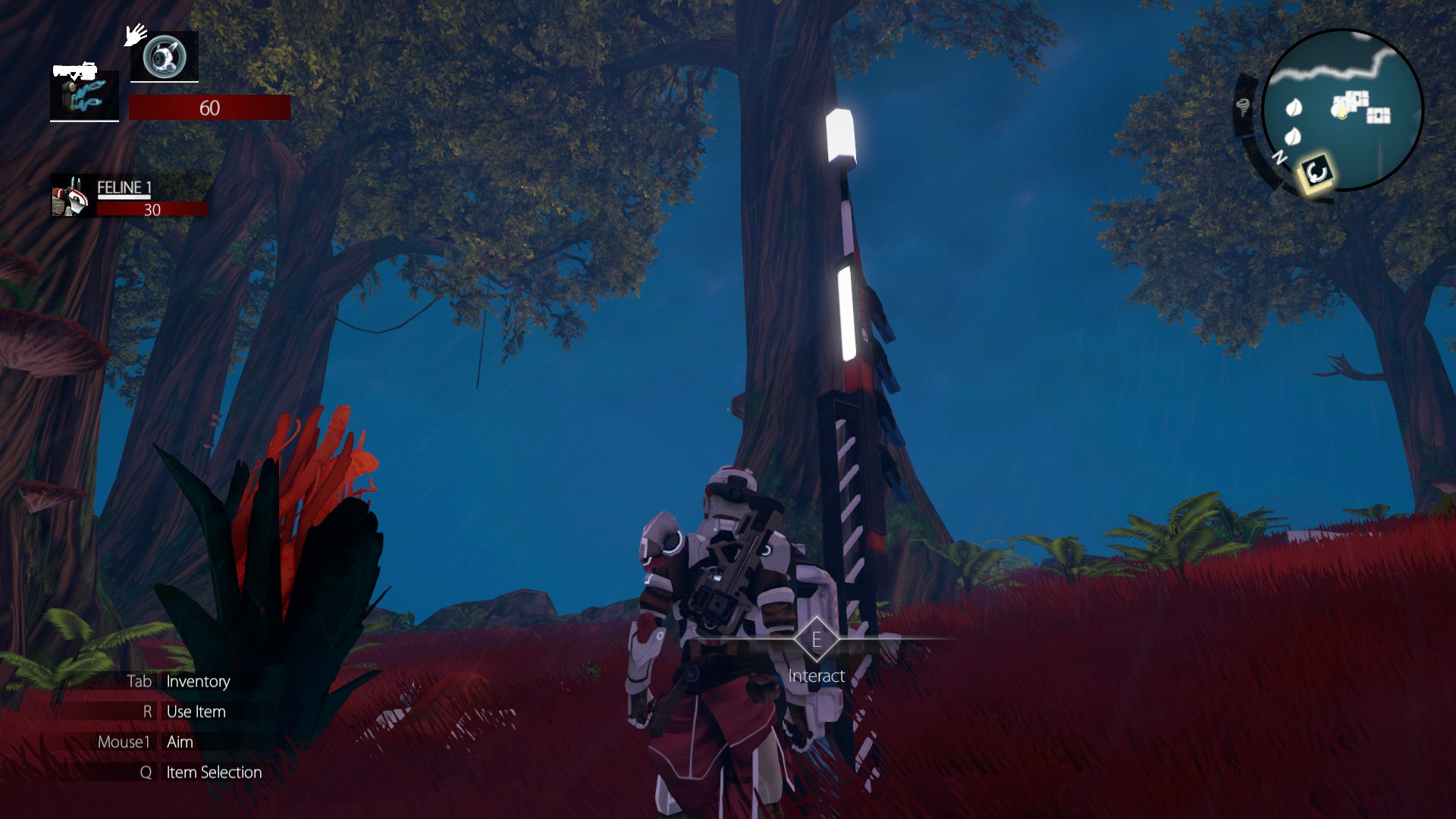 You also activate beacon towers, just like you do in No Man's Sky. I played this game wondering if any ideas it had were original at all.
Honestly, this whole game essentially felt like a cut-down version of No Man's Sky. I didn't find it all that fun. It suffers the exact same problem, it looks a bit fancy, but has a severe lack of actual content and excitement.
I've seen videos and forum posts from people saying a lot of content was cut during development of Sky Break. Some of the cut features were even more similar to No Man's Sky that I'm not surprised some was cut out of the game, but still, it feels very shallow.
Comparisons to a game I felt it tried to emulate in certain ways aside, it just wasn't all that great at anything.
I don't often say this, but I would honestly give this one a miss. I haven't been this bored and annoyed with a game in a while.
Some you may have missed, popular articles from the last month: