Vikings - Wolves of Midgard [Steam] released for Linux recently and here are my thoughts on this new RPG from Games Farm and Kalypso Media Digital.
Disclosure: Key provided by the publisher.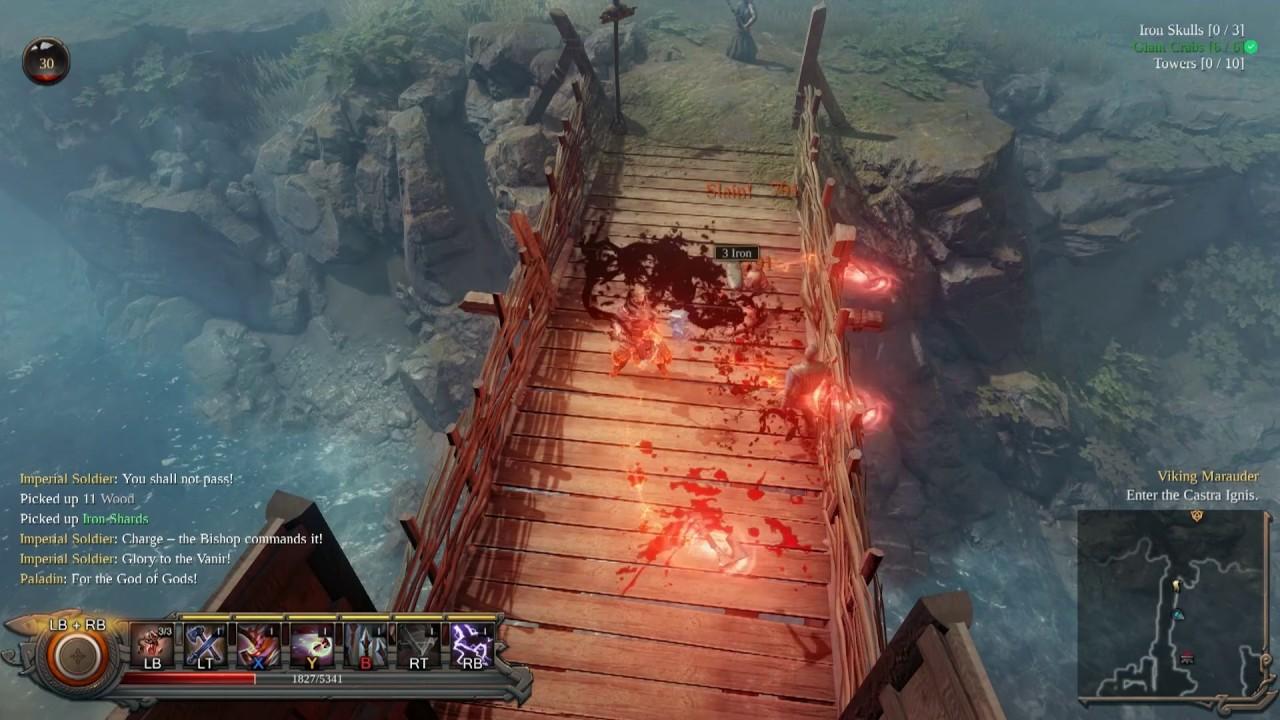 Note: The Linux version is only on Steam.
Linux was not a same-day release. It had a bit of a delay but they made good on their promise of Linux support in August. I decided to let this one bake a little longer, since I was hoping for a decent action RPG experience on Linux, which is a genre we don't have much choice in.
In Vikings, you play as the Chieftain of a ruined settlement you're attempting to rebuild. Over the course of the game you will be upgrading it, meeting new people to unlock new locations, fighting all sorts of weird and wonderful creatures including wolves, other human clans and much bigger fantasy creatures. The story is fully voice acted, but leaves a lot to be desired. You get fed thin amounts of it as you progress, which only serves to momentarily break up the constant combat.
First up, I'm sure many will be pleased to know that you can play as both male and female characters, so it should hopefully appeal to a wider audience.
As far as hack and slash goes, this has it in spades. Large portions of the game see you just holding down the mouse button as you fend off plenty of enemies. What I found rather nice about Vikings is that you don't need to be exact with the mouse aim. Enemies have a reasonably large radius around them for you to engage your attacks, making it really darn easy going to play. The attack radius does have a drawback—if you're not close enough you will end up attacking thin air.
It's not all mindless button holding though, since you have various gifts (abilities) to use and you can also do a roll to dodge enemies. The problem with the dodge mechanic is that the timing between you dodging and an enemy attack animation doesn't always match up, resulting in you getting hit even when clearly not close enough to be hit. There's other times things don't match up either, like the sound of an arrow launching being played too soon and other minor issues.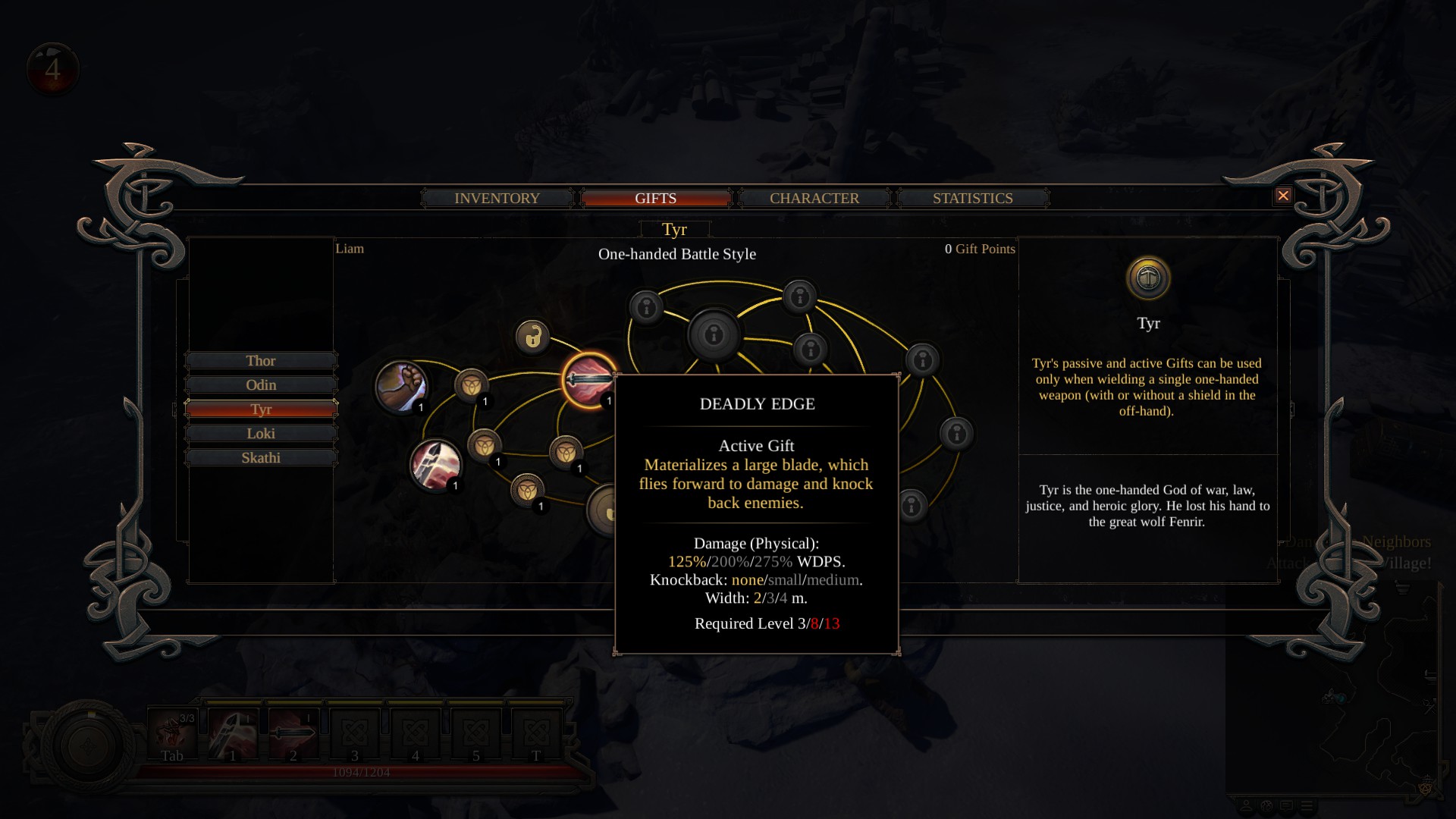 The gifts system is quite nice though, since you're not actually locked to the type of character you pick. You can grind for a while if you wish, to unlock more levels and put your gift points into other character types. However, the gifts in each skill tree only work when you're using that class of weapon.
It's not all hack and slash, as you have to deal with exposure to various elements, like the cold. You can huddle around a fire to reduce your exposure to the cold, just be sure to keep an eye on the exposure bar. This breaks up the action a little, giving you some breathing room.
What can also break up the action more, is the "Kill Camera" feature, where it slows down time a bit for you to appreciate a kill. For me though, it breaks it up too much and becomes a nuisance. It also unfortunately shows off how some of the objects don't match up, like this Kill Camera shot showing my hammer clearly not attached to my hand: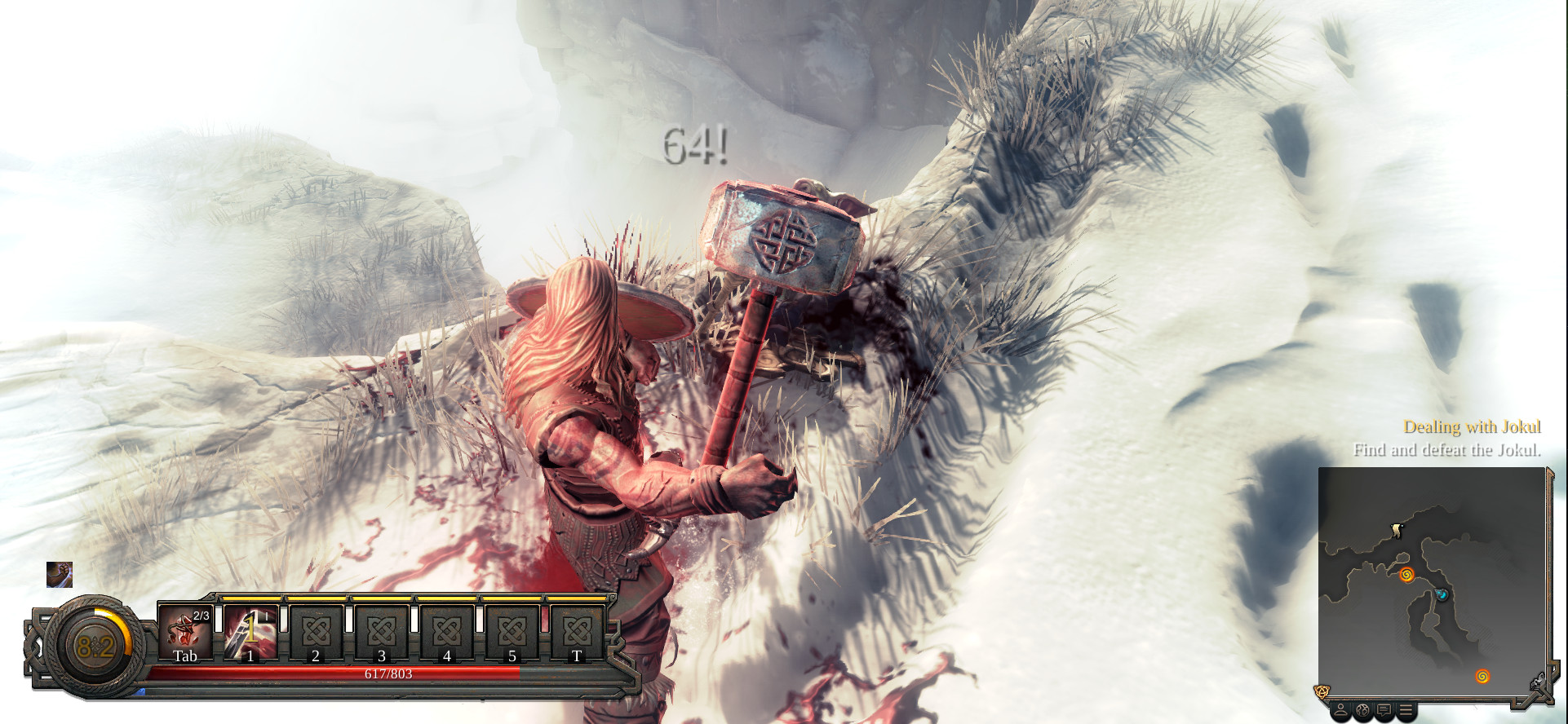 Thankfully, this feature can be disabled in the options.
There's a few surprising elements to the game, like taking down an animal with someone riding it, who then get off and attack you. There was also the time I was taking in the scenery, watching some birds fly around and then they suddenly dived down and attacked me, which was a little unexpected. Some bits of the environment are destructible as well, so something like knocking down a platform with enemies on it to deal with them quickly if you don't have a bow is possible.
The inventory system is a bit of a nuisance to work with. It does have the feature of comparing items on hover, with a right click swapping them but doesn't update the hover information to say which is equipped until you move the mouse away and back over. This can cause a bit of confusion when swapping two of the same types of items, when it seems to do nothing.
The base system is something that really does set it apart from other hack and slash RPGs. You always have the same base location for upgrades, your stash and so on. As you progress through the game, you're able to upgrade the various shops to get better equipment. On top of that, actually getting the equipment requires resources, not just gold. Unfortunately, this makes it take quite a long time, with repeated runs into areas to actually get everything you need to upgrade.
The level up system is also quite interesting. You need to have collected a certain amount of blood to level up at an altar, but you also need to upgrade the altar to enable higher level gifts (your abilities). However, much like the base upgrades, this can take a while.
Annoyingly, you cannot change the difficulty once you've made a character in-game, that character is locked to that specific difficulty, which to me is a massive oversight by the developer. It's apparently possible by editing config files, but that could result in issues so I don't recommend doing that.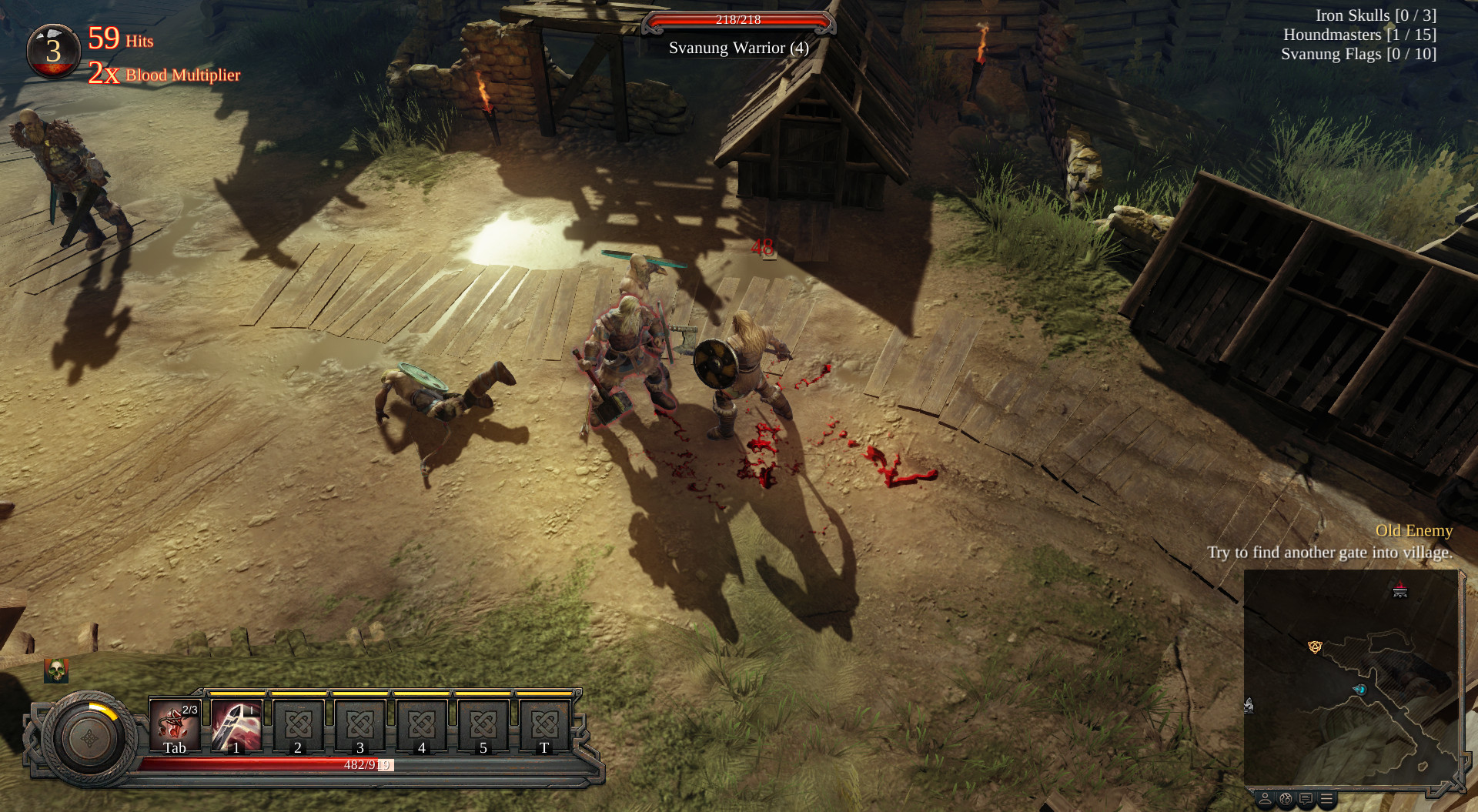 Whatever you do, don't go in at the highest difficulty, as the first boss is beyond powerful and you would need to grind for quite some time to beat it. I ended up giving up as it was impossibly difficult alone, without a rather long grind. I tried seeing if I could grab an online match, but with only ~350 online (and that's on a good day) it never found one. I really think the highest difficulty pretty much requires someone to help, so if you're going it alone I don't suggest picking it.
Obviously I carried on to continue testing, just not on such a crazy difficulty level.
Issues
The usual multi-monitor problems, with it starting on the wrong screen. However, the second run put it on the correct screen.
I assume there was supposed to be some sort of logo screen and possible an intro, but all I got was two white screens to skip. Once you get past the character creation and try to start the game, you're greeted with another white screen before a narrator tells you very briefly what's going on. Checking on their Steam forum, it seems I'm not alone with this issue.
If birds are flying around, they often just fly right through objects and it's really noticeable.
Overall
If you can forgive the rough edges of the game and you don't mind a bit of a grind, then you will probably quite enjoy it. It feels a lot like Victor Vran in terms of the main gameplay, as you just plow through missions killing everything you can. It's surprisingly light on actual story though, as it focuses mainly on the hack and slash. It's not bad, but it doesn't do anything particularly great either.
You can find the Linux version of Vikings - Wolves of Midgard on Steam.
Some you may have missed, popular articles from the last month: