Just a quick tip, Humble Store is currently giving away Spec Ops: The Line which has a Linux version. It's free to grab a permanent copy (no strings attached) for another 1 day and ~20 hours.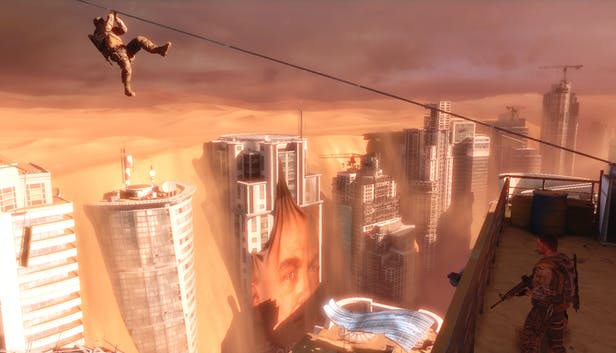 Spec Ops was ported to Linux by Virtual Programming back in 2015. Here's a little more about the game itself:
Spec Ops: The Line is an action-packed Third-Person Shooter that delivers heart pounding physically close combat through a squad-based play mechanic. Players lead a team of three characters, Captain Martin Walker, Lieutenant Adams and Sergeant Lugo. Each character has his own distinct personality and specialized skills, and the mature story they each play a role in explores the dark side of war in a realistic way, in which there are no good outcomes, only hard choices. As missions are completed more advanced weapons and equipment are made available. In addition, the desert environment of Dubai is brought into the game in a unique way with stunning visuals, and dynamic sandstorms that actively effect level designs, and which can be used to help and hinder progress. The vertical interiors of Dubai high rise buildings also provide tactical advantages and risks that can used be by players. Multiplayer campaigns bring new modes and unusual situations and environments to expand the single player experience.
If you see stuttering issues, you can try opening the file "steamapps/common/SpecOps_TheLine/Engine/Config/BaseEngine.ini" (or just right click in Steam -> Properties -> Local Files tab -> Browse local files) and adjust the "PoolSize" option under the "TextureStreaming" section to something like 256 which can make it quite a bit smoother.
If you grab it using our affiliate link, then we can also earn a little extra if you decide to pick up anything else within 24 hours.
Some you may have missed, popular articles from the last month: