Parkitect, the sweet park builder from Texel Raptor that's currently in Early Access is already fantastic and the developer is working on improved performance.
It already performed okay, but it seems as they work towards the final release, they're really starting to hammer it out. In the latest devlog update "194", they detailed what they're doing.
Improving guest performance has been a constant task nearly every month throughout development and it's at a point now where the only significant further improvements can be gained from multithreading. The main hurdle there is that Unity, the game engine we're using, is making multithreading really difficult. They are currently making very impressive progress to improve that for the future, but it's too late for Parkitect to use the solutions they are working on. So I have finally started with finding my own solutions for these difficulties. It's a very annoying task that requires going through the entire guest AI code and making it compatible, but so far it looks like it'll be worth it!
What they want to do, is actually give you more guests to liven up your parks, the more better they say. However, that will affect performance and the balance of the game of course.
They then went on to talk about what they've done and so far they've managed to improve performance by around 15% for the next beta release. However, they're working on a much bigger improvement for a future release and they gave out this teaser: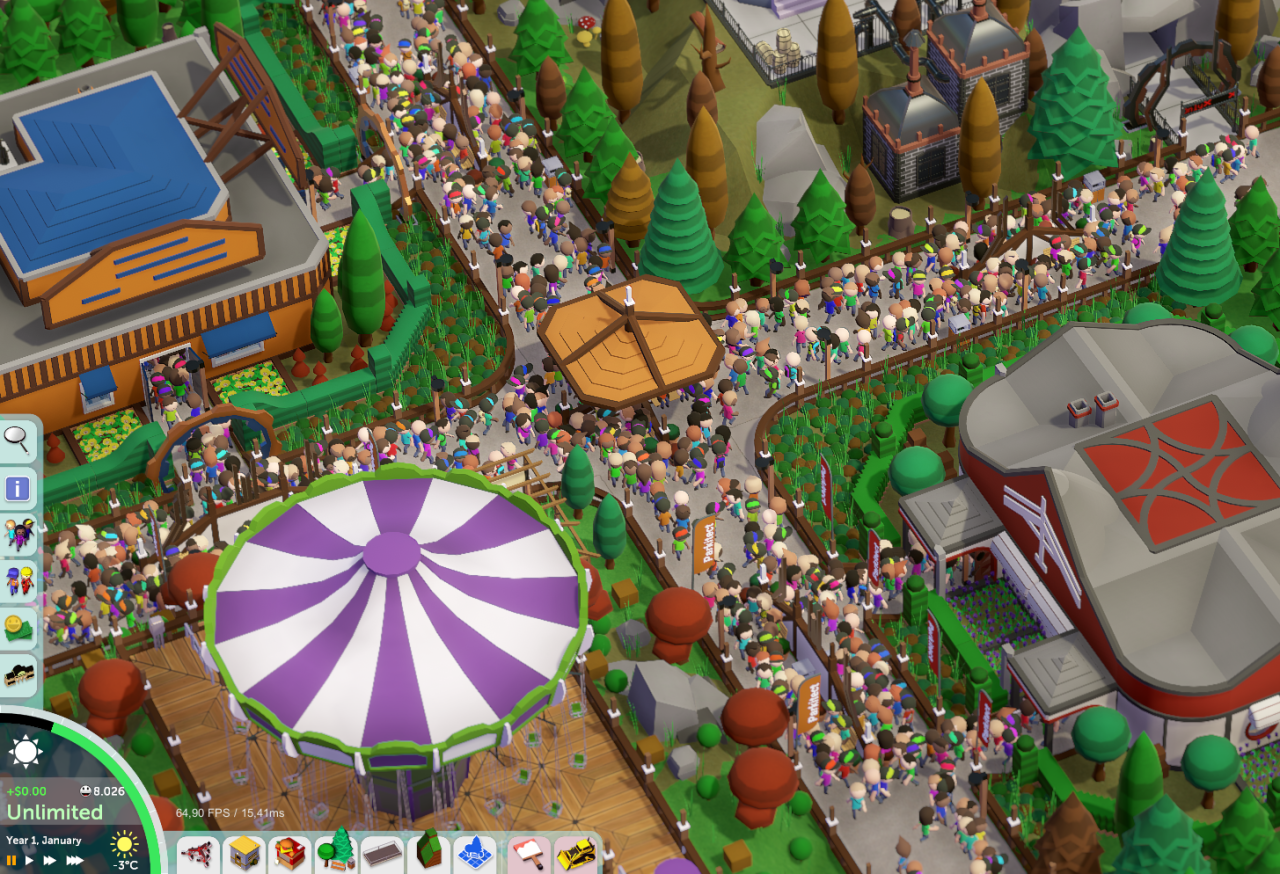 Thanks to the improvements due in a later build, they've been able to squeeze 8,000 visitors into a game, with 1,500 on screen and still hit 65FPS. They do say that this is just a stress test, so you won't ever see that many, but it's very promising that they're able to get performance at that point with so much going on. Pretty damn impressive really.
Even now, while the game isn't finished, it's damn fun to play. My son who's only six has even started enjoying it, that's how sweet it is.
You can grab a copy of Parkitect right now from Humble Store (DRM Free + Steam Key) or GOG.
Some you may have missed, popular articles from the last month: