This single-player experience lets players trade, fight and align themselves with various competing factions in the vastness of space. I was able to spend some time with the game and have some thoughts on its current state.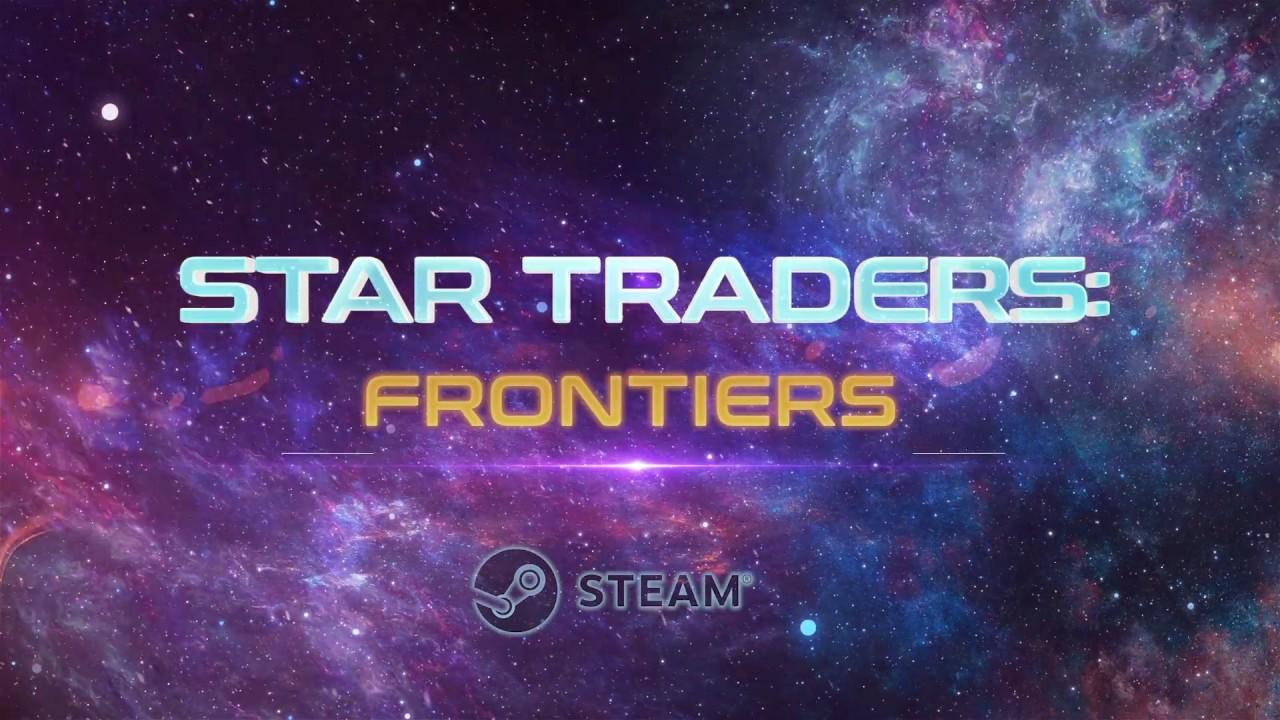 Note: Key provided by developer
On a quick technical note: thet game didn't like my multimonitor setup and made a proper mess of things when I first launched it. I had to start the game with only one monitor turned on in order to then set windowed mode in the settings so it would stop messing with my configuration.
Space trading games are almost a genre unto themselves. Sell high, buy low but also mind your ship's capabilities and avoid messing with powerful factions or you can be in for a world of hurt. Star Traders: Frontiers follows in that long tradition while adding a few tweaks to the formula here and there.
The player is put in the shoes of a young star trader captain who just inherited the family charter after the passing of their great uncle. This means captaining your own ship with your own crew without having to pay allegiance to anyone else. The various factions who control things are at each others' necks and political turmoil is at a simmer. You're given a story thread to follow and unravel but, from pretty much the very beginning, you're free to do as you please.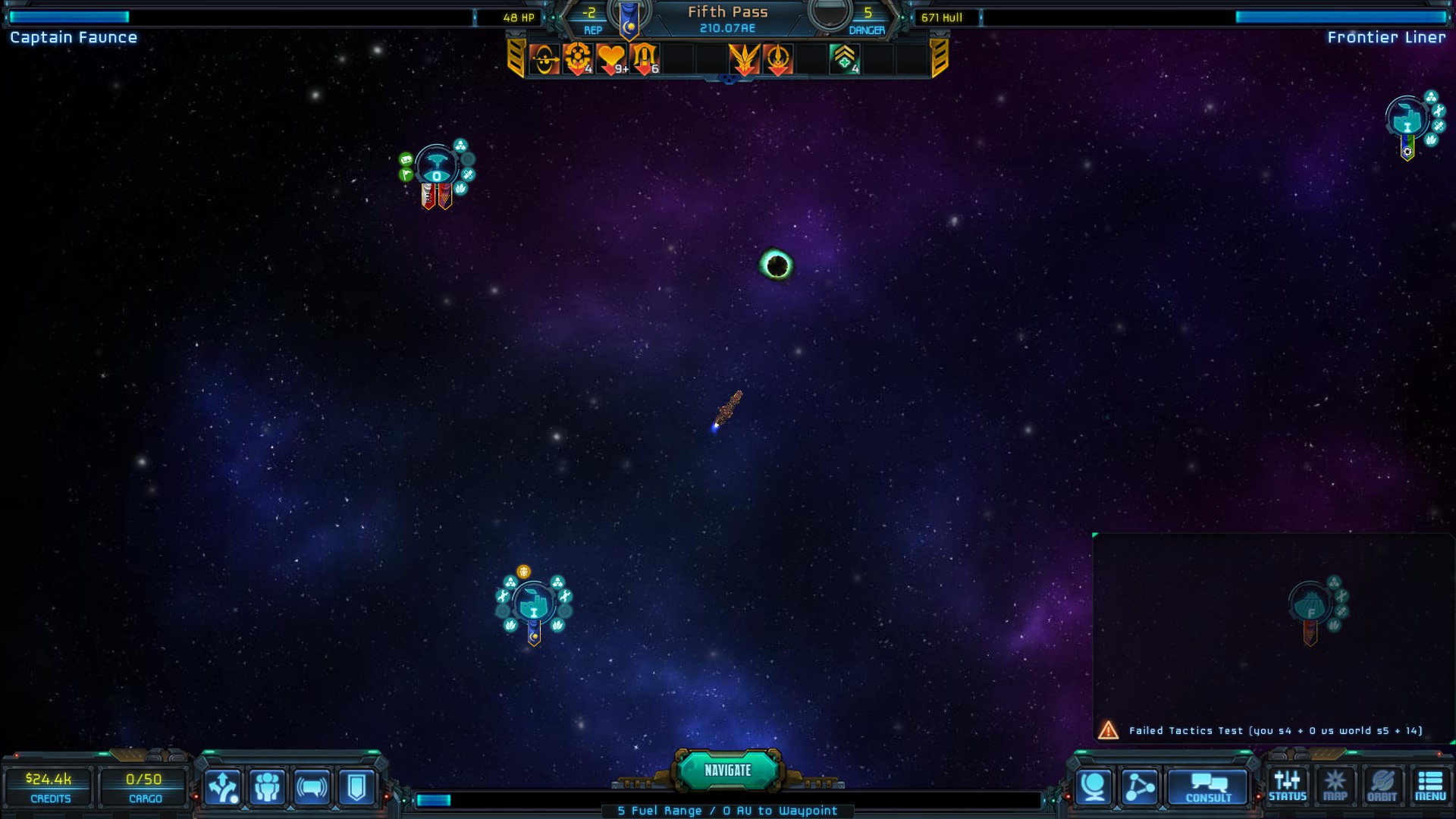 True to its roots, gameplay elements such as trade, combat and managing factions come into play almost immediately. It's really up to the player to do whatever their heart desires and there's no real time limit or constraints you really have to worry about. The amount of cash you have on hand, your fuel supplies, the condition of your crew and ship are the only things that limit what you can do. As you accumulate resources and gain experience, you can upgrade your crew and vessel as well, making it likelier you will survive for longer.
The core of that gameplay is sound, as you might expect, and it can be engrossing to run routes while hoping to avoid pirates or becoming something of a corsair yourself. When you're bored of all that, however, the game does feature a multi-stage storyline and quests that involves the various factions and galaxy at large. Factions and NPCs have their own motivations and vendettas which may draw you into conflict if you choose to associate with them. This affects the services you can get on faction-owned planets as well as potential perks as you climb up the trust and reputation ladder.
Talking to NPCs on certain planets typically start missions and storylines. There's some variety in the types of tasks you can perform and even, sometimes, alternative conditions to fulfill. Gathering intelligence in a system instead of simply going to a particular destination may give you extra resources as payment, for example. These missions tend to be time-sensitive, though, and can involve more serious fights. Basically, if you risk more, the rewards are greater.
What is problematic about all this is that all the individual systems can quickly be overwhelming. The game has basically no tutorial nor tooltips, with only sometimes a right click opening up a little description (mainly for combat abilities). There's a wiki that you can read but, to be honest, it's really disappointing that the game just tosses you off the deep end and expects you to figure everything out by yourself. There's a lot of very-not-obvious things in the UI and the various menus and getting a knack for the subtleties of the game mechanics involves needless trial and error. Complexity isn't so much the issue—I'm fine with games like Dwarf Fortress and most of the Paradox grand strategy games once I learned them—it's just that it can feel like a chore to muddle through things when you could instead be having fun right away as concepts are gradually introduced.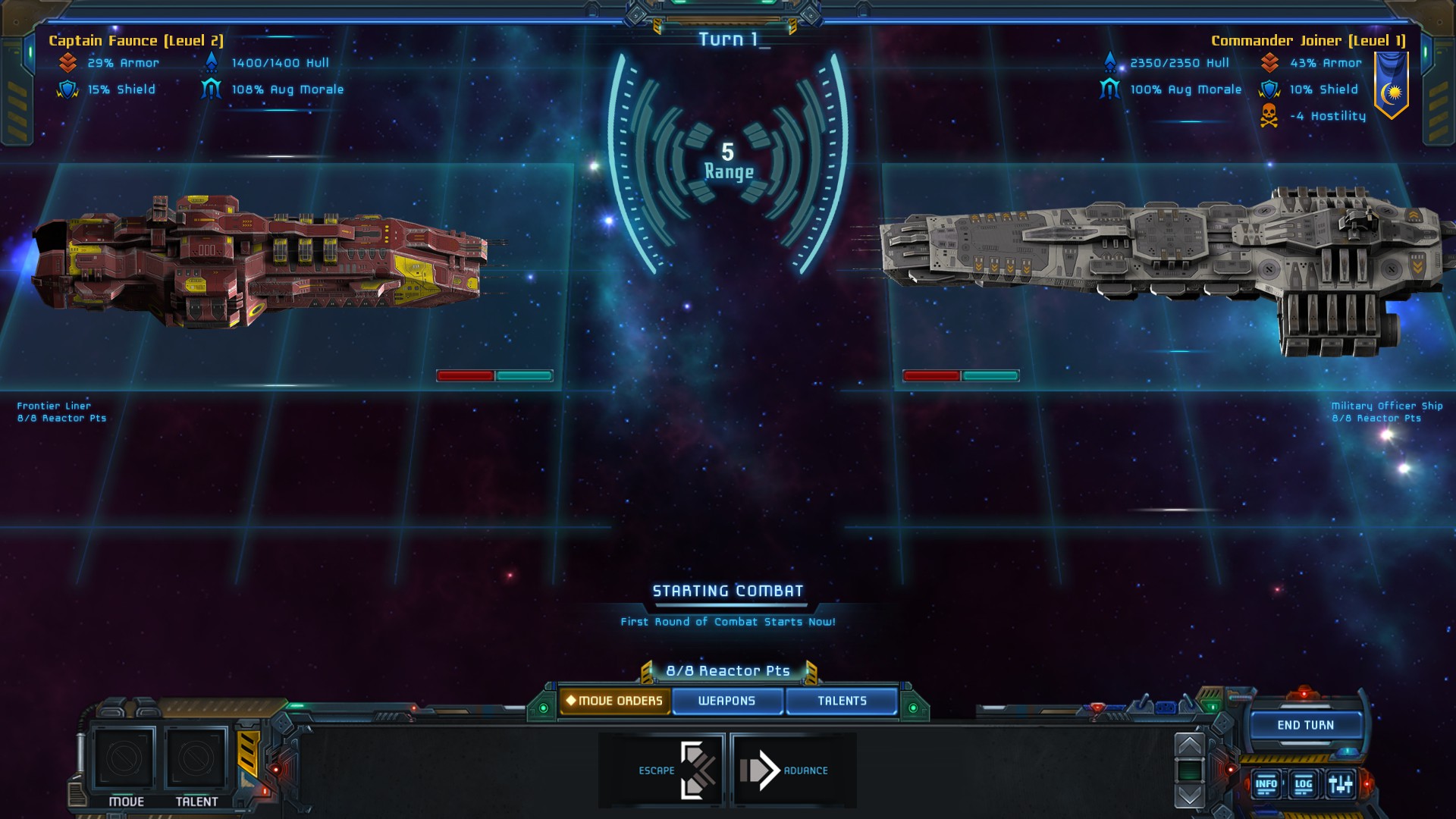 Even when you first start the game and create a character, there's scarcely any relevant information that can help you decide what sort of build you want. The standard templates description offer precious few hints as to what each thing actually does in-game. And something like originating from a particular faction, where you only really get a general description and a helpful +2 whatever icon with no explanation of what that bonus actually does just adds to the confusion. These supposedly meaningful decisions are cheapened when you have no clue what the practical consequences will be.
This uncertainty and trial and error extends into combat. Both my first space battle and ground engagement with my crew were messy affairs where I was learning as I went along. What did each slot mean and which weapon was optimal for what situation was left entirely for me to divine based on my intuition. As you might guess, results were mixed. As in, I never knew whether or not I was playing well or completely mucking about. Feedback on positioning, weapon classes and how crew abilities and attributes all influenced results would have been lovely. Instead, I'm sort of picking the crew or the ship range that I think might be ok and then sometimes suffering from critical hits and other misfortunes without really knowing why things are happening the way they are.
I still have no idea what sort of crew composition I should be aiming for, even after playing for a few hours. Your crew levels up and get skills and I know that I have to pay them and heal their injuries, but again those +whatever modifiers to skills aren't terribly informative. In the image below, I'd love to know just how exactly gunnery skill affects things on my ship or what the hell bombardment does. You occasionally pick between talents when crew level up but again those things can feel a little detached from what your more immediate concerns are. A breakdown of how each stat is used in various situations would also be great while they're at it. As it currently stands they're just words and numbers without any sort of real feel to their actual impact on gameplay.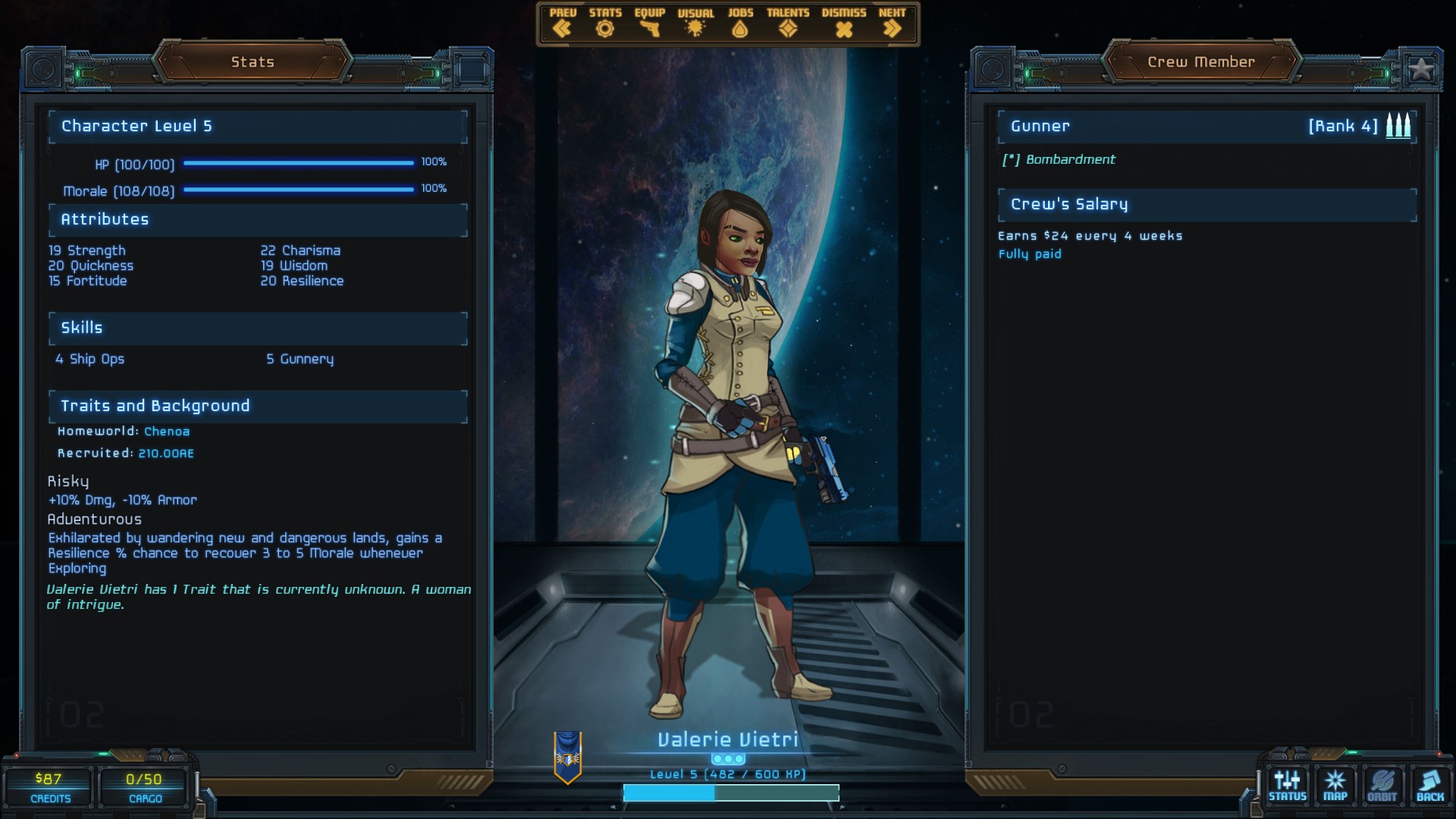 There is a "consult" button that dispenses advice but in the current Early Access build it has very limited use. There are promises of more helpful advice being included in the future but right now it's rather bare bones. You can imagine how my frustration built up trying to juggle all these different systems, often behind different menus and buttons.
This isn't to say that I didn't have any fun. On the contrary. Once I started to get into the setting and the quest lines that were presented to me, I was willing to overlook the fiddly combat and my wholesale lack of understanding of how a lot of systems really worked. That is until I started running out of resources and couldn't keep repairing my ship and taking care of my crew properly. But I'm sure that as time goes on, I'll learn to cope better.
I've barely scratched the surface with the game, too. This is the type of game that can suck in players for dozen of hours with a single character. The game is still in early stages and has at least a few months of Early Access ahead of it so a lot of it may still change. Hopefully the developer will use this time to properly polish the experience and implement player feedback. Still, I can't really recommend the game in its current state to a wide audience. Unless you're willing to invest the time to read pages of wiki entries and tables, then experiment with things in the game, it's not likely to be a fun experience right away. Naturally, though, if you're willing to hit the ground running, you'll find that there are some clever ideas behind all the obfuscation.
You can grab Star Traders: Frontiers on Steam.
Some you may have missed, popular articles from the last month: