StarFlint [
Official Site
] is a new comedy point and click adventure in the style of old Lucas Arts titles, it's on
Kickstarter
and it actually has a Linux demo (
demo link
) to check out.
Check out the trailer: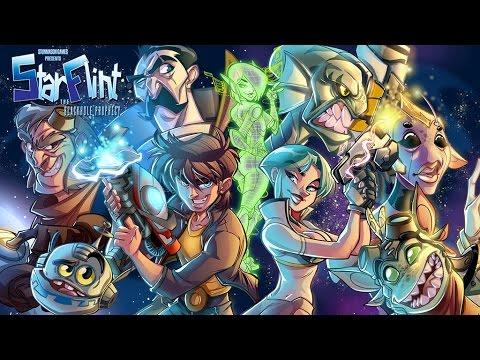 About the game
QuoteStarflint is a Point'n'Click 2D role playing game. The player will always have two possibilities to overcome an enigma, by solving a simple puzzle or following a more difficult path...that will lead them into solving a much more complicated puzzle. And of course the reward will change depending on what path you choose, so if you fancy a challenge then take the difficult route. The puzzles will always be logical, you'll never be faced with anything that can't be solved.

The player is completely free to explore the world of Starflint and its 8 various planets in the order they please, you'll be able to get into a discussion with the characters you meet, this allows you to collect valuable clues and progress, both in the main quest and in the side quests.

Once a planet discovered, the player can develop their business.
Graphically, it looks absolutely fantastic! The demo seems to run perfectly, although it did default to French language but it was easy enough to adjust to English for me. Screenshots and a trailer don't do it enough justice, the visual style really is quite incredible. The space scenes are especially beautiful and the overall design is impeccable.
They are looking to get at least €35,000 on
Kickstarter
, with funding already at €16,776 with 17 days to go. I hope to see this one funded, since they provide a working demo and it has a pretty decent setting. I'm also a sucker for a good sci-fi adventure!
Absolutely one for point & click and adventure game fans in general to take a serious look at.
Some you may have missed, popular articles from the last month: