Steam Controller on Linux part 2, more thoughts & more issues
A while ago
I did a write-up of the Steam Controller on Linux, and now I've had a few more months with it, I've tested out the gyroscope some more, and some games not really meant for a gamepad. Overall I'm still rather enjoying my experience, and I still haven't once wanted to go back to my Logitech F310, which is now collecting dust in my cupboard.

A note about the back paddles
: I've seen lots of people worried about accidentally pressing them and/or thinking they will generally get in the way. I have been using my Steam Controller extensively, nearly daily, since I got it and I can safely say that I haven't accidentally clicked them in even once. They really aren't an issue for me, so hopefully that may allay some people's fears about the paddles.
Gyroscope
This is something I didn't really touch on in my first write up so, as promised, here are some thoughts on the gyroscope.
I'm not entirely sure I'm sold on the gyroscope outside of racing games, as I just can't seem to find a way I truly like using it. I'm finding it to be fun to mess about with in first-person shooters, but in my own testing it doesn't seem to make all that much difference for anything but super sensitive sniper shots. That's still pretty damn fun to try though!
I've seen people have success mapping it to when your thumb is placed on the right pad but, to me, that doesn't feel natural. It feels like I am fighting general thumb swipes to look around, with the gyroscope for where I am looking in games. Since the gyroscope activates as soon as you touch the right pad that way.
Problems
For months I had an issue where the gyroscope wouldn't work correctly. I turned the haptic feedback up to High so that I could hear it picking up movements in my hands, but it sometimes wouldn't turn the steering wheel on the games I tried.
Months later, it seems that issue has been sorted. I would be interested to know if anyone else has had the issue with the gyroscope sometimes not picking up movements. Turn haptic feedback up to High, give it a whirl for a while and see if it happens. It seems to have vanished for me now.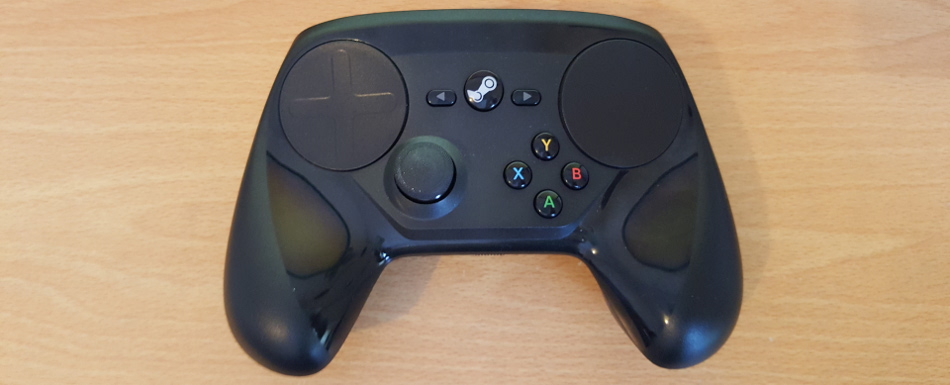 Borderlands 2
In Borderlands 2 I was able to map the gyroscope to the left trigger button (when it's fully pressed down), so when I zoom in I can line up shots a bit better. That is actually quite nifty and very useful. I really do love the ability to map a soft press and a full press (to the click) differently. This allows me to zoom, or zoom
and
use the gyroscope. So far it's one of the nicest ways I've been able to make use of the gyroscope and it seems to work okay like this in Borderlands 2.
Counter-Strike: Global Offensive
I did struggle to play Counter-Strike: Global Offensive with the Steam Controller, mainly due to how fast and how accurate you need to be. Compared with Borderlands 2 it is a completely different beast to play. I honestly don't think the Steam Controller or any other gamepad is suited to something where you need such pinpoint accuracy. You have far too little time to react and it really feels like a disadvantage here.
DiRT Showdown
The gyro can be configured to act like a steering wheel, and I had a pretty interesting time trying it out in DiRT Showdown. I don't really think it's any easier than using the thumbstick, primarily as having a floating wheel is a bit weird.
On my first attempt using only the gyroscope for steering in DiRT Showdown I was able to come in 3rd place, and I think that's pretty respectable!
I have since played some more DiRT Showdown using only the gyroscope for steering, and I've actually been able to totally smash some previous times. It's actually made a game I already liked quite a lot even more fun than I found it originally.
Coffin Dodgers
It actually made this rather mediocre game quite a bit more amusing. The game itself is a bit of a mix of Road Rash (hitting people) and Mario Kart with the weapons and making people slip and slide.
It worked pretty much perfectly as it's an arcade game that doesn't really require proper handling.
The game itself is still a bit boring.
More games tried
Enter the Gungeon
This twin-stick shooter has full controller support, but the default bindings provided by the developer are
crap
. It was not designed in mind for a flat pad at all, as in gamepad mode it expects you to have a stick to move around the character.
This is again where the Steam Controller's community absolutely shines. There's a community config which has setup the Steam Controller like a mouse and keyboard, but the right pad uses the "mouse region" option. I hadn't really used that mouse option much at all until this game—what a difference! Aiming is much improved, but I prefer normal mouse movement for this game. I simply changed the right pad to be a normal mouse with the added bonus of all the other buttons setup for me using this community Config.
Now it's perfect for me, with little effort on my part.
Games not designed for a gamepad!
Company of Heroes 2
I was actually in a little bit of a shock with trying the Steam Controller in this one, as it almost made me love the game more than I already do. It seems a number of other people are now playing it with the Steam Controller, as I was able to pick a community config straight away. This config allowed me to play a full match against an enemy easy AI and be competent enough to win the match without too much of a fuss.
Using the left stick to be able to smoothly move the camera around is actually really nice. I just need to sort out a way to have more of the hotkeys set-up, and it will be just as good as the Mouse.
I lost a game with it against the next level of AI. But that was down to my idiotic tactic; I thought I could push into the enemy base with all of my vehicles, and I didn't leave anything left to defend myself with when I lost them.
Cities: Skylines
I thought Company of Heroes 2 was fun, but wow. This game almost feels "right" when played with the Steam Controller on Linux.
The developers have already set up an official config to use for it, and it's actually quite intuitive to use. Simple things like clicking and holding in the right pad and moving your thumb around to control the camera angles, and using the left stick to move the camera like it's using WASD movement (much like Company of Heroes 2 does).
Honestly, Cities: Skylines feels like a game that was built ready and waiting for the Steam Controller.
Civilization V
Surprisingly I had a pretty decent time with it. The Steam Controller actually saved my bacon recently as Civilization V crashes often on the Nvidia 358 driver I currently use on my main PC. I was playing online with Samsai, BTRE and gnarface from the IRC channel and the game was repeatedly crashing. I switched to my TV Steam Machine, got my Steam Controller ready and sat back in my sofa comfortably playing.
Using the Steam Controller for Civ V certainly takes some getting used to, but I was surprisingly competent at it and could see myself playing it like this more often.
Other thoughts
As I managed to finally get my girlfriend to actually use the one I picked up for her, we sat down and played a few local multiplayer games, and something occurred to me: On other platforms like Playstation and Xbox, when another controller comes along they are signed into their accounts so that they can get the achievements, their characters and such.
That is something that I miss from the really tight experience on my PS4. Valve has made small progress on this, with the update to have the controller assigned to an account to get your personal key bindings, so maybe they will be able to do this in future. I fear that is some ways off though, but it would make the experience even better.
Final thoughts
: It's still my favourite gamepad to date, but like every gamepad it has its own set of drawbacks.
Sadly, as I begin to use it more and more it does actually ache my dodgy right hand quite a lot (I have a broken bone in my right wrist that will never heal), especially in racing games. No more than the Logitech F310 did, but just as annoying. This isn't an issue with the controller, it's my own annoyance and so far no mouse, gamepad or anything helps.
I am still waiting for the day when you don't have to use Big Picture for it, I imagine Valve are slowly working on it. Still, it would be nice sooner rather than later. I find Big Picture mode far too limiting on the desktop. They have made progress with this, as you can edit the controller config while in desktop mode (if the controller is connected), but to actually use the configs (and be able to edit them in-game) you still need to run games from Big Picture mode.
I still wholeheartedly recommend
picking one up
. It's good fun, and that's the main thing. After owning it since November 10th, it still feels like a novelty, like everything is new again, and that's great.
With that said though, I do constantly feel like an early-adopter. The software for it is evolving all the time, sometimes it will break, so don't buy it just yet if you're after a simple life. In another year it's going to be something even greater at the pace Valve is adding features.
Right now I prefer my Mouse at my desktop for sure, but for couch gaming and light PC use from the couch—it's awesome. It even works on the grub boot menu, so on my Steam Machine I am able to pick which OS I want to boot up using only the Steam Controller.
Some you may have missed, popular articles from the last month: