Ever wanted to be a superhero? I'm sure it's a dream we've all had at some point in our lives. Super Versus, looks like it will let you do that.
It's going to be free to play, with community server hosting support along with some kind of premium option for cosmetics. It will release initially in Early Access, so with that in mind it will get new features as time goes on. They say they're planning to include "matchmaking, competitive ranks, official servers, team based modes and player inventory for the full game". The free version will have casual play and community server support, with premium for matchmaking and ranked modes.
Footage from their beta test: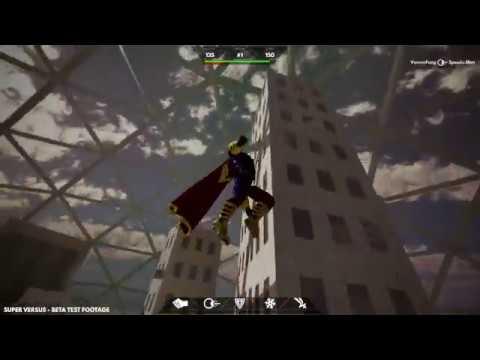 It does look slightly amusing, I will admit. Ridiculous outfits, capes, helmets and various powers to wield. The child inside me really wants to give it a go. Fly around, pick up a water tower and throw it at someone? Yes please.
Some details about it:
Become a Superhero -Your time has come, choose a costume, join an online match, take to the skies, fight your way to the top, and get ready for a truly cinematic superhero experience!
Gameplay - Fly anywhere. Shoot lasers. Punch and shock your enemies. Pick up objects, use them as shields or projectiles. Block incoming attacks with your forcefield. Freeze people with your freeze breath. There is a huge variety of ways to fight, dodge, and blast your way to victory in this fast paced competitive superhero game!
Test your skills - Careful attention was given to the core mechanics to ensure a balanced and rewarding gameplay experience for all players. It is easy to pick up, fun to play, but difficult to master. Do you have what it takes to compete?
Update: I grabbed a beta key from the official site (you can too!) and I've had a test with the developer, it certainly seems like it's going to be a lot of fun. The cheesy voice lines are brilliant, can easily see myself playing this often when it's out properly. The actual gameplay is incredibly accessible, with really easy controls too so it's super easy to get into the fight.
I'm very curious to see how they will expand it, I'm especially interested to see what new abilities they're going to be adding in. The current abilities are fun and varied already, so that's sweet.
You can follow it on Steam.
Some you may have missed, popular articles from the last month: