Surviving Mars, the rather engrossing city builder from Haemimont Games and Paradox Interactive has another big free update and it's great.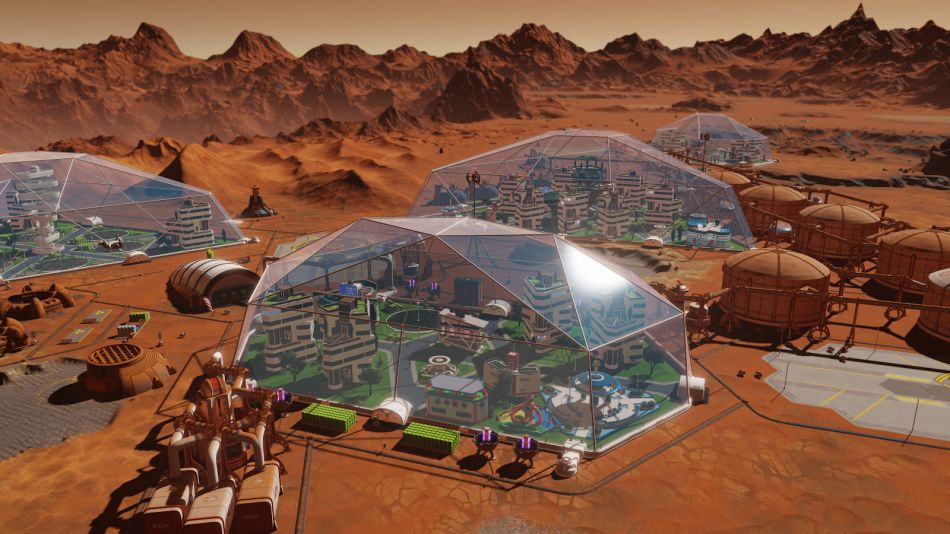 Note: The update will be live on for Linux on GOG tomorrow.
Major new features:
Five-part Tutorial - Comprehensive tutorial separated into five thematic sections, introducing the core gameplay concepts in the different stages of Surviving Mars.
New Domes - Curiosity introduces five new Dome types. These are entirely new models with new shapes, functionality and costs. With one exception, they do not require new techs to be researched. The smallest dome do not allow Spire construction
Infobar – Provides general overview of all the resources of the colony, including research progress
Command Center - The Command Center is a handy new UI toolset that provides historical data for the colony and the ability to inspect and manage multiple buildings, colonists or vehicles without selecting them individually. It has been developed as part of our effort to reduce the micromanagement and to provide a more informative overview interface for certain gameplay aspects. The Command Center currently offers five different tools: Graphs, Buildings, Domes, Colonists, and Transportation.
There's a lot of smaller changes too, if you're interested you can see the full patch notes here.
While it currently has "Mixed" user reviews on Steam, I can personally recommend it. I've enjoyed a lot of time in it and honestly, some of the user reviews are utterly idiotic. One such example, is this one:
[…]what do i get in this dlc.....new dome shapes.....and the ability to learn how to play....oh and cant forget the command center. and I do understand that If I do not feel the need to get this so called dlc i do not have to....but at the same time i feel as if I have to to keep enjoying the game. this choice to make everything a dlc instead of a new feature turns this games from a enjoyable game to a more or less pay to make things look nice.[…]
Complete, utter nonsense. The updates so far have all been free, just like this one. I often see developers complain about user reviews and in times like this, I do agree they can be an issue when it brings down a review score while being completely false. Even better, the user disabled the comments on their review…
Anyway, you can grab the game from Humble Store, GOG and Steam.
Some you may have missed, popular articles from the last month: