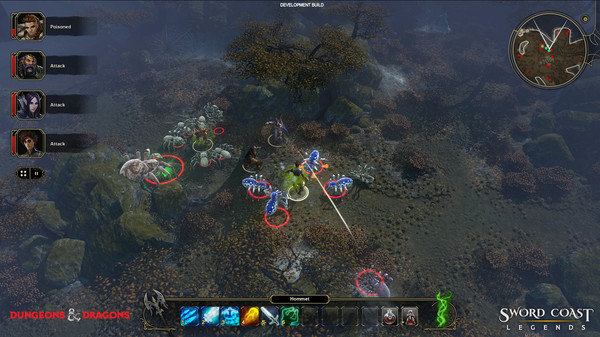 We don't have too many high quality RPG titles, and I was excited to finally give Sword Coast Legends a proper try.
Note: If you have me on Steam, ignore the time it says I've played. I played it during the Head Start Access too.
It has at time of writing gained a lot of mixed reviews, and I understand why some people aren't happy with it. It's certainly not as in-depth as it could be with any part of it, but with that said I'm personally finding it enjoyable for the most part.
The game world is actually quite beautiful and bright, which makes it quite easy on the eyes and I imagine a lot of people will be able to get into it. It's great that we have so many games, but not a lot look as good as Sword Coast Legends. The only graphical part that is a let-down are the character models and running animations, as they look a little awkward. It's especially awkward when the camera zooms in to show an enemy running into the area, as their running animation seems weirdly sluggish.
Creating your character
I went into it expecting to spend quite a while creating my character, but the first thing I noticed was the big lack of options for customizing your character. The amount of options for hair colour and style seem to be really rather limited.
I also found it quite weird picking your weapon and armour at the start, it was interesting to be able to do it, but there was no explanation of what would be best for your character. Honestly I found this section quite confusing.
Choosing abilities was much nicer, with a wide range of different things to choose. I decided to level up my archer's stealth as much as possible, as I like the idea of sneaking up on someone with my bow and arrow.
Gameplay
It feels very much like Baldur's Gate, and it has real time with pause combat which is nice. It doesn't feel as unforgiving as Pillars of Eternity, as I'm finding the combat to be much more manageable. Even though it has the pause option, it seems quite fast paced when you put it next to Pillars. I can't quite put my finger on why it's making me feel that way.
During the character's chatting it doesn't actually say anything about skipping, but you are able to skip dialogue by pressing the spacebar. It's odd they didn't put any indicator on the screen to tell you, so I found this out by chance.
One thing I do like, is that your inventory is shared across the characters. This removes a lot of micromanagement I've seen in other RPG games, and helps make it a little more accessible. It's one thing that annoys me about other games, so I'm actually quite happy with that here.
One thing that is currently getting a little annoying, is that every single movement click has a character voice over. Honestly, I would much prefer it if they did it every x amount of movement clicks, as to avoid becoming annoyingly repetitive like it is right now.
Another gameplay annoyance is most things are done with left click, so if you miss click during combat prepare to have your character run around. I've seen other people complain about it too, and it does get annoying. Luckily the developers are responsive and may put in a right click to move option.
Performance
Performance seems to be satisfactory on high settings, as i'm getting between 50-60FPS on my 970, so while it's not amazing, it's playable. If I turn it up another notch to the Best setting, I get a big performance drop to 30-50FPS. It does still remain smooth, and it is playable, but I can imagine people with less expensive cards struggling a bit. It does seem like it could do with some optimizations, as I've seen posts from Windows users saying it performs badly for them too, so it's not specifically an issue with the Linux version.
Issues
Currently the Create account button doesn't work on Linux (at least it does nothing on my Ubuntu install), so you may need to
create an account here.
This annoyed me somewhat, as I wasn't aware I needed to register to play even the single player portion of the game.
I asked about it on the forum, and the reply was this:
QuoteThat is some crap. Not sure we've seen that with other Linux users at all but I'll pass it along. Possible the actual launch version might fix it? Keep us posted!
Not the reply I was expecting really. I can't test if the release version has fixed it, as there's no way to logout.
Final thoughts
: It's actually not bad, not bad at all. Not incredible, but worth picking up if you're an RPG fan like me. I'm finding it much more accessible than Pillars, and I'm enjoying it much more. However, if you're looking for something more in-depth, go get Pillars.
You can find
Sword Coast Legends on Steam
.
Some you may have missed, popular articles from the last month: