The developer of Avorion [
Steam
] accepted my request for a key, so I took Avorion for a spin. It's in Early Access, so keep that in mind.
Note: The game is in Early Access, it's not finished and bugs will be found.
Here's a few minutes of my adventures: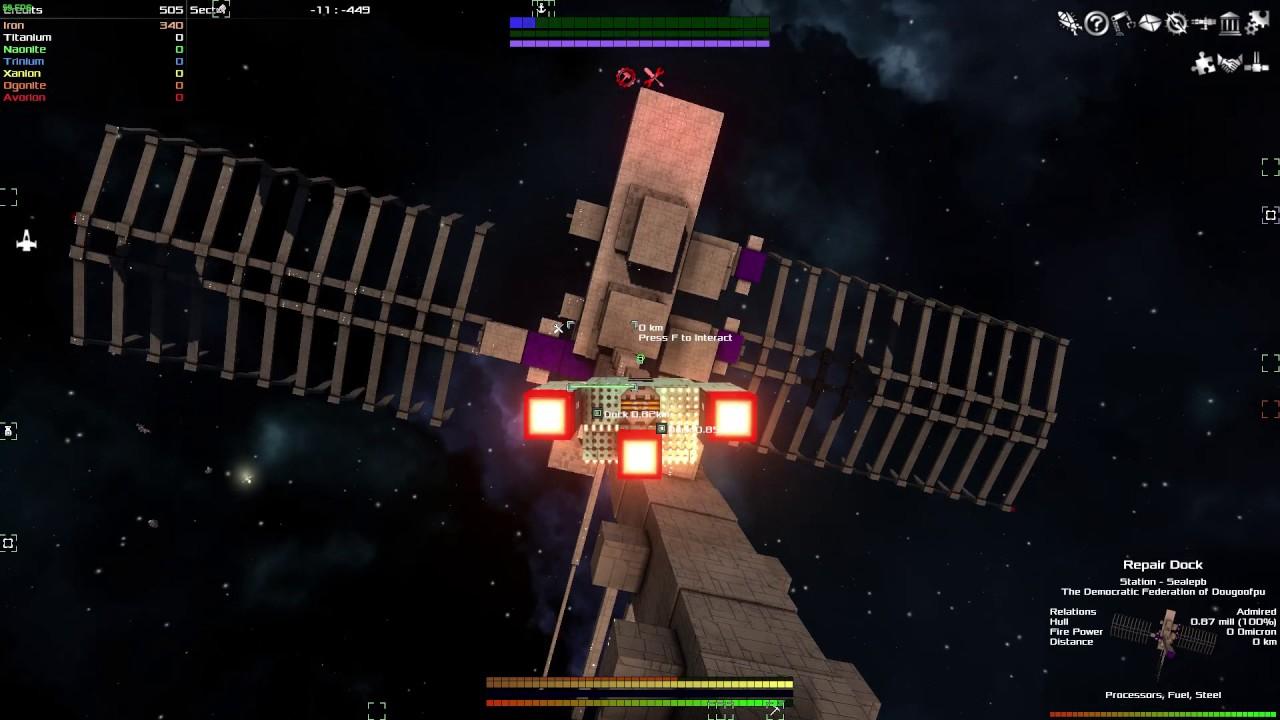 The story is that everyone is cut off from the centre of the galaxy due to an event that tore space apart. Some nasty aliens appeared with the event and have begun attacking everything in sight. In the game "Avorion" is actually a new material that appeared after the event.
I'm a massive space nerd. I love everything science fiction and space related so a good looking spaceship-building sandbox sounded like a lot of fun to me.
It feels a little like a mix of both Eve Online gameplay along with some of the X games thrown in. Right down to getting mail if your ship gets destroyed and you have insurance, all very familiar to anyone who has played Eve Online. Avorion is mainly a single-player game though, with the multiplayer aspect under development. The multiplayer is very unstable right now, as the developer is scrambling to fix all stability issues. I would certainly be interested in running a server for it when it's stable, if there's demand for it.

The obvious hook in this is the ability to build your ship block by block. It's really fun to do, but the ship building does need a bit of work.
It's highly configurable in so many ways it's damn impressive. The camera doesn't just zoom in and out like most games, you can also move the camera position relative to the ship's axis. This is incredibly useful, since a rather long ship might require you to be looking at it from a higher viewpoint.
You can configure pretty much everything on your ship too. Not just the block positions, but the size and scale of each individual block, which can make for some slick designs. Your weapons are another customizable part, as you can assign them to group to activate and deactivate at will.
You start off with a tiny mining drone, but the limit to the size of your actual ships are your money, resources and imagination.
One issue that does annoy me, is that I was heading to a station in my bigger ship, but it didn't have enough energy generation to keep the engines going. I switched to my speedy drone thinking it could make up the last bit of the journey, but it appears they share the same energy bar. I dislike that a lot, I think their energy supplies need to be separated to make it a nicer experience. Not only to make it a nicer experience, but to make a little more sense. I've
suggested it to the developer
, with another example of why it makes no sense.
The music is gorgeous! It's really chilled out ambient background music and fits the space theme perfectly. It could do with a few more tracks for variation, but it's more than good enough for now.
It's a slow game though, it will be a game you can sink an entire day into and not have much to show for it. Some games work well like that and Avorion is certainly one of them.
I haven't gotten far enough to see it yet, but you can actually build your own fleet and zoom out to control them in an RTS style, so that sounds awesome.
There are a few things about the resource system that annoy me though, so the game ends up becoming far more tedious than I feel it should be. Things like needing both resources and money to repair a ship at a station, not being able to edit a damaged ship and more. It ends up in some very frustrating back and forth work resource grinding if you end up with a damaged ship. I think this needs some serious balancing work.
So far, I absolutely love the idea, the visuals, the music, but the mechanics around fixing your ships ruins it for me. I spent half an hour trying to get my ship repaired and it took 2-3 minutes to slow down from full speed which caused me to fly into a repair station and boom, that was the end of the "Titan". You should have seen my face at this point.

Luckily, you can save your ships and completely re-build them with enough resources and money. This was the saving grace, otherwise I probably would have completely rage quit. So thanks to that nifty feature, I will be able to build the "Titan MK II" and carry on going where no one has gone before. Once I get enough money that is.
I can't help but absolutely adore the game as a whole. The more I play, the more I figure out and it becomes even more fun. Jumping into a sector and joining in on a random space battle was awesome.
Even at this stage, if you're a fan of spaceship-building then be sure to give it a go and tell me what you think.
You can find Avorion on
Steam
in Early Access.
Some you may have missed, popular articles from the last month: