Tangledeep [Steam, GOG, Official Site] is a game we haven't covered a lot here, even though it's actually a rather good dungeon crawler. It's now set to leave Early Access on February 1st.
To celebrate, they've released a new pre-launch trailer: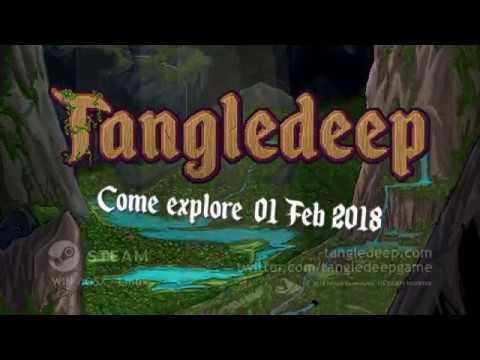 Unlike a lot of dungeon crawlers, you're not going ever deeper. Instead, you start off stuck in an in underground village with no memory as you struggle to make your way to the surface. The only way to the surface, is to brave Tangledeep, an ever-changing labyrinth.
There's three different game modes available to appeal to many different people: A Heroic Mode, which features permadeath where banked goods and town progress are saved. An Adventure Mode, where you respawn when you die but you do lose some money and XP and also a Hardcore Mode with has no progression on death.
What I really like about it, is that it works perfectly with the Steam Controller, allowing me to sit back and explore the colourful world of Tangledeep. It actually feels good with the Steam Controller too, I don't feel like I'm at a sudden disadvantage which really helps my enjoyment of it. I especially love how I can hold the left trigger, so get more precision to only move diagonally and press the right trigger to skip a turn, it all feels extremely well designed. It also has great Keyboard and Mouse support as well of course, having options is good.
You can grab it right now on Steam and GOG. It came with same-day Linux support at Early Access and has always worked pretty well, so it's worth picking up.
GOG links are affiliate links.
Some you may have missed, popular articles from the last month: