Valve have now officially released their overhaul of the Steam Chat feature to everyone as of last night.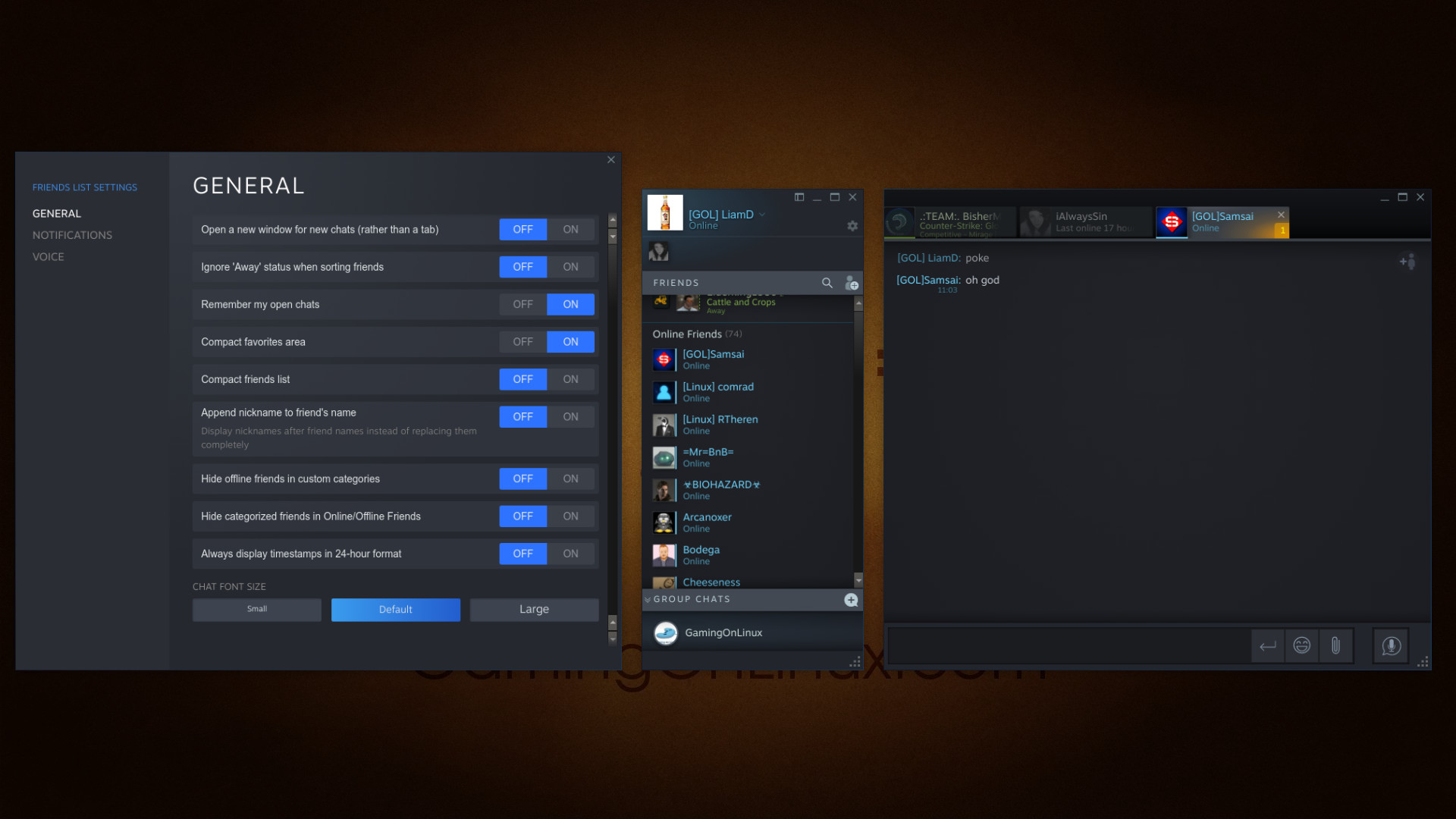 Here's what's new for everyone:
Added icon and optional balloon for announcing new Steam Features and Blog Updates
Added banner announcing future end of support for Windows XP and Vista
Enabled GPU acceleration in web views by default
Added option to disable GPU acceleration in web views in Settings->Interface
Added support for binding F13-F24 as hotkey buttons
Improved IME handling for web pages shown in Steam client and Steam overlay
Specifically for Linux users:
Added the ability to import Windows icons for games with no Linux icons; will only take effect after reinstalling the game and recreating the desktop and launcher shortcuts
Fixed an issue where the system might become temporarily unresponsive after exiting the client due to events accruing in the window system
Updated Steam Linux Runtime with the latest versions of the SDL libraries
Fixed a problem where the screensaver would always be disabled if Steam was running
Fixed an issue where Steam could crash when running Steamworks-enabled games, or where Steamworks functionality wouldn't work properly in the game.
Fixed an issue where CS:GO and Dota 2 matchmaking would not function properly.
This update also brings in the recent Steam Input updates from the beta channel, which gives support for PS3 Controllers as a separate controller type along with HoriPad Mini4, Level Up Cobra, Mad Catz FightStick TE 2, Mad Catz FightStick TE 2+ PS4 Controllers and HORI Pokken Tournament DX Pro Switch Controller.
It seems it released with a bit of an issue that Valve quickly fixed, where apparently people could hear you through your microphone without you knowing. Valve fixed it rather quickly after they were made aware of it. I'm not too sure on the specifics of it, as the reddit post talking about it has been edited.
Full news on Steam here.
Some you may have missed, popular articles from the last month: