The Great Geometric Multiverse Tour is a first-person shooter for those times when you need something completely weird.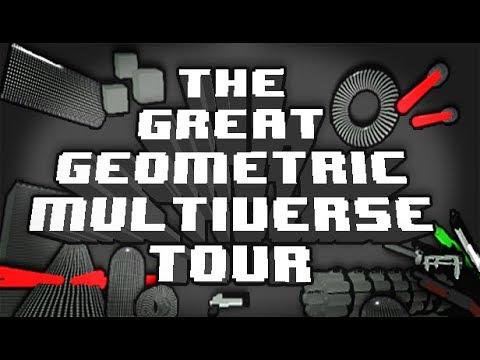 The feature list:
Fast paced, bullet hell, arcade shooter
Randomized pickups, for better or worse (Oh yeah, they stack)
4 game modes, for even more ways to play
Increasingly difficult combat
Self-explode, to get yourself out of those tight situations
Over 20 cheats, for when you feel like just messing around
And so on…
It's not much to look at with no real coherent style to it, but if you like shooters that end up becoming an over the top bullet hell then it might be something for you to look at. It's difficult too, enemies just appear from portals constantly and fire at you like they really mean it. Random environments, random enemies that don't really make any sense along with random weapons and powerups—it's incredibly weird. It's difficult too, due to the amount of enemies and the pace of the game, you don't really get a sense for when to jump and dodge and seeing the enemies bullets is actually a little difficult.
It has trouble capturing the mouse at times too, which is a really annoying problem to have.
Some you may have missed, popular articles from the last month: