The team behind the Linux-powered games console, the Atari VCS, recently had a three-day session together to go over the progress and it seems quite interesting. It's not exactly going to into a huge amount of depth, really most of it sounds like the obvious things they would be working on but it's still good to see it progress forward after their successful IndieGoGo campaign.
For the actual console itself, they shared pictures of the oversized "custom" AMD development board, with the Bristol Ridge processor and 8GB of RAM: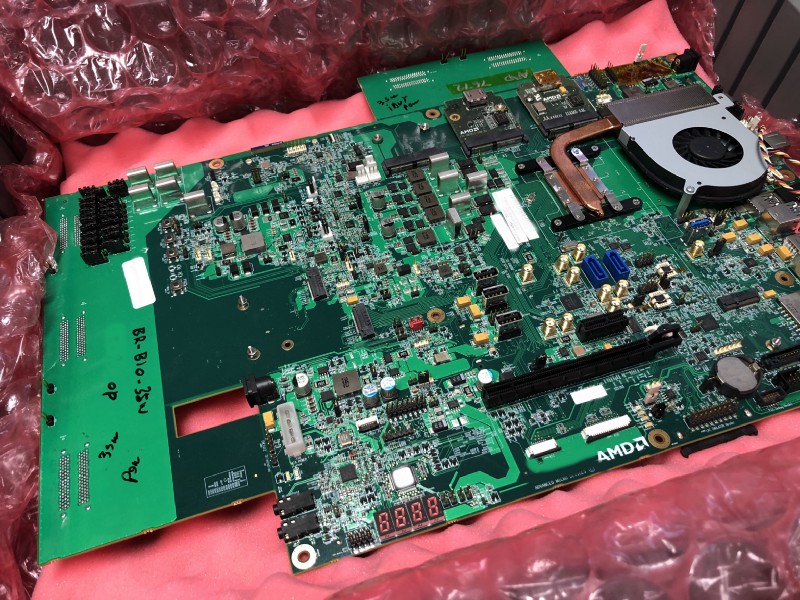 Obviously the final version is going to be a lot smaller. They say they're using this to allow them to have extra sensors and things like that, which are required for calculating thermal load under various power draw scenarios and so on. They're trying to get the AMD APU to run as fast as possible, without melting away.
Currently, the Atari Classic Joystick and Atari Modern Controller designs are being finalised with their hardware partner Power A. Their modern gamepad is actually based on Power A's Xbox One/PC controllers with added bluetooth to work directly with the Atari VCS. They're also still going over things like battery options, to give the best cost vs power and things like that.
When it comes to games, they've obviously tested the Atari Vault as well as Rocket League, Terraria, Basketball Classics, Borderlands 2, Broforce, Smugglecraft, Dropsy, Banner Saga, Shadow Warrior, and several others so it's looking like they might have a pretty decent list of games tested working with it.
To be taken with a pinch of salt, they also said about talking to various "large and small studios, publishers and content providers" in regards to getting their content on the console.
In addition to games, they said that standalone applications for Twitch, Netflix, Amazon Video and Amazon Music, YouTube, Spotify and others are also being work on. This is something that was really missing for Steam Machines with SteamOS, so I am glad that's also a focus of it.
I'm still not entirely sold on it, because so many things can still go wrong at this point while it's all under heavy development. However, I'm optimistic about the idea of it, because to get games onto the Atari VCS they first need to support Linux. I doubt many developers will want to remain exclusive to the VCS, when they could also put the Linux version on Steam, GOG and others too. On top of that, having a small gaming unit that runs Linux, sat under my TV sounds pretty ideal to me.
Looking even further on it, since they're using AMD this might even help their drivers. A lot of things to think about, will keep an eye on it. As I said before, if it does fully come to market we will probably pick one up to test-drive and review it. After all, it is a proper Linux gaming device.
Some you may have missed, popular articles from the last month: