Another year has completely flown by and with that another year of our GOTY Awards comes to a close, here's the results of the Linux 2017 GOTY Awards, as voted by you!
Some categories didn't get a huge amount of votes, likely category fatigue since we had 16 of them. A little overkill, so we will probably tone it down a bit for next year to help with that. Also keep in mind, these are only the Top 10 from each category, there were plenty more votes for games that didn't reach the top, so keep that in mind.
First up, let's take a look at what the current Favourite fully open source game is: 0 A.D. is the winner!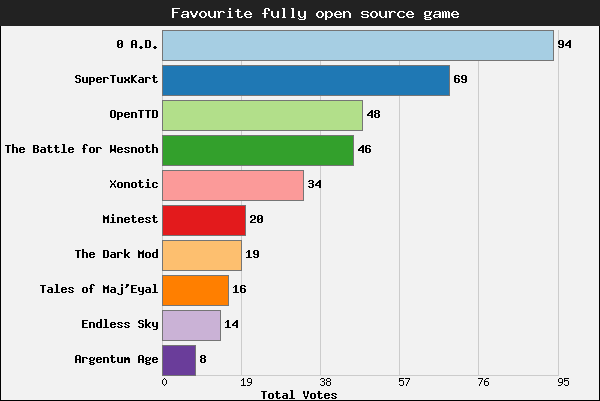 The developers behind 0 A.D. have put in an incredible amount of effort into making the game look as good as possible. I'm always blown away by the quality of it and I look forward to watching it grow as the developers continue getting it ready for a final release.
I have to say, I'm not even the tiniest bit surprised by what the current Favourite FOSS project is for Linux gamers: Wine is the winner!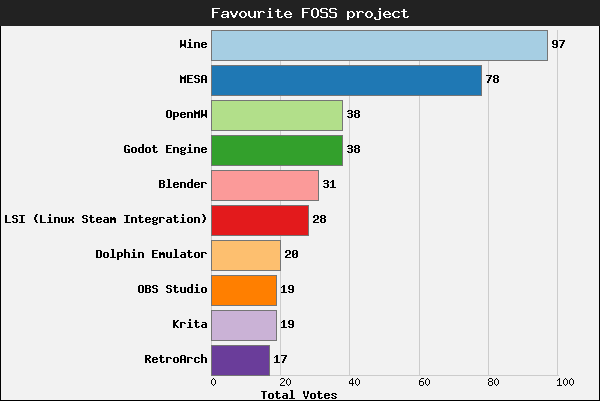 Wine is always a hot topic, as there's extremes on both sides of the Wine argument. You have to be impressed by what the Wine developers have been able to achieve though, to be able to play some well-known and popular titles on Linux without needing Windows is good for a lot of people dipping their toes into Linux gaming for the first time. It certainly helped me stay interested in Linux in the early days, so I fully appreciate it.
I have to say, what was voted as having the Best graphics for a game released in 2017 did take me by surprise: HITMAN is the winner!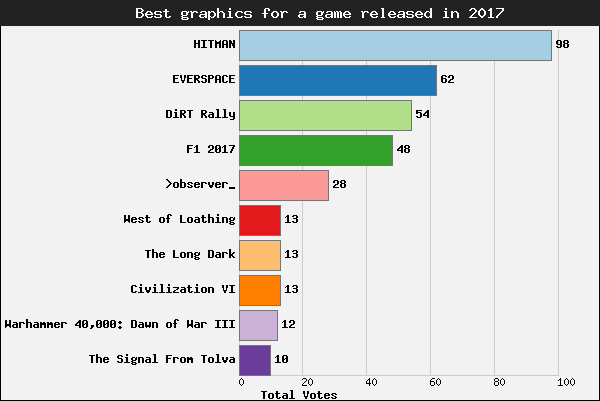 I wouldn't say HITMAN was a bad looking game, far from it (and I certainly enjoy it), however it's certainly not something I would have considered to be top here. That's the fun of voting, I like knowing what you think!
As for the Best story for a game released in 2017: Planescape: Torment: Enhanced Edition is the winner!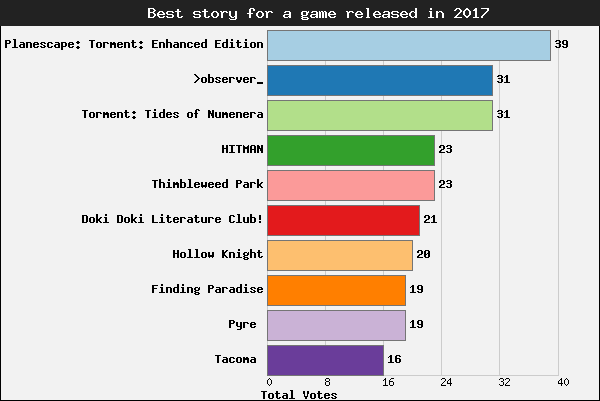 Some real tough choices for best story, my personal favourite was probably Observer! I was absolutely hooked on Observer from start to finish, it was quite an experience.
Ps. Yes, I am well aware Planescape is an older title, but it wasn't officially on Linux until 2017 with the Enhanced Edition release.
The Most promising Early Access game in 2017 was incredibly close, there's only one winner here though: Factorio is the winner!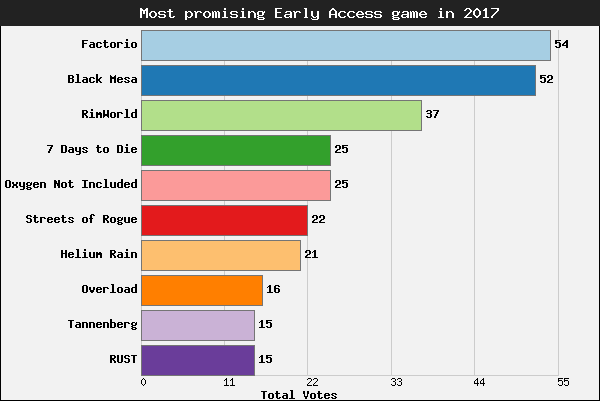 I'm so totally torn by the best EA game, I love so many of them! With the exception of Black Mesa that crashed on me last I played, I've enjoyed a lot of time in each of those EA games, a very hard category for me to vote in that's for sure.
In the Best update released in 2017 it seems Croteam got a lot of love: Serious Sam Fusion 2017 (beta) is the winner!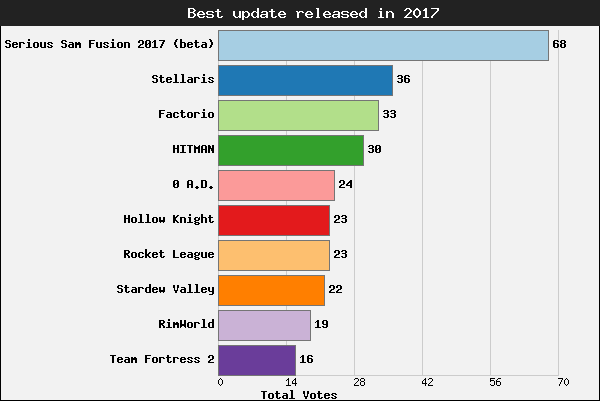 Again, not surprising. Croteam put out Vulkan support quickly and their games are well supported on Linux. The Fusion engine was a great thing for us Linux gamers too, since it gives us proper access to the older Serious Sam titles in an official and supported way.
Next up, Best free game released in 2017: Doki Doki Literature Club! is the winner!
I guess I really should try Doki Doki soon then…
Feral Interactive and Croteam battled it out for this one—Best version quality & performance released in 2017: DiRT Rally is the winner!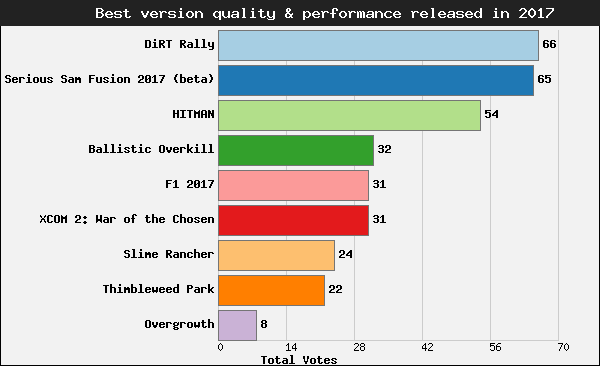 That's some serious competition there, but DiRT Rally was not only a release many Linux gamers wanted, it turned out the Linux version was really quite good too! I regularly boot it up to do daily runs and have a blast, especially after watching The Grand Tour, I can't help but load it up for a blast. There's also a regular community tournament going on for DiRT Rally, check it out in our forum.
We made this category a little tough, I will admit, as we bundled what could have been multiple categories together. Even so, the competition was fierce for Best audio of a game released in 2017: Hollow Knight is the winner!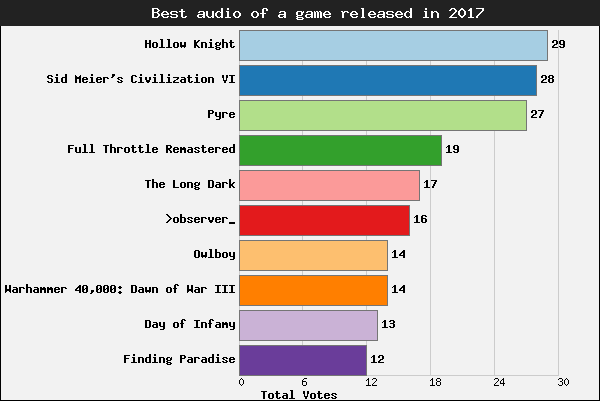 Our Friday livesteamer Samsai will be upset his beloved Pyre didn't win…
It was absolutely no contest here for the Best DLC release in 2017: XCOM 2: War of the Chosen is the winner!
Surprised? I'm certainly not! XCOM 2: WotC was an absolutely massive expansion to the strategy game XCOM 2. For me, it's absolutely hands-down the best DLC release last year. It made a game I already enjoyed, even better.
The Biggest surprise Linux release of 2017: HITMAN is a winner again!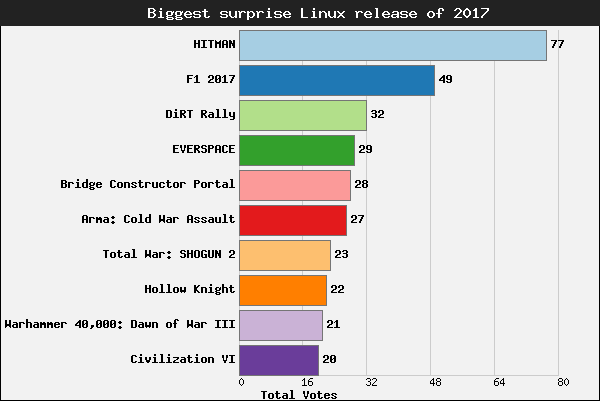 Personally, I was more surprised by F1 2017. I'm still surprised to this day, but hopefully it's a sign that racing games on Linux are doing okay.
And here's the Best local multiplayer gamer released in 2017: Gang Beasts is the winner!
Here we have the Best online multiplayer game released in 2017: Ballistic Overkill is the winner!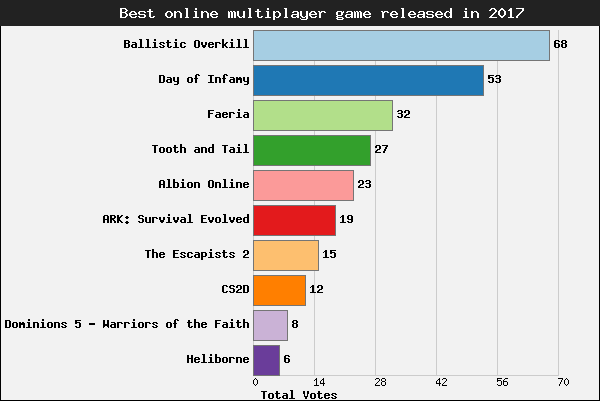 I'm shocked by this, considering the popularity of Ballistic Overkill has taken a nosedive, must be a bunch of hardcore fans on Linux! I honestly thought Tooth and Tail or possible Faeria would have grabbed this one!
Taking everything into account, the Overall best Linux game released in 2017: HITMAN is the winner!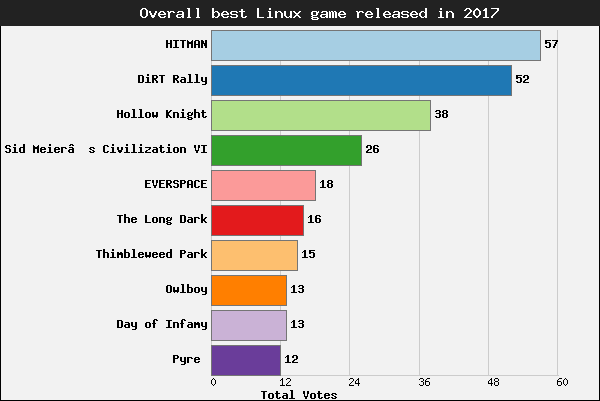 Personally, I thought the Favourite Linux game porter of 2017 category was going to be quite obvious: Feral Interactive is the winner!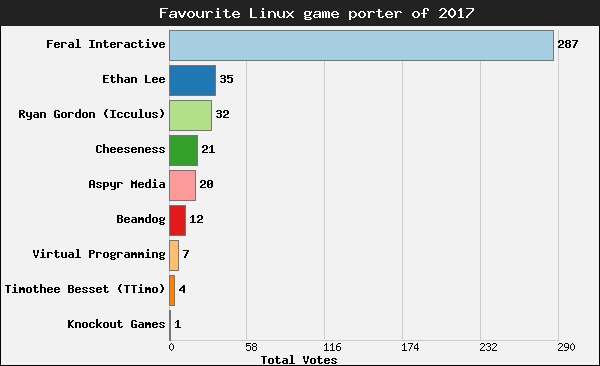 I personally feel that Feral Interactive firmly deserve to be at the top of such an award category. They put out some really fantastic Linux games, a lot of which I enjoy regularly and I'm sure we will see more this year! Well done to all the others too, you're all doing amazing work for Linux gaming!
Finally, let's see what you voted as your Most anticipated game for 2018: Rise of the Tomb Raider is the winner!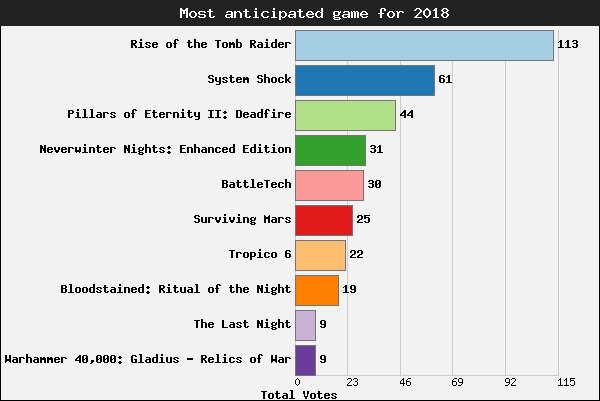 It seems there's a lot of people that think Rise of the Tomb Raider is coming to Linux, despite there not being any confirmation yet! I wonder how many of those titles will actually launch for Linux this year? It's going to fun to find out. I'm sure there's plenty more people haven't even thought about.
Congratulations to every game that was nominated, that made it to the Top 10 lists above and the winners!
2017 was great, let's make 2018 even better!
Some you may have missed, popular articles from the last month: