I love first-person shooters, it's easily my favourite genre next to traditional real-time strategy games (the kind where you build a base, then send out an army) and the cyberspace FPS Black Ice is continuing to be impressive.
Looking over it, it hasn't had a stable release update for some time now, from my checking it seems the most recent was last year. However, it does have regular beta builds and some of them have added in some really fun features like a Charges mechanic, so certain items can build up an amount of charges to release when you're ready. Linking in with that is the new item class Executables, they're weapons that come with charges but no weapon model so you could think of them like spells or abilities. There's also another new item class called Exploits, a special type of Executables that give off an extra triggered ability when you hit a target you've debuffed (slow, stunned, on fire etc).
If you found enemies hard to see, you can now have outlines around enemies that are the opposite colour when you mouse over them. It's a small thing, but with the neon-soaked colouring of the world I find it does help quite a bit at times.
A little look at some early gameplay on Ubuntu 19.04 with the latest "INDEV" beta: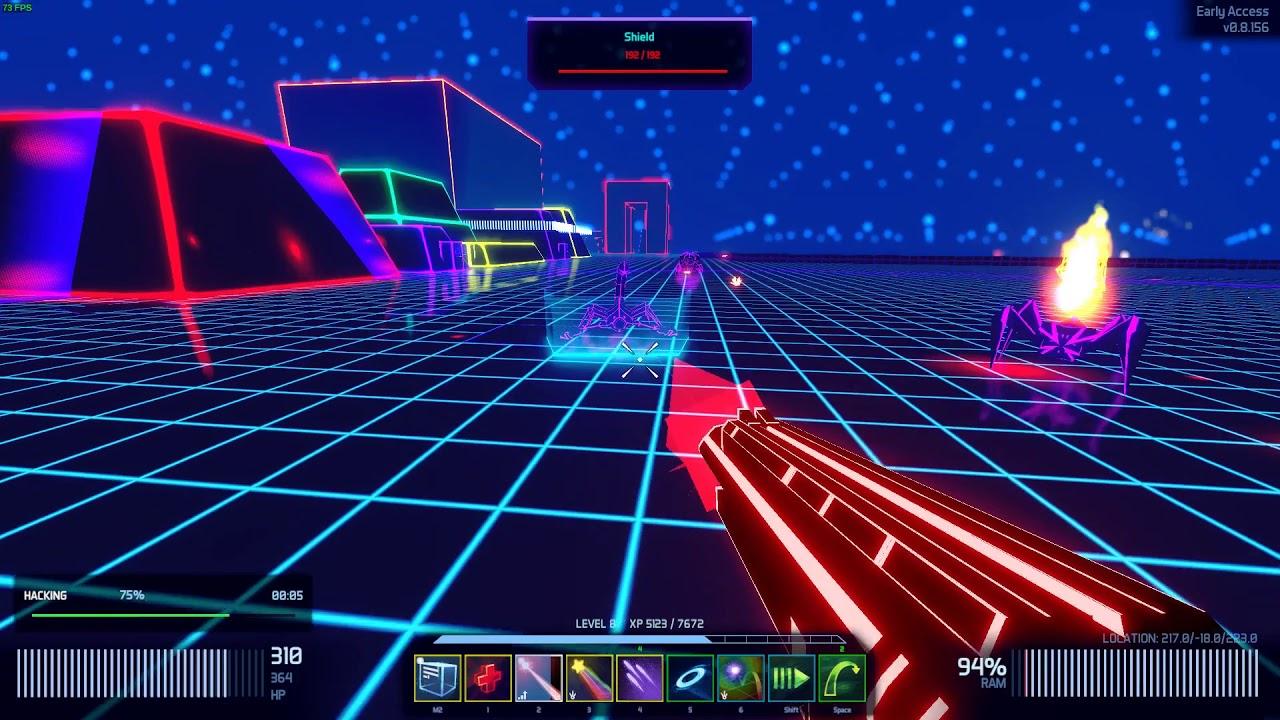 As you can see, the weapon variety even in the early game is pretty crazy. From throwing discs and sniper rifles that shoot bouncy balls to machine guns that explode in impact it has a lot.
It's also had a modding overhaul. Lots more is available to control in CSV files and each item can now have its own. The developer said this means they can "enable it for Steam Workshop soon". Speaking on Twitter about it, the developer said "Want to make a bouncy missile launcher? One line! Subclass any ability! Make your own unique items!". That sounds pretty good, I wonder what items people will come up with!
There's also a Unity game engine upgrade, tons of new loot, even more different weapon types like Pulse Rifles which fire in short bursts, a new Volcano zone to explore and the list goes on for a while. All the new stuff is available in the "indev" beta branch on Steam, no password required. Just right click it, go to properties, hit the beta tab and select it from the drop-down to get it updated.
There's still a number of things it needs to improve on though and it is still an unfinished Early Access game. There's no map, so getting lost is quite easy for example. I think it also needs a little more world-building outside of hacking into servers, as after a few hours it can feel a little repetitive. That's a problem a number of first-person shooters have, but Black Ice especially so since most combat is initiated directly by you. A few random events would be pretty sweet but it's still good fun to play with all the ridiculous weapon types.
What's even better about Black Ice? It also has cross-platform online play. Team up with a buddy or two and take down some servers and find some sweet loot. It performs fantastically too, really smooth even on high settings.
You can find Black Ice on Humble Store, itch.io and Steam.
Some you may have missed, popular articles from the last month: