The new proprietary AMD GPU Driver named Crimson just shipped and I decided to take it for a spin in a set of benchmarks. So, let's see if we see any improvement in the performance of these drivers.
Edit
: The Nvidia card used for comparisons is a GTX 760.
Let's start out with the Unigine set.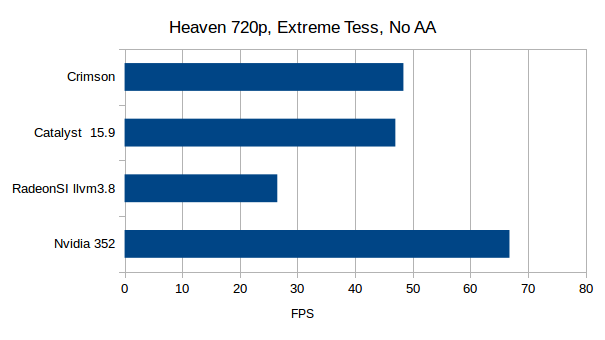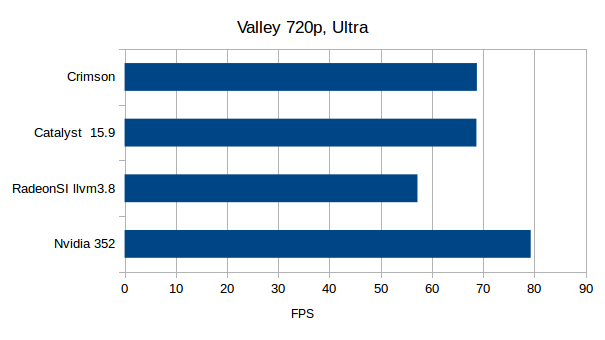 Neither Unigine Heaven or Unigine Valley saw real performance improvements. Whatever slight improvements there might have appeared to be are within the margin of error.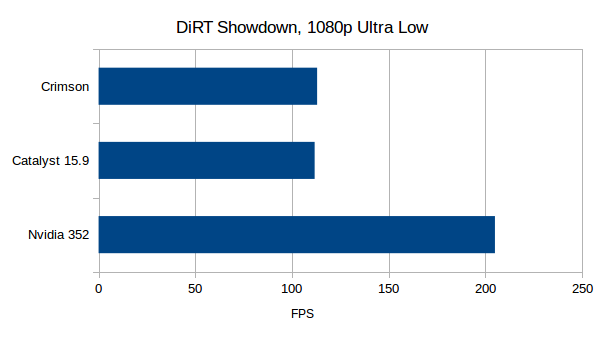 Once again, no real improvement. The DiRT benchmark should also be taken with a grain of salt as the runs slightly differ visually from one another.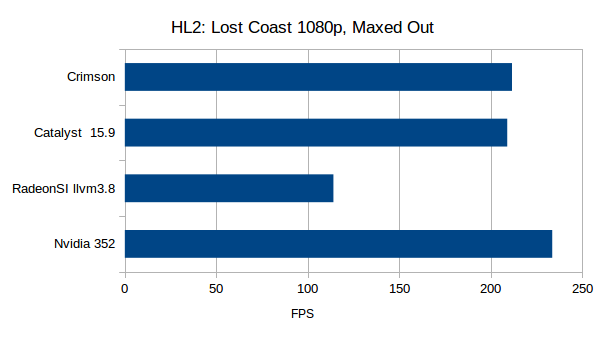 No improvement for Half-Life 2: Lost Coast either.
I also ran a Company of Heroes 2 test and quite surprisingly the game ran on maxed out graphics, though the framerate of 8.06 probably isn't really a reason for cheering. On minimum my whole system crashed, like it used to back when I last tried to run COH2. So, AMD folks, if you want to play COH2 you will probably have the best chance of the game working when all the dials are turned as high as possible. Or you could try the open source drivers which render the game at 20 FPS but with rendering errors.
So all in all, it seems that Crimson is more bark than bite. Granted, I didn't test any of the games mentioned on
the leaked slides
, so it's possible that those games in particular got optimization profiles which wouldn't affect performance elsewhere. The actual worth of such profiles in the long run is at least in my opinion questionable.
However, there is at least something positive in all of this: Crimson works on Ubuntu 15.10. The most recent version of Ubuntu has lacked working proprietary AMD drivers ever since the release and Crimson seems to have support for it, even though the supported distributions list doesn't mention it. Whether it will keep running is another question but so far things are looking good.
Some you may have missed, popular articles from the last month: