Surviving Mars, the city building survival game from Haemimont Games and Paradox Interactive is set to expand with a new update due soon. Specifically, they're hoping to release the update on Monday.
The first major addition, is that they're putting in a tutorial. While I haven't had trouble figuring out what to do, in fact I saw that as part of the fun, others weren't so happy. Fair enough—everyone is different and so Haemimont will add a tutorial. It's a five-part "monster of a tutorial" that should keep new players from throwing a fit.
The next major addition, is the inclusion of five new types of domes. These aren't just skins either, they are all entirely new with different shapes, functionality and cost. Most are unlocked together with the older dome types too, so you won't be waiting forever to see them.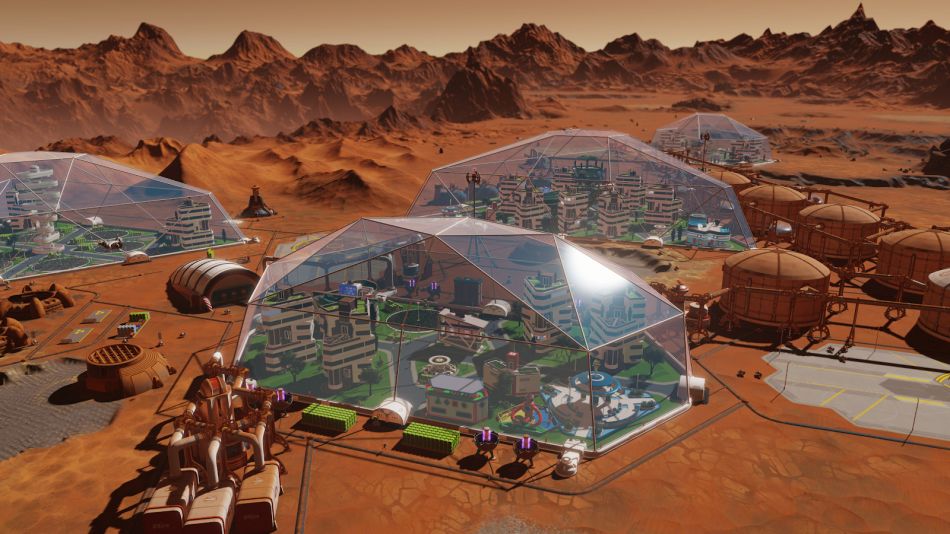 There's the Micro Dome available at the start for those with limited resources, a Barrel Dome as an alternative to the Micro Dome and neither of these can have a spire. Then there'sthe Trigon Dome which is similar to the Medium older dome and cheaper, but no spire again. A Mega Trigon Dome, similar to the older large dome although it's cheaper with less space. Finally, the Diamond Dome which does require new tech to be unlocked, it can have two spires and requires a breakthrough to research.
They're also adding in the Command Center, a new tool to see historic data for your colony. It will also give you the ability to manage multiple things like buildings and vehicles without selecting them individually, which sounds damn handy.
Finally, they're also adding an info bar to the top of the screen, which they're pinching from a popular mod. No more constantly checking your colony overview to get a glance at how you're doing. They're of course giving credit to the original modder.
See the devlog here for the full info. All sounds really damn good, it's already a pretty interesting game and it's pleasing to see them add more content for free.
You can pick it up right now from the Humble Store, GOG and Steam.
Some you may have missed, popular articles from the last month: