Recently Atomhawk added Linux as a stretch goal for their crowdfunded point and click adventure The Realm. I've been discussing with them the notion of proritising Linux support sooner, and they've put together a survey to gauge interest.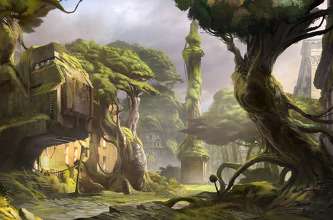 When I first spotted the pitch video for The Realm, a point and click adventure game that Atomhawk and Lantern Interactive currently have a Kickstarter campaign running for, I was quite taken in.
Their painterly artwork they're currently working with looks beautiful, as does the Miazaki inspired setting and story. I'll be updating this post with a deeper description of the game soon, but for now, I'd like to ask for everybody's help in highlighting how important Linux support is to our readers by filling out this survey that the developers have put together.

http://www.surveymonkey.com/s/3HFM8FG

Vote for Linux and we'll see if together, we can get native support pulled ahead of the £300k stretch goal.

Update: They are doing a Linux version!
QuoteThanks to all of you who answered our poll. We've had a lot of conversations with Linux users and there was a strong feeling that Linux shouldn't be a stretch goal. So we decided - we are going to do The Realm on Linux together with the Windows and Mac version as part of our normal release!

They're also asking for anybody interested in helping test the Linux version to get in touch via info@therealmgame.com

You can read the announcement here.
Some you may have missed, popular articles from the last month: