UPDATE: Actually, it didn't go up.
The Linux market share on Steam has bounced backed a little in the latest Steam Hardware Survey for December 2017.
Note: Valve do sometimes adjust these numbers a few days later, so keep an eye on it.
As I noted in a recent article, one of the biggest causes of the Linux market share dropping on Steam was an influx of users from Asia. It seems the latest data has gone the opposite way. Here's a look at where Linux is at currently: 0.43%. That's quite an increase, considering the month before it was at 0.27%.
Why has this happened? Well, going by the same way I looked at it before, the use of "Simplified Chinese" as a language on Steam dropped by 15.31%. Also worth noting Windows 7 use dropped by 15.10%, with Windows 10 going up by 13.15%. The overall Windows share dropped by a total of 0.51%.
Here's some updated charts from the previous article (do read it for more info), first here's the Linux market share just by itself as a reference: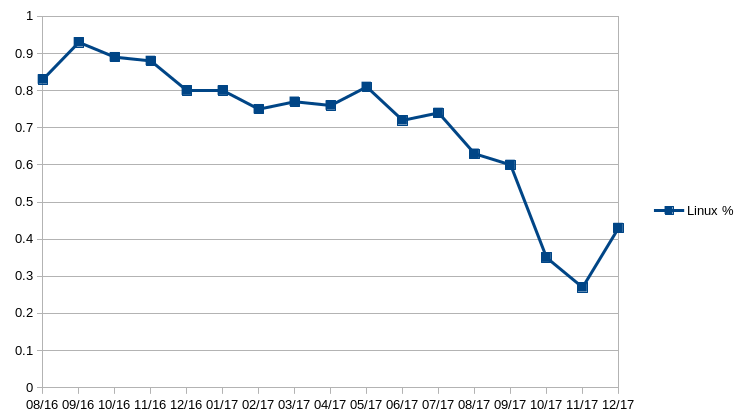 Here's what happens again when we look at languages and what happened with them over that same period:
And finally, here's what happens when we look at the market share when we take out Simplified Chinese and we look at just English as languages on Steam: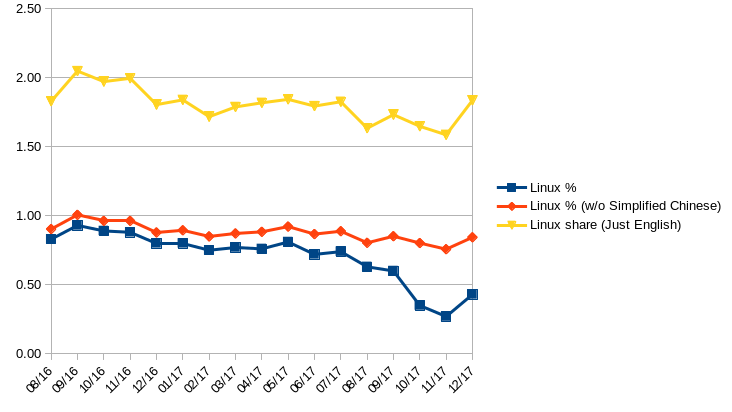 I did say it would bounce back. However, I expect it to be all over the place this year, up and down constantly due to games like PLAYERUNKNOWN'S BATTLEGROUNDS not being on Linux, which is currently the most popular game on Steam. It's also still growing, since it hit 3.1 million players online only three days ago, which is why I still expect the numbers to change both ways over the year. Also somewhat interesting, is that BattlEye tweeted out about 1.5 million bans being handed out for PUBG.
Some you may have missed, popular articles from the last month: