Valve have officially put out a beta version of their new Steam Link Android app, which allows you to stream games from your Linux PC to your favourite device. As expected (and as Valve previously confirmed to us), it fully supports a Linux PC as the host device.
As a reminder, you will need to update your Steam Controller's firmware in the Steam Beta Client. As we wrote about before, the Steam Controller was recently updated to support Bluetooth Low Energy mode in preparation for this. The Steam Link app is also compatible with a number of other Bluetooth pads as well.
What's interesting, is that it doesn't sound like they're parting ways with the older Steam Link device:
The dedicated Steam Link hardware units support a wide variety of input devices and are specifically designed for low latency streaming to your TV. We are continuing to support the product and believe it is a valuable part of the Steam Link ecosystem.
See the full information here. Also, here's a direct link to install the Steam Link app from the Android Play Store.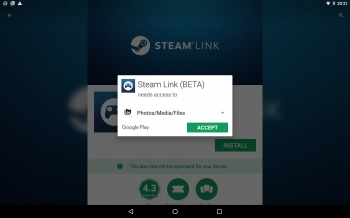 As you can tell, I'm well prepared with an empty battery…
The process you can expect, will go something like the below:
Annoyingly, once paired up, the Steam Link app took the wrong monitor. Steam opened itself in Steam Big Picture mode on my secondary monitor, so I ended up seeing me writing this article and my Android tablet starting blasting out my music—bit of a sudden shock for sure. Although, it was slightly amusing being able to see and interact with my desktop, while on my tablet. Could make for other interesting uses…
Getting around it was quite simple, dragging Steam Big Picture mode to my other monitor with GNOME's overlay seemed to work.
Sorry for the terrible picture here, I have poor lighting in my office and no good camera.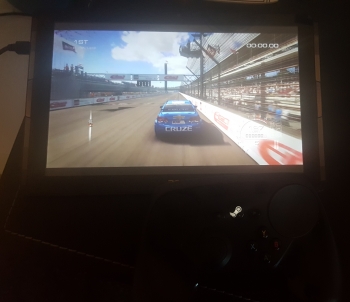 That's Feral Interactive's Linux port of GRID Autosport.
In terms of performance, it was surprisingly good. Even though I don't have my network setup too well right now, there was only a really small amount of lag, which would likely improve quite a bit once I sort 5GHz WiFi out which I will be able to do once Sin has finished livestreaming later (I don't dare touch the router settings right now).
Some you may have missed, popular articles from the last month: