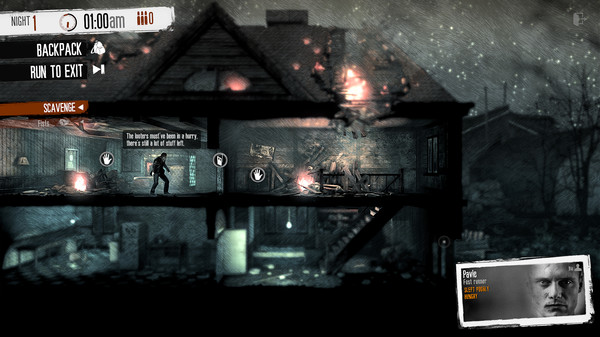 This War of Mine is a really interesting take on the survival genre, and it's very bleak all the way through.
This was tested on Linux Mint 17 64bit, with an Nvidia 560ti graphics card. Sadly the initial launch of the game came with loading issues, but as it has been patched the game now runs perfectly well. Hell, even alt+tab works beautifully, so they delivered a pretty decent experience for me.
The first thing I noticed is that the game badly needs keyboard scrolling with WASD. Having to point my cursor to the edges of the screen constantly to looking around was a fair bit annoying, but not game-ruining. It's number 1 on my wishlist for a future patch, that's for sure.
As you begin your struggle for survival you are offered no helping hand, nor any kind of tutorial on what do to. All survival games seem to start this way, and it's usually frustrating, but This War of Mine handles it well with an extremely easy to use interface.
One thing I do really love is the fact that any gear you pick up is shared. There is no inventory micro-management, so if you make a shovel, anyone can use it at any time to remove rubble for one example. That keeps the game being fun, without all the back and forth of managing everyone's gear. Doing it that way was a pretty smart move!
One thing that does bug me is the in-game speech, as it's plain white text, and often it's very hard to read when your character decides to speak next to a hole in the wall. The text could badly do with a simple 1 pixel thin black outline. There are also issues with text completely overlapping other text at times, but I'm not sure of a good way for them to get around that.
The game constantly re-enforces just how bleak the setting is. As you hit the first night the game expands from the basic building blocks of a survival game, and forces you to steal from other locals in attempt to fulfil your basic needs. The scavenging section reminded me a little of Mark of the Ninja with the sneaking around, and the hiding aspect. The visuals also remind me of it, but they are very different games.
My first scavenging attempt was reasonably successful with plenty of gear obtained, but my poor Bruno came back badly wounded, and with no bandages his future was uncertain. I mentioned this game was bleak right? As I continue scavenging around my current home, my characters keep talking about how wrong it is to steal, and how worried they are for Bruno, damn! Should I feel bad for stealing? I just want to survive god dammit.
In hindsight for your first night's scavenging it's probably a better idea to go to somewhere abandoned, and not a house full of screaming people.
Bruno feels pretty bad about stealing from people right now, but with his serious wounds, and no bandages, he has bigger things to worry about, but nope, he keeps whining about stealing from people. Priorities man; you're going to die!
It gets even more bleak, as the second night came I went on another scavenging hunt, we were raided! Poor Katie was wounded, and the bastards stole some of my water. I really need to fashion some weapons to fend off those raiders.
By night 4 I decided to return to the small house of people that hurt my poor cook Bruno, and I murdered them in cold blood, with a shovel. They had nothing in their pockets, but it felt good to give a little payback. Oh right this game is supposed to make me feel bad right? Well, Pavle sure felt bad, but I managed to get some more bandages to patch up Bruno, so I think he needs a cold glass of man-up juice.
This War of Mine is one of the most interesting games to come out for quite some time, and I can easily suggest picking it up. It just didn't provoke any real thoughts about war and the ethics of "should I kill them for what's in their pockets?", it's just a game after all, and a good one.
I'm not an emotionless monster, but this is survival of the fittest people, and my people are either starving or dying.
It's a much needed break for a tired genre. It doesn't do anything truely ground-breaking or revolutionary, but everything seems to fit together really well. It's not perfect, but what game is?
Check out
This War of Mine on Games Republic
for a Steam key + DRM free downloadings.
Some you may have missed, popular articles from the last month: