Stellaris [
Steam
,
Official Site
] has come a long way since the initial release, so I checked back on how it feels with the new DLC.
Since the new DLC and patch I've put a further load of hours into the game to get a feel for some of the changes, and to point some things out.
Note: Game and DLC provided to me by Paradox directly.
The Leviathans Story Pack adds-in new music, the Guardians (massive space creatures), Enclave trading outposts, and the 'War in Heaven' a galaxy-wide war.
The game feels different, not massively different, but overall it feels like it has a lot more polish than the initial release. The early game is still rather slow (and a little dull when you've put lots of hours into it), I feel like the starting hour or two needs more random events to keep people interested enough to see it through. You are, after all, a civilization just beginning to explore the stars.
One of my gripes with the game was how none of the ship classes really felt different, they all felt like bigger versions of the previous class. This has been completely wiped away with the recent patch! Each class now has an actual dedicated role, which brings in more strategy towards building up your fleets and actually makes the smaller hull sizes still useful in the later game. Being included free in the patch was great, but obvious really as such an overall game-changing feature couldn't really be put into a DLC as it would make it a mess to balance if it was a DLC feature.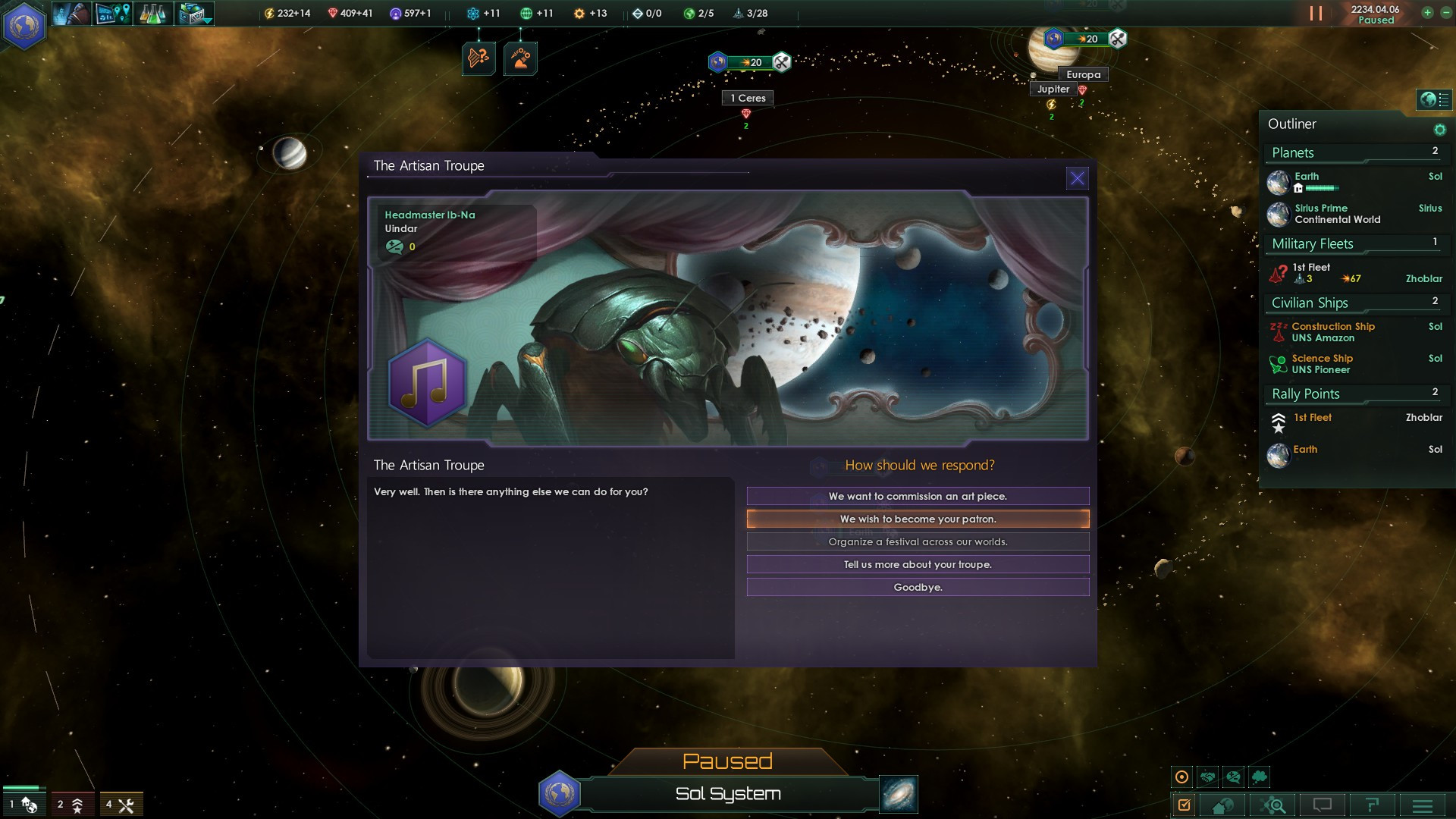 The new Enclaves feature, where you come across independent trading outposts is incredibly useful. I came across one rather early on (about an hour in) and I was able to dispose of a lot of my unneeded energy in favour of minerals. That's a game changer to be able to do so easily, as it enabled me to build a decent fleet in the early-game. I find Stellaris too easy to build up a massive storage of energy credits, so the Enclaves are a really great addition for me personally.
You can also hire them for other things, like becoming an artist's Patron. Doing so will cost a lot, but the rewards can be ideal: such as gaining influence by donating to them when they require it.
The massive space creatures are great, they really do spice the exploration up a bit and damn they look impressive.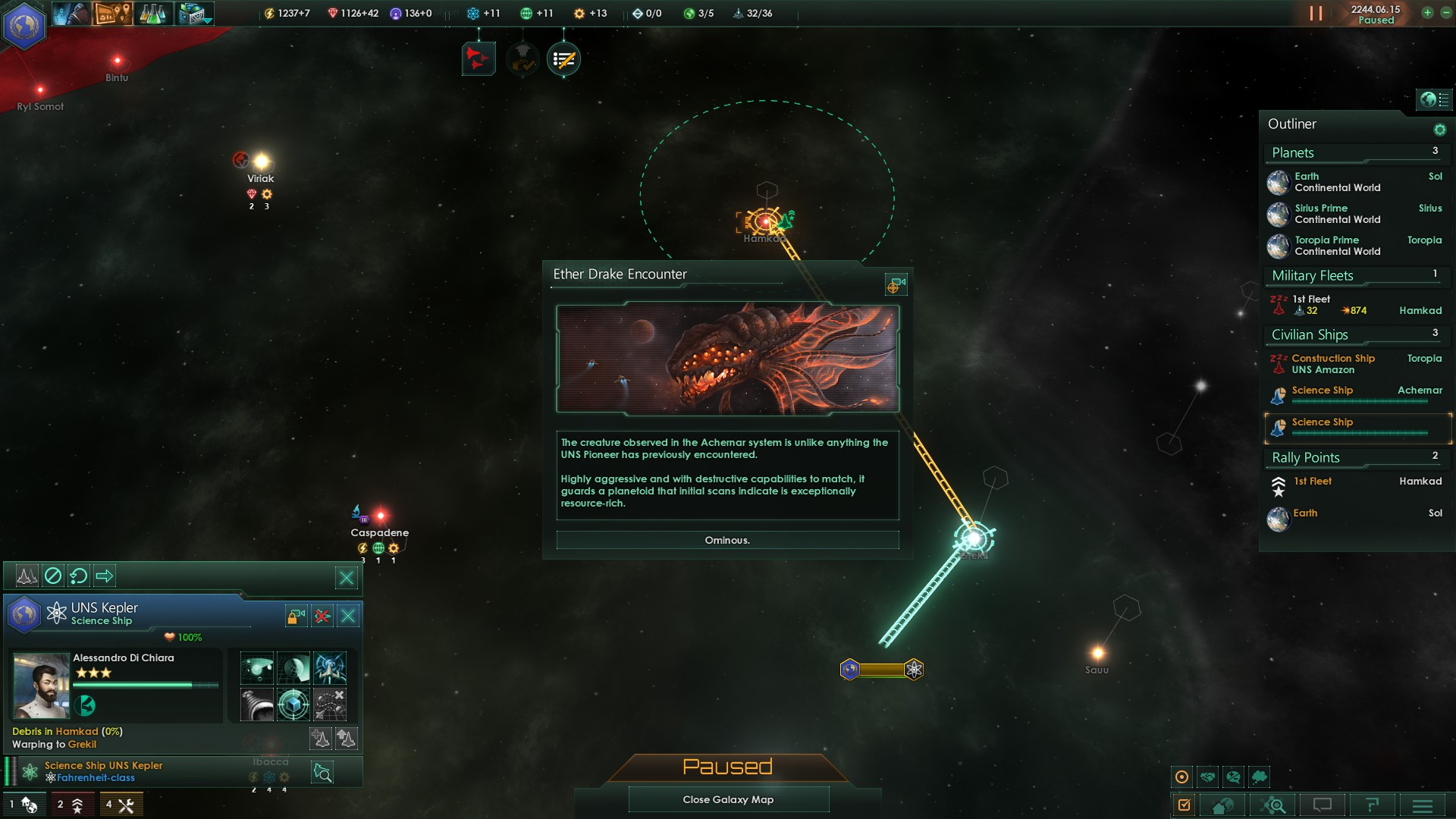 It's quite hilarious really, as fleets and enemies generally have a fleet power number associated with them, but space creatures just have a skull, and damn they are strong.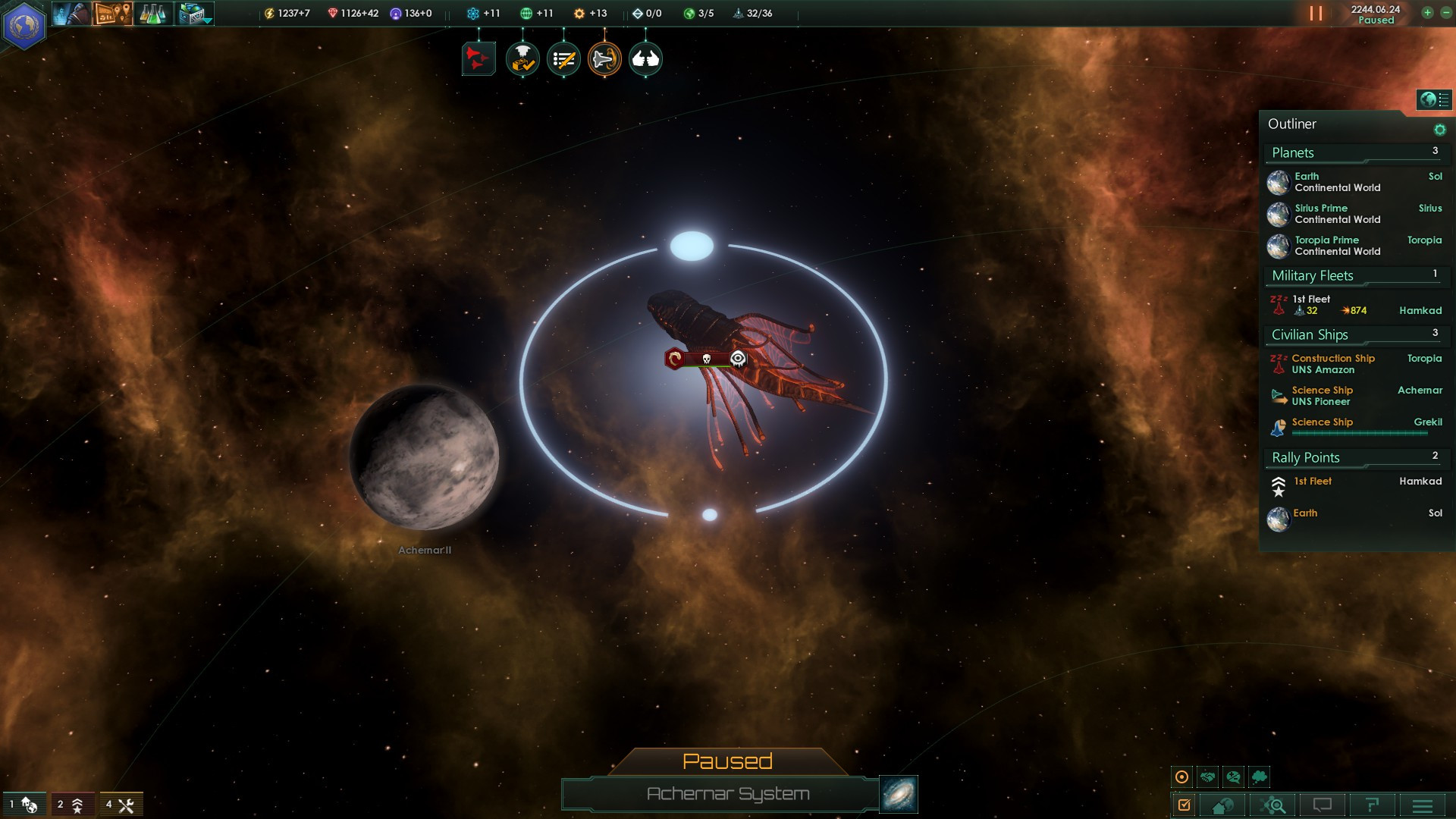 The truth is, it was damn hard to get a feel for the new end-game 'War in Heaven' feature, due to how many hours you have to put in to come across it. My first attempt ended rather abruptly as two AI's either side of me suddenly allied against me and declared war—whelp! I am still going in my second playthrough, but I feel as if I'm still not even close to it, so it may be many more hours until I can get a look at it, and it may not even happen.
The problem with the Leviathans Story Pack is that you need to have a good number of hours into a game until you really get anything from it, so it's really a DLC meant for the most dedicated of players. I am looking forward to seeing more content provided for the early to mid game experience.
One thing the game really needs to focus on is the combat, currently the combat is extremely basic and that's still being quite generous to it. For a game that's done in real-time, this one part of the game seems to have been given such little focus. Even some extremely basic tactics or special weapons on a cooldown would certainly give it some more feeling, other than just watching the fireworks.
I do still get the feeling that the game is a little empty, which is realistic really as space isn't really filled with all that much, but I still feel like as a game, that Stellaris needs more of
everything
. In a single game I've seen the exact same anomalies to research multiple times, which can make it feel a little stale at times.
Each update continues to refine the gameplay, the user interface and just make it more fun to play overall. Paradox's commitment to big free patches alongside their DLC still continues to impress me.
If you still haven't purchased Stellaris, I can highly recommend it even with the issues it has, and the Leviathans Story Pack DLC is a must if you plan to play it through in full.
Some you may have missed, popular articles from the last month: