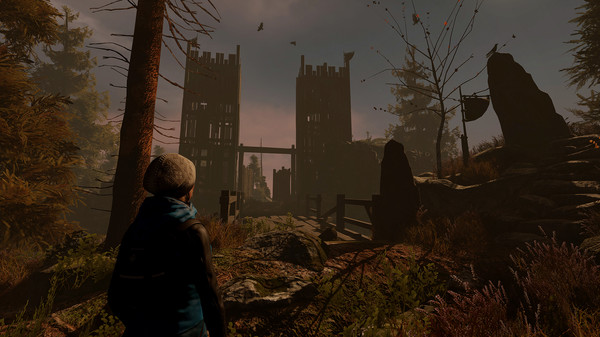 This is really annoying. 'Through the Woods' [
Official Site
], a very promising psychological horror is no longer coming to Linux and was only announced two weeks before release due to platform-specific technology.
Oh look, another Kickstarter where the developer has not only failed to deliver a Linux version, but they have only notified Kickstarter backers only two weeks before the full release of the game.
They have not said this publicly on their Kickstarter in an update, this was only sent in a private email to their backers which was shared with me today:
QuoteAntagonist says:
Hello, backers!
We have something to say here which we've been meaning to for a while and might disappoint a couple of you.

When we created this Kickstarter, we had the most noble intention of making a Mac and Linux version of Through the Woods. We managed to put together a Mac and Linux demo which we released, and everyone was very happy with it!

Sadly, as time went on, it became clear that if the game kept getting bigger, prettier and more demanding and complex as it was, that the Mac and Linux versions were going to suffer. Getting the game to run has become a major problem and as we've used new, platform-specific technology we can't directly port it over anymore like we've done in the past. It would mean sacrificing some of our most visible graphical features which has become a staple of our art style. Even without those features there are a million platform specific bugs for each version. We have two programmers who are already stretched to breaking getting the Windows build out the door by the 27th.

After release when we've seen how the game fares in the wild, we are looking at porting the game to different devices, consoles, etc. Hopefully we'll get you guys on Mac and Linux the rock solid build you deserve, but we can not make any promises.

For those of you who, understandably, feel that this becomes an issue, please email us at hello@antagonist.no with the subject 'Mac and Linux Build' and we'll see what we can do for you.
Thanks again for all your support, and our apologies for the disappointingly late news.
The boys at Antagonist
This is ridiculous, you cannot promise a Linux version on both Greenlight (
promised here
after initially being a maybe) and Kickstarter and then purposefully lock yourself into platform-specific technology that prevents a Linux version. This has really irked me. I know it listed Linux on the Kickstarter (including a link to the Linux demo), but sadly they changed the page when the game got funded and no platforms are even mentioned now.
It's worth noting, they did tell people this last month in
a Steam post
, but you wouldn't have seen that unless you were actually going looking for it (like I just did). I wonder why it took over a month from that Steam post, to actually notifying the people that funded them, that's a terrible effort at communication.
Yet another reminder of the trouble when it comes to backing crowdfunding.
Some you may have missed, popular articles from the last month: