The weekend just gone marks one year since Two Tribes invited Linux users to express interest in their upcoming platformer Toki Tori 2, leading them to be inundated by passionate Linux users.

Last week, six months after the game's initial PC launch for Windows and Mac OS, Toki Tori 2+ made its Linux debut as a part of the Humble Indie Bundle X.
A piece of fan art I created to celebrate Toki Tori 2+'s Linux Launch. Click here to embiggen.

Toki Tori 2+ is an incredibly cute puzzle platformer in which the titular protagonist must once again save his people, this time from a mysterious black goo which is destroying life on the island on which Toki Tori and his people live.

Toki Tori 2+ departs from the franchise's previous incarnations by presenting the game as a less linear explorable world rather than the modular level based gameplay present in previous Toki Tori games (trivia: the first Toki Tori game was a Game Boy Colour title).

The original games' tools and inventory items are replaced by a cast of fun and dynamic creatures and environmental features, allowing individual puzzles to be more tailored to their specific contexts than an inventory system would have allowed.

The "rewind" feature (more trivia: in spite of the protagonist's name meaning "Time Bird" in Japanese, the ability to manipulate time didn't appear in a Toki Tori game until the "rewind" feature was added to the PC version early in 2010), has been refactored as a part of Toki Tori's newest and most expressive ability - singing!

Players can now make Toki Tori chirp long and short notes (with short notes rising in pitch and long notes falling). The primary use for singing is to attract or distract creatures, though throughout the game, Toki Tori can come across special songs which will aid him on his quest.

To compliment singing, Toki Tori can now has a stomp ability, which scares and repels most creatures. The combination of attracting and repelling creatures gives players the ability to guide and position them to best take advantage of the abilities they offer.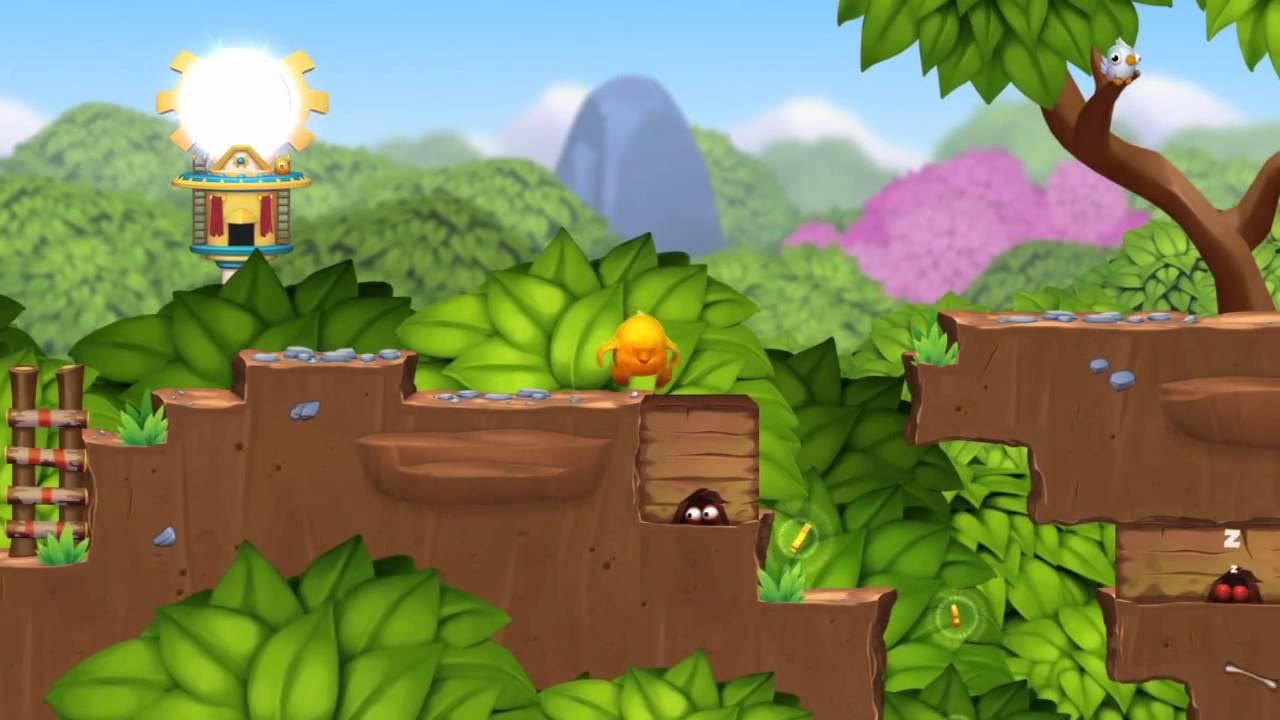 A gameplay video courtesy of Samsai, the wonderful person behind GOL Cast.

It hasn't been a smooth sail for the Dutch developer though. Earlier this month, the studio announced that due to financial difficulties, it would be closing its doors and reopening as a new company.

Two Tribes Publishing, the parent company formed to retain ownership of and publish their games remains unaffected, meaning that Two Tribes' original IP catalogue (including Toki Tori, EDGE and RUSH) will continue to be available and sold to Linux users.
For those who missed it yesterday: We're rebooting Two Tribes! Smaller team, focus on design, read all about it:

http://t.co/EAn6WIGqjA

— Two Tribes (@TwoTribesGames) January 9, 2014

Two Tribes' original founders Martijn, Collin van Ginkel are staying with the new company, as will main artist Meinte van der Spiegel and intern Will Kirkby.

Two Tribes' plan is to develop games using existing technologies (focusing initially on Toki Tori 2's engine), starting with a 2D side scrolling shooter, which has been using the working title Rewind and may have been renamed to Reboot earlier today.

Whilst corresponding with Collin van Ginkel, he related that Linux would definitely be on the roadmap for all future Two Tribes titles, but the timeliness of ports would continue to be subject to the popularity and responsiveness of Linux audiences.
QuoteWe'll be doing Linux ports for all games moving forward, but it depends on how the Steam OS takes off if it will become a priority or not.

The six month turnaround for Toki Tori 2+ is on par with Trine 2, the most recent title from long-time Linux stalwart Froznbyte, and I'm hopeful that with Two Tribes' entire PC catalogue now available for Steam for Linux, we won't see a repeat of the situation that previously plagued EDGE, RUSH and Toki Tori, where the Linux ports of these games were not available outside of Humble Bundle promotions.

Toki Tori 2+ can currently be purchased for Linux on Steam (the Linux compatibility icon is still to be added, but it does work), and if you're super quick, you can also pick it up as a part of the Humble Indie Bundle X.

Update: Toki Tori 2+ now has a Linux icon in the Steam Store. Huzzah!
Some you may have missed, popular articles from the last month: