Originally developed by Creative Assembly and published by SEGA, Total War: WARHAMMER II is another Linux port from Feral Interactive. Arriving on Linux a little over a year after the Windows release, it's another game to use the Vulkan API on Linux (the Windows version continues with DirectX).
This also marks Feral's 24th Linux port (27th if counting standalone expansions).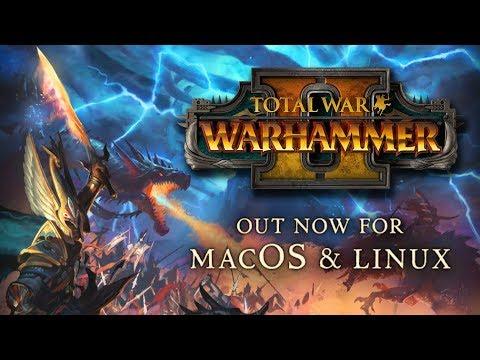 This is actually the second game in a planned trilogy, with Total War: WARHAMMER II offering up a new narrative campaign. If you own the first Total War: WARHAMMER, you can grab the Mortal Empires free DLC which enables you to battle across a huge combined campaign map which stitches both games together. That sounds really rather exciting!
It's quite a popular game, with it regularly hitting well over twenty thousand people and so having it on Linux and officially supporting is a great thing.
I've spoken to Feral Interactive, who confirmed that sadly again the online multiplayer is only for Linux and Mac, it will not work with Windows. Hopefully in future Feral will be able to work with developers even more closely to make fully cross-platform multiplayer a thing.
As expected, it comes with the Feral launcher styled appropriately to the game. It looks good, it's functional and I personally find it quite useful. Being able to pick a screen to display the game on and resolution before you load a game is really nice.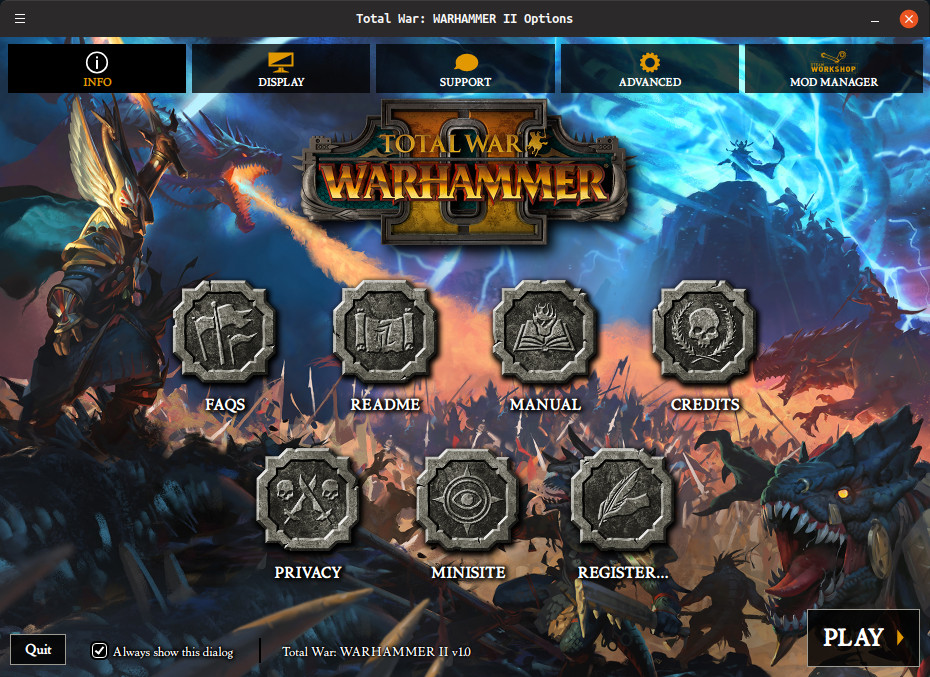 I know some people groan about launchers, but I think when done as well as they are for Feral games, they're more useful than annoying.
Some benchmarks are up next. All done at 1080p with the NVIDIA 415.13 driver. Worth noting that while Feral's system requirements state it was tested on the 396.54 driver, they did say "or better".
Also, when maxing out the settings, the game does warn about "Shadow detail" being set to "Extreme" being likely to cause some performance problems. Not something you should really do, unless your machine is an absolute power-house. Just including that for fun to see how it levels out at the very top.
Here's some results for you: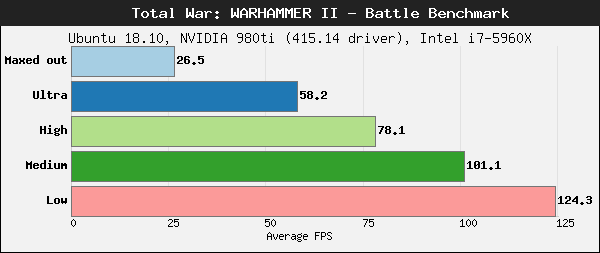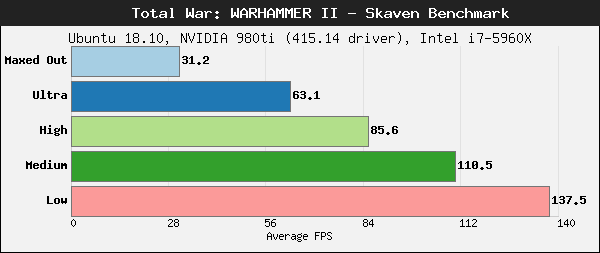 Ubuntu 18.10 versus Windows 10 benchmarks. Done on the same hardware, both installs up to date. On the Windows 10 side, the NVIDIA 416.94 driver was used. The DirectX mode was picked as 11, since DirectX 12 support for it on Windows is only classed as a beta, so we are comparing properly released states.
In terms of performance, it seems Feral have done a really good job overall. They really know their stuff now and their work with Linux ports and the Vulkan API seems to be paying off to give us some well performing Linux games that can be enjoyed by many. Looking over Windows benchmarks other people have done, it's looking very close.
As for the gameplay and the campaigns on offer, I won't step on the toes of our contributor BTRE who will do it justice, but it certainly seems quite interesting. After going through a rather pretty intro video, the initial campaign load time on a HDD was quite long at 2-3 minutes (seems to be much faster on an SSD according to BTRE). Thankfully, loading the first battle took half the initial game loading time.
Once in, testing myself in the campaign on Ultra everything seems to be really smooth, not even the slightest hint of stutter seen. After a solid hour+ it's not given me any issues at all. Very happy with the Linux port, I'm not usually one for Total War games but even I'm quite impressed.
You can pick up a copy from Humble Store, Feral Store or head directly to Steam.
A full Linux gameplay review will be up within a week from BTRE as there was no advanced access
Some you may have missed, popular articles from the last month: