In Save Koch you play as mafia kingpin, Jeffrey Koch, who is under threat from a hidden mastermind trying to take your place. It released last week with same-day Linux support, as the first game from developer Wooden Monkeys.
Note: Key provided by the developer.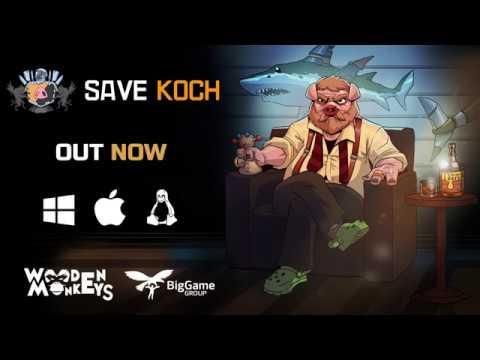 More about it:
You are local mafia kingpin, Jeffrey Koch. Your empire in New Kandinski is in total chaos because an unknown Mastermind has decided to take your place. And they've planted a sleeper Mole inside your operation. It's time to act, but you need to act smart.

Gather your loyal soldiers and do whatever you have to to stay in charge—hire detectives, torture witnesses, study the clues—do everything you need to figure out who is behind this attack and find the traitor in six days..
Features:
Unique sci-fi noire genre
High tension: complete your investigation in just six days in an atmosphere of stress, panic and suspicion.
Live with the consequences: once you make your decisions, there's no going back and each decision can impact the outcome
Roguelike elements: new gameplay could turn yesterday's enemy into today's best friend, and a well-known situation could play out completely differently
Thieves, detectives, thugs: select your crew and use their various skills to your advantage
Entertaining thriller: immerse yourself in a futuristic atmosphere of cyberpunk, noire and black humor. Keep safe and stay on top!
Truthfully, this is one game I just didn't quite get the draw of. It feels like a really confusing mess of things all going on in real-time and it acts like you already understand the world and the characters despite being dropped in it without a single thing being explained to you.
Due to the real-time nature of it, Save Koch felt a little messy. While you're having a phone call with someone, a mission might have failed in the background or a new lead might have appeared for you to send an agent on. It didn't really help that missions popped up that suggested I use certain agents, one of them was dead and the other I didn't even have (and the first time I even heard their name in the game)…
My gameplay of it could basically be entirely summarised by "what the hell is going on, what am I doing?". Some games make that confusion fun but not Save Koch.
You can find Save Koch on Steam where it's 15% off until April 26th.
Some you may have missed, popular articles from the last month: