RONIN is an action platformer with turn-based combat that was released for Windows this summer. The Linux version was released earlier this week, and if you act quickly you can buy it for half-off as part of the
Steam Stealth Sale
.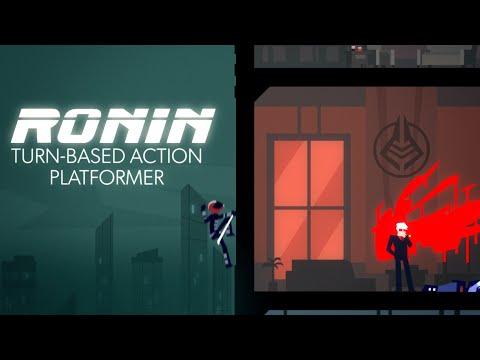 The game immediately reminds me of a mix between Gunpoint and Mark of the Ninja, and having been excited about this since the Linux version was announced, I bought it the moment it was released for Linux, and I'm really loving it. Levels are laid out similarly to Gunpoint's levels, and you move around by walking, jumping and using a grappling hook. You can take down enemies from behind without being spotted, but this really isn't a stealth game, and you're regularly forced into confrontations where you can't possibly avoid detection by multiple enemies at once.
A single hit will kill you in combat, and since you're often up against multiple enemies, you have to plan your actions so that you don't end up in a spot an enemy is already targeting. Jumping at an enemy will in most cases stun them, though there are enemies that can't be confronted directly. A full jump takes two turns, and while the game pauses between the two turns, you can choose to use your grappling hook to grab onto a surface and change your trajectory or use a skill, like throwing your sword at an enemy. This is a lot of fun, and it feels very action-y, in spite of being turn-based.
If you manage to accomplish all objectives in a level, you get a skill point that can be used to unlock new skills that give you more options in combat. These objectives include things like not being detected, and not killing any civilians. It can get a bit tricky, even in the early missions, but if you get killed, you quickly restart from a checkpoint and can try again.
I haven't encountered any issues with the Linux version, and it controls well both with keyboard and mouse (you have to aim jumps) and a gamepad.
The sale ends in less than a day, so if you want to get RONIN while it's 50% off,
buy it on Steam
now. RONIN is also available on GOG, but at the moment, they only have the Windows version.
About the game
(from Steam)
Ronin is stylish a turn-based action platformer following the exploits of a vengeful heroine determined to strike down five prominent figures of a powerful corporation. Move with precision by meticulously planning out each silent step, soaring leap, and devastating swing of your blade from the shadows as you seek your revenge.
Turn-Based Action:
Carefully plot your movements to setup the perfect strike before retreating back into the shadows or boldly confronting your opposition head-on with your katana.
Decisive Strikes:
Dispatch all that oppose you with your lethal blade and razor wire or avoid their attacks with a holographic replicator and grappling hook to find a more advantageous position.
Path to Vengeance:
Battle through over fifteen complex missions as you stalk and cut down five closely guarded figures within a secretive conglomerate.