Valve have expanded their VR support, with the introduction of their SteamVR Input system which is very much like what they've done for gamepads in the main Steam client.
SteamVR Input allows users to build binding configurations for their favorite games, even for controllers that didn't exist when the game was written. They can adapt the controls of games to take left-handedness, a disability, or just personal preference into account. And once they build a configuration they can share them easily with other users of the same game via the Steam Workshop.

This new input system also allows developers to adapt their games more easily to diverse controllers. Developers control the default bindings for each controller type, and can offer alternate control schemes directly without the need to change the games themselves. When using SteamVR Input, developers expose high level "actions" in their applications that control how the binding UI presents their game to users.
Sound familiar? It sounds exactly like the Steam Input configurator, looks a fair bit like it too: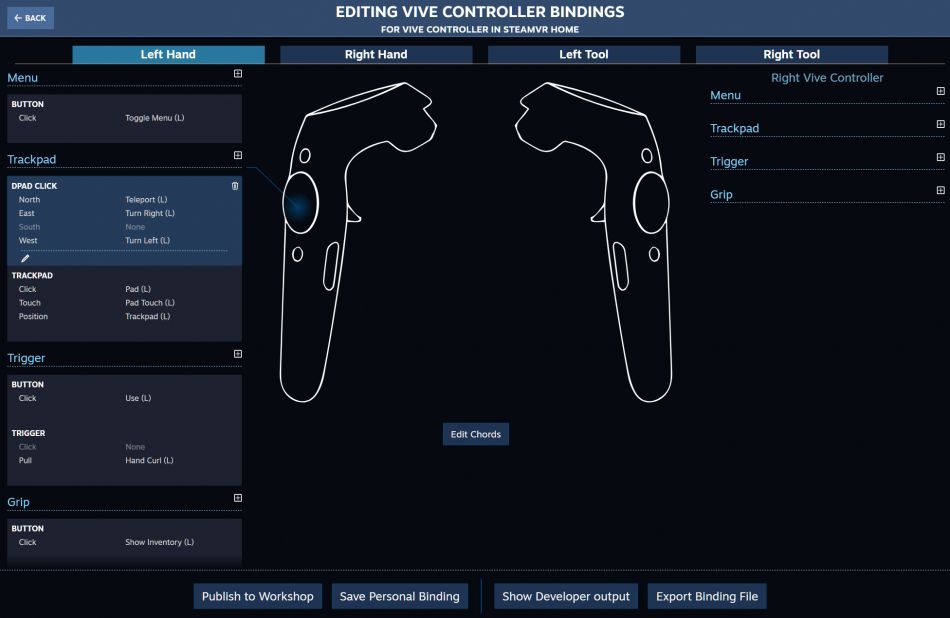 It's built into SteamVR, so it allows people to adjust it in-headset so you don't need to mess about with anything outside of the VR experience, which sounds nice.
It's great to see Valve make more steps like this, offering users and developers more options is great. When I eventually get a Vive, things might be in great shape. Just need the price to come down a bit more, still crazy expensive.
For those that do own a VR headset and use it on Linux, do share your up to date experiences in the comments, would love to hear about it.
Thanks for the tip, Andreas!
Some you may have missed, popular articles from the last month: