Valve recently put up a blog post to talk about controller use on PC and some of their statistics are a little surprising.
While a lot of the time our trusty mouse and keyboard combination remains king, controllers (gamepads—whatever) are still widely used and they can provide a better experience in certain genres.
Going by Valve's data, since 2015 over 30 million people have registered a controller with over 15 million registering more than one.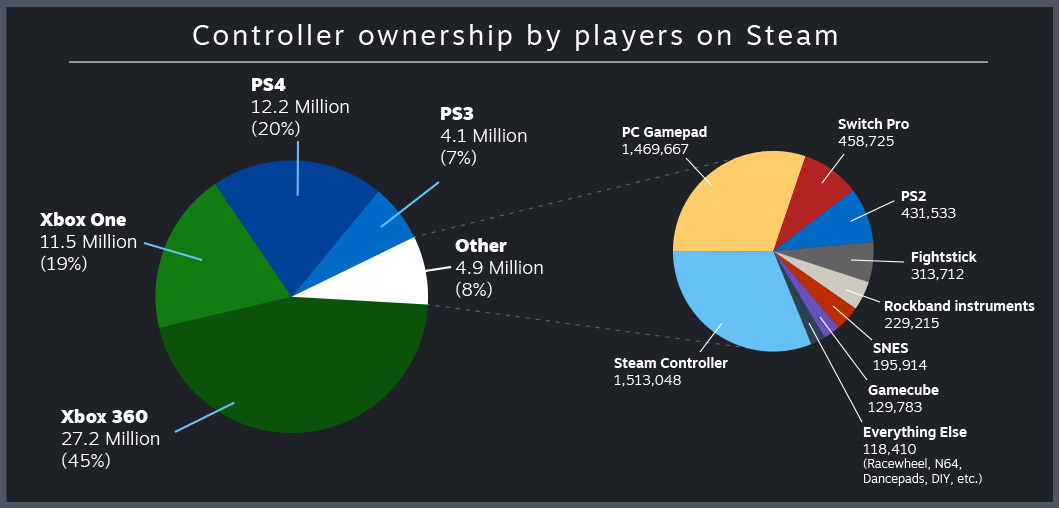 It doesn't surprise me at all the the Xbox 360 controller is the most widely used. It's actually a pretty comfortable controller to use, but more than that it works great on PC too. There were versions marketed specifically for the PC for years as well and since the Xbox 360 was pretty popular, it shouldn't be a shock people stuck with it. I'm actually surprised the Steam Controller seems to be used so little comparatively as it's been out for a few years now.
The Switch Pro is probably the biggest surprise, hitting nearly half a million already after only around a year and a half.
Some you may have missed, popular articles from the last month: