It will be very interesting to see what Valve have up their sleeve for this one, as their card game Artifact seems to be dying.
How does the saying go? You only get one chance to make a first impression. Well, Valve made a number of missteps with the release and so not many will come back to it. When you consider the fact that in 2018 over nine thousand games released on Steam there's a ridiculous amount of competition for everyone and Valve aren't above that.
First, take a look at this (thanks SteamDB):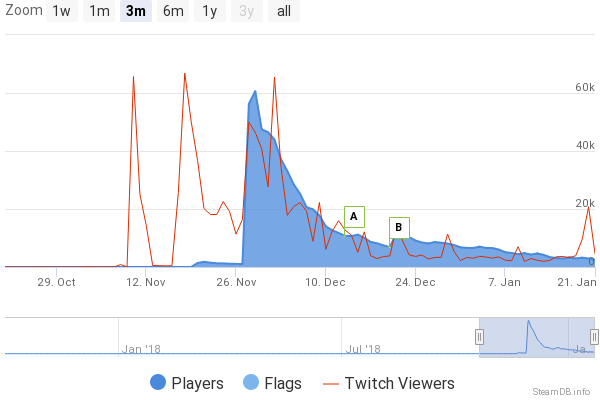 Artifact went from a high point of over sixty thousand players to around only two thousand in the space of about two months. It's bleeding players, quickly, and that's quite alarming. When you adjust the chart on SteamDB to look at it over a single month of "Players every day" it's showing a sad downwards trend. Unless they do something drastic, the player-base is likely to die off completely within another three to six months.
So where did it go wrong? In my opinion, Valve's decision to initially release it with zero progression and no way to earn anything without some form of extra payment was a poor one. In my original review, I did note that it could be a "deal-breaker for some" and that likely attributed to people not coming back. Valve did add some progression and unlocking systems with the "Build Your Legend Update" but the damage was already done. By the time the update was released Artifact had already lost around fifty thousand from their players per day.
It certainly hasn't helped that the Artifact team has gone a lot quieter. Take their Twitter for example, during December they put out around thirteen tweets to keep the community going. How about January? None. It doesn't exactly inspire confidence. I think Valve could honestly learn a lot from other developers at this point, a lot of games are successful not just because the game is good, but because they're constantly messing with the community and Valve has a history of being too quiet until they do something.
The biggest problem for Artifact now is the players that remain will be dedicated players that have likely honed their skills rather nicely. Anyone jumping in now and playing online is probably going to get their arse thoroughly handed to them and likely not come back often if at all.
Truthfully, as excited as I was for it, my own feelings on it have fizzled out as well. I can't quite put my finger on why exactly, since I do like the basic gameplay of it. It certainly doesn't help that people I was going to play with have also parted ways with it. A community just didn't build around it and so if Valve wish to keep it alive, their only real option left is likely just to make it free to play. It will be interesting to see what they do.
None of that is addressing the elephant in the room, which is that Valve vastly overestimated their pull with gamers. I've said it before and I will say it again, Valve are sitting on some IP that would seriously turn heads. If they put out a Left 4 Dead 3, Portal 3 or Half-Life 3 (or all of them) this would be a very different story. Not because I'm some sort of mad fanboy or something, they're just what most of their actual fans seem to be waiting for.
You can find Artifact on Steam.
Some you may have missed, popular articles from the last month: