Voxatron
- A world made of tiny colourful cubes sets the stage for a cast of cute characters on their quests to find courage, adventure, friendship, and sometimes just a way to get home.
0.3 Preview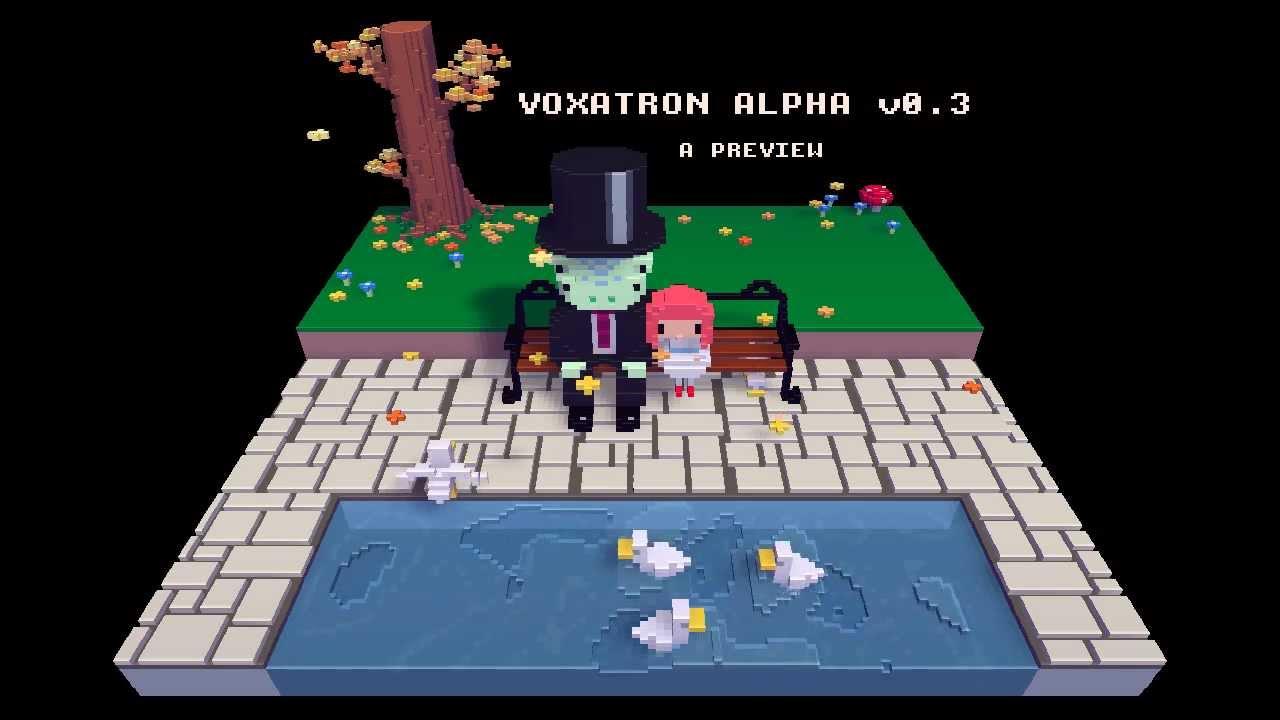 I honestly haven't touched this since it was in a Humble Bundle it just didn't have enough to it, looks like it's all about to change!
Features heading to 0.3:
Quote1. Microscripting: Activation controllers can query any actor or group of actors in the world, and perform logical expressions over them as a collection (e.g. If any actor in group x has a distance closer than y to this actor..). Expressions can also query the state of objects in other rooms -- for example, you can check to see if a boss monster has been killed in one room to trigger opening a door in another room.

2. World Persistence: Rooms can optionally be recorded/saved in exactly the way they were left including wall damage and actor position and states. Otherwise, it is possible to turn existence persistence on per-object, so that a monster only spawns once or a pickup is only collected once.

3. Doors: Doors are defined in a way similar to actors, with their own animations (that can be solid) and triggerable modifiers. You can, for example, make a door that has an opening animation if a player is weilding a key close to it. Doors also have off-screen pockets of empty space for much nicer room transitions. Finally, they can be used to spawn players after the room has started, or to remove them from play -- useful for making story screens and showing action before the player arrives on the scene.

4. Custom Audio: Music can be imported and saved with the level file (.xm tracker modules), and sounds can be triggered by activation controllers. I'll make a synth designer later, but in 0.3 there will be a standard library of sounds to choose from.

5. Player Inventories: Pickups can optionally include an INVENTORY_ITEM definition that controls how players can collect and store them, how much ammo they have, how they are displayed, and how they interact with other pickups. For example, it's possible to rig arcade-style weapons or to make an rpg-style inventory where the player can select between collected items and wield them at will.

6. More Physics: 0.3 will handle actors' physical properties better, including their weight on collisions, how bouncy they are, and with definable friction. This is the last time I'll change the core physics, but in any case older levels should still work roughly the same (unless you have the player hoisting incredibly large objects).

7. Custom Players: players can be defined in a way similar to monsters. Old arcade pickups can still be used with special legacy options, or you can define custom attacks from scratch as part of the definition (triggered by inventory items).

8. Multiplayer!: Multiple active players can be present in the same room, and enter neighbouring rooms either when one players goes through a door, or when all players are close to or inside a door. Using a team grouping system, players can either hurt each other, be pushed around by each other's bullets, or not interact at all.
Sounds awesome.
What do you guys think of the game, have you played much of it? Let us know!
Some you may have missed, popular articles from the last month: