It has been officially announced now, so Vulkan API it is! We are entering a new era of graphical performance.
The good news, is that Vulkan will be able to work on any chip that supports OpenGL ES 3.1 and upwards. So, it looks like it could work on cards as old as the Nvidia 400 series, but we still need to wait and see what cards the official proprietary drivers and open source drivers actually support before people with older cards get too excited.
I can't imagine them leaving it to only the newest generation of chips, as that would lock out too many people.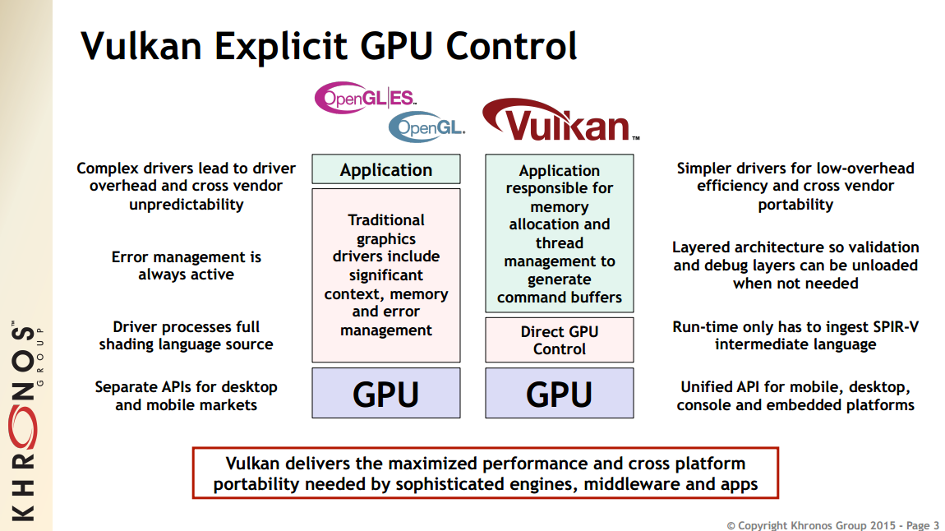 It may be a while before we see support for it in drivers, as the API probably isn't completely finished just yet, and the open source drivers don't have full OpenGL support just yet either.
Here's a choice quote from Gabe Newell, Valve:
QuoteIndustry standard APIs like Vulkan are a critical part of enabling developers to bring the best possible experience to customers on multiple platforms. Valve and the other Khronos members are working hard to ensure that this high-performance graphics interface is made available as widely as possible and we view it as a critical component of SteamOS and future Valve games.
It will be interesting to see what demos they have in store for us later at GDC!
See the
official press release
here.
There's also the
official Vulkan site here
as well.
And finally, there's the
slides to look over
that give you an overview.
Some you may have missed, popular articles from the last month: