The developers of Worlds of Magic emailed me to ask if we could do a shout out for their game. The game itself is meant as a spiritual successor to Master of Magic.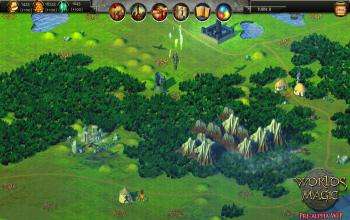 A little late on this one due to all the other news flowing in (6 days ago they emailed me, sorry!).

Master of Magic is a true gem among strategy games, it offered almost unlimited possibilities for enjoyable play. It gave players the freedom to create fantastic worlds and release the power of magic. Worlds of Magic will follow the same exciting path and share the spirit of that genuine classic. Although the game has been under development for almost a year, the team has recently decided to focus exclusively on it, creating a Kickstarter project which has been launched on April 2nd, seeking funds to complete this exciting title. Worlds of Magic will be available, according to our estimations, in January 2014. Although not until July for Linux.

Features:
Master of Magic Spiritual Successor: After waiting more than a decade for a true MoM successor, we decided to create one.
D20 System: Units, Spells, and Heroes will all draw from the D20 OGL rule set during tactical battles.
Deep 4X Playability: Explore, exploit, expand and exterminate in a world of magic, diplomacy, and war.
Hero Units: Recruit powerful, artifact wielding heroes to lead your forces into battle.
Twelve Spell Circles: Focus on depth in a single school, or gain the ability to cast incredibly diverse spells.
Unique Races: Each race offers the ability to create exclusive units, with their own strengths and weaknesses. The factions also play differently allowing players to choose a faction based on their play style.
Settle Powerful Cities: Construct buildings, raise crops, and control production in order to create and support powerful armies.
Multiple Victory Conditions: War is not the only way to conquer the world; make treaties, establish trade routes or use peace as a tool for domination.
Procedurally Generated Universe: Each game can be different. The entire universe is created procedurally using a seed that can be random or specified by the player.
Multiple Planes of Existence: Explore and conquer seven different planes of existence ranging from the Prime Material Plane, which is much like Earth, to the elemental planes that course with pure elemental energies. Find new creatures and new lands for expansion in these unexplored realms.
Multi-Language Support: English, Polish, and Spanish confirmed. More languages coming soon.

Kickstarter: http://www.kickstarter.com/projects/304725524/worlds-of-magic-a-new-classic-4x-fantasy-game
Web: http://myworldsofmagic.com/
Facebook: https://www.facebook.com/WorldsOfMagic
Twitter: https://twitter.com/Worlds_Of_Magic

I asked the PR guy a few questions of interest as well:

Is Linux something you are 100% commited to no matter what?
QuoteYes, once we reach the basic goal funding (30k pounds), Linux version is mandatory, no matter what. Stretch goals will only imply the possibility to hire more people and bring it earlier.

What engine are you using to make the game? Also why is the Linux release later than the Windows release?
QuoteThe game's being done in Unity

Linux release is later because we are a very small team (build by two very small independent teams) and we don't have the possibility. We need the funding to first complete the game, and once released the team could focus on all the other versions.

I also got a second answer to the delayed Linux release directly from Aaron Ethridge, lead developer (Lucid Dreamers)
QuoteHello Liam,

We want to give ourselves adequate time for play testing. Although Unity should be able to port it without problems we wanted to give ourselves room to work in case we ran into something. Better to say it's going to come out later and then release it on the same day as the windows version then say it's coming out the same day and then it be months late because we ran into some problem.
Some you may have missed, popular articles from the last month: